Shopping is a personal choice. Some love it, and some do not. And this is especially true about shopping in Kolkata. While some people love shopping in Kolkata, there are others who dread the idea of stepping out for shopping in Kolkata. They would much rather not have to face the crowds, the commute, the hot summer, the narrow lanes and the haggling with the vendors and that too in the Bengali language.
Shopping in Kolkata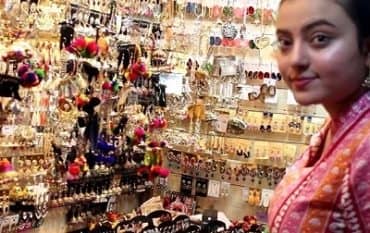 Kolkata is a shopper's paradise, what with its vast range of ethnic and international apparel stores, homegrown designer stores, the Kolkata jewelry shops and Bengali handicraft shops. The workmanship on the clothes and the craftsmanship in the jewelry is unmatched anywhere else. (Read Shopkhoj Kolkata Shopping for a complete guide to Kolkata shopping.) You can find an exquisite boutique for sarees, filling your senses with a riot of colors and inspiring the love for ethnic and handloom fabrics on practically any street, or just wait untill the Mela season (Read Kolkata Mela) comes around, and you can find an amazing and breathtaking collection of handicrafts not just from Bengal but from the whole of India.
But what makes some shopping experiences a little more challenging than usual? Let us find out. For starters, navigating Kolkata shopping streets can become a feat, especially if you are not entirely familiar with the city, its language and its eccentric ways. Let's explore the challenges.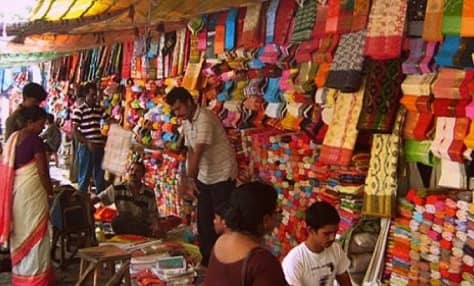 The Very Well Traveled Lanes
Barring the city's well located malls, most of the shopping markets are spread around in its different obscure parts. It is easier for a stranger in Kolkata to accidentally wander into a desired store than to carefully plan on getting there. Directions are almost always about proximity to something or someplace else. Next to the bridge, under the bridge, take a right on the small lane next to the petrol station and so on.!
It is therefore quite hard for someone new in town to navigate through the busy small lanes and make it to the desired store they have been wanting to go to for so long.
How does one prevent oneself from getting lost in the vast number of small lanes and busy paras(neighborhoods)? Here goes:-
Always get a general sense of the location from the city maps. There might be a familiar permanent structure that you can use as a reference.
Ask. and always ask more than once. There are people who will not ask, even if they are not really sure of the directions themselves. So instead of guessing, it is better to ask again to confirm.
And if the going gets tough, just hail a rickshaw from the nearest tram, bus or train station and let them find the way to your dream shopping destination.
The language
That brings us to the next problem. Your lack of knowledge of Bangla. Don't worry though. The wave of globalization has not left the city untouched. Almost everyone here can now speak in Hindi, although sometimes hilariously incorrectly. The message is however usually easily comprehended. After a couple of khata hais and jaata hais you will be able to find your way through the maze of Bengalis filling up the streets with their lively chatter. Most of the Bengalis do understand English even if they are not able to speak the language.
The Journey to the Shopping Hub
Beating the heat while shopping in Kolkata: Kolkata summers are unbearable and unfortunately the suffering lasts for a long time as winters are fleeting and a glimpse of the wonderful weather at this time lasts only for a couple of months. And that aforementioned midday shopping, avoiding the office goers, becomes a torturous and arduous affair, with the sweltering heat and the overwhelming number of people everywhere. So ,stay in the shade ,wear appropriate clothes and have plenty of fluids . If you find it too hot, shop in the airconditioned comfort of the Kolkata Shopping Mall.
Overbearing Sellers
If you are not very familiar with the ways of Kolkata shopping, its narrow lanes full of vendors selling cheap knock-offs, handicrafts, jewelry and pretty much anything really, it might become an ordeal. Don't be surprised if vendors accost you quite aggressively. You may find yourself buying something you didn't think you wanted in the first place. And if they happen to detect the newcomer vibes you maybe walking around with, there is a possibility that you may get cheated on the prices as well.
The best way to deal with these overbearing sellers is to simply ignore them and move on. There will surely be another potential buyer not very far from you to take over their attention.
Bear in mind that there is still indeed a possibility that you may actually find genuine and quite desirable handicrafts and trinkets that you may never find in an established store. So, while you are ignoring the calls of the vendors, always keep your eyes open to spot the catch of your shopping day. Compare the quality and prices with 3 or 4 vendors, before you decide to purchase. Not to mention the fact that you should never try to purchase counterfeit and fake items unless you are willing to heavily compromise on the quality. For a mere savings of a few bucks, you may actually end up wasting your money anyway.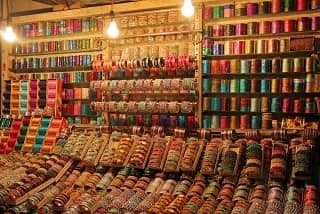 Opening and Closing Hours
This one is tricky. Many different shopping markets have different holidays. While most are closed on Sundays, there are certain shopping markets which are closed on Mondays or Thursdays. Call ahead to ensure that efforts, of beating the heat, patiently wading through the busy traffic and navigating the squirmy lanes ,will not end up in a fruitless mission .
The other issue to keep in mind is that most shopping markets simply close down for lunch and afternoon siestas ,thereby curtailing the available shopping time. Shops are generally open only till 8:30pm at the Shopping Malls. Stores in Gariahat or New Market are usually open until 9 pm on weekdays. So, avoid shopping at peak afternoons and chalk out your plan well in advance so that you not only avoid the office traffic but also avoid reaching the market in the midst of a post lunch hiatus.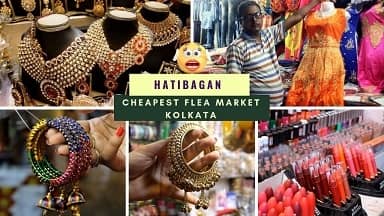 Parking
It's insane to drive around the market and shopping traffic, with pedestrians walking in the middle of a busy road oblivious to the approaching cars. There is almost always a hold up of cars at busy shopping areas. And if you are looking to park your car near your favorite store, good luck to you . It would be a wiser decision to park blocks away from the stores and get that much needed exercise of walking the rest of the way.
In the end, with all the possible pitfalls and troubles, shopping in Kolkata still beats any other metro experience. The prices are reasonable, the quality is great and there is that amazing and famed street food , jhal muri (puffed rice mixed with other ingredients), phuchka (golgappa), singara (samosa), kachauri and telebhaja (oil fries), all of which have to be tasted to understand their allure. In all, the things that make you crazy in Kolkata, will be the very things you will learn to ignore and perhaps even enjoy. You may discover the shopaholic in you!