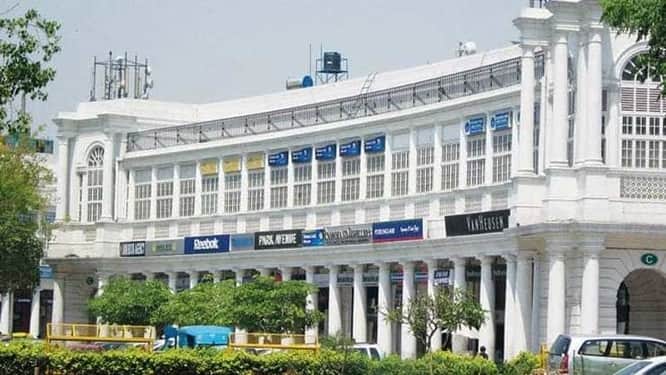 Shopping Around in Circles: Your Guide To Shopping In Delhi's Colonial Heart
Kausy M
4430 views
add comment
When you hear chole bhature at Kwality Restaurant and mughlai food in Embassy Restaurant spoken about, you can be pretty sure that you are talking to a middle aged Delhiite reminiscing about the best restaurants  in Connaught Place New Delhi.
Connaught Place or CP as it is popularly known, is an iconic landmark in Delhi. Delhiites who have lived in Delhi in the 60s and 70s have nostalgic memories of CP and more so about the best restaurants therin. It  was the single most important commercial hub & shopping market for the whole of Delhi, until the new age malls tempted shoppers away and Gurgaon became the principal commercial center for NCR.
Origins of  CP
CP is modelled on the Royal Crescent in Bath in England. The Crescent in Bath was built as terraced houses in the Georgian architecture style. It was built during the period 1767 to 1775. This beautiful architecture was replicated in Lutyens Delhi (the central part of Delhi,) during the British rule in the period 1929-1933. It was named Connaught Place after the Duke of Connaught who was the 3rd son of Queen Victoria and  was developed as the financial and commercial hub for Delhi.
It is a horse shoe structure with an inner circle of buildings and an outer circle of buildings.
Take a look at the video link:
Connaught Place(CP) Market, Delhi, India | Shopkhoj
The Inner Circle & Outer Circle- Rajiv Chowk
Not withstanding the fact that the inner circle has been renamed as Rajiv Chowk and the outer circle renamed as Indira Chowk, Connaught Place and Connaught Circus are what they are typically referred to by the Delhites. The inner circle has blocks A to F and the outer circle has blocks from G to P.
There is a middle circle between the inner & outer circle and a lane in between the blocks.
A recent addition in CP in the last decade is the Rajiv Chowk Metro Station. It is an underground rail hub and home to the IGI airport metro line. There is a beautiful central park with green lawns, water bodies, fountains and trees just above the metro hub with a large India flag.  Many musical evenings are hosted in the  central park .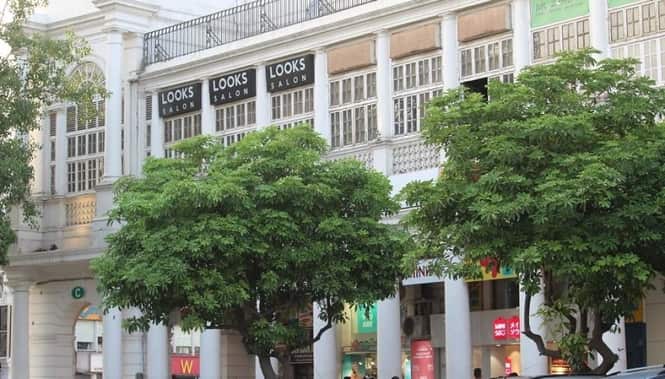 Walking in Connaught Place New Delhi
CP blends shiny store fronts with auto component shops, stationery stores and street shops.
It is still an iconic landmark in Delhi with an old world charm. It is a busy commercial centre. There are offices, travel houses, book stores, money changers and business houses in CP. The Odeon cinema is a refurbished cinema hall, popular with all ages. The Madame Tussaud's Wax Museum is in CP near the Regal Cinema.
A walk through the circular buildings in CP is very enjoyable. Nowhere else in India would you be able to experience a sense of awe at the massive and magnificent architecture with eclectic shopping and dining options.
As you walk along the corridors of the inner circle in CP, you will notice hawkers selling pens and pins, cobblers and young lads shining shoes, Gujrati women selling embroidered bags & bed spreads, imitation jewellery kiosks, book sellers on the pavements, and of course the chaat walas selling  tasty paani puri & aloo tikkis.
This is the asli Delhi (original Delhi)
The once popular Palika Bazar which is an underground bazaar for cheap clothes and accessories is right here. It is now a market for cheap electronic products and a not a place for serious shopping.
Shopping in Connaught Place New Delhi
CP has the advantage of location and footfalls. There is a multitude of people who walk along CP. The store Snowhite has been in CP for decades. They stock a wide variety of clothes for men, women and children. They stock clothes form Van Heusen, Park Avenue, Wills Lifestyle, Madame, Monte Carlo, Levis, Puma and a host of other big brands. The best thing about this shop is that all the products are branded goods and one can shop for the whole family here.
Heels, is another store that has been in Connaught place for more than 4 decades. Shoes and sandals for men and women are available here in plenty. Balujas is another popular footwear store in CP.
Mohanlal & Sons is the celebrated store for mens wear in CP. They have been in existence since 1881.
Old shops such as Vedi Tailors and Kanika for women still exist here for more than 4 decades.
In addition, we have Hi Design store, Fab India store, Baggit, and other well-known brands such as United Colours of Benetton, H&M, and Levis that have their branches here. The showrooms are big and stock some of the best products. Sports enthusiasts and music lovers find this Delhi shopping market a great place for sports apparel and musical instruments.
Shopping in and around Connaught Place New Delhi
There are radial roads that lead out from Connaught Circle to the larger part of Lutyens Delhi. Bhabha Kharak Singh Marg & Janpath are two of the well-known roads.
The Central Cottage Industries Emporium is in Janpath. It is a Government store and stocks fabrics and handicrafts from all over India. They have 3 floors filled with some interesting carpets from Kashmir, brass and bronze handicrafts from South India, wooden furniture from Gujarat, beads and gem stones from Rajasthan and textiles from several Indian States.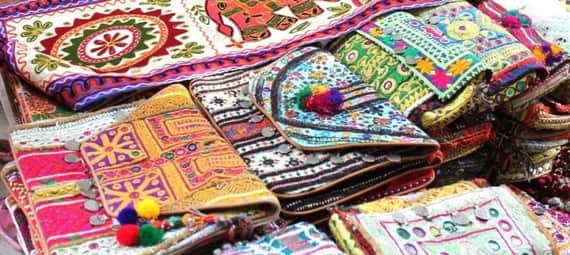 This is one of the best shops in Delhi.
In addition, Janpath also has about 50 street shops that sell tees and skirts that are export surplus. There are excellent shops that sell brass jewellery and silver jewellery at very reasonable prices. You will see a lot of foreigners and young women in Janpath. It is also the market for patch work quilts, mirror worked bed sheets and embroidered bags that are specialty crafts from Gujarat.
It is interesting to note that apart from Gujarati textiles, this lane is also home to Tibetan shops. Shop for Tangka paintings , Buddhist prayer bells and colourful face masks here.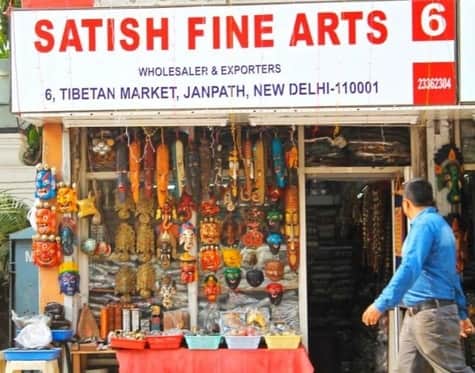 State Emporia at Baba Kharak Singh Marg-Near Connaught Place New Delhi
Step into the Baba Kharak Sing Marg to have a taste of textiles, handicrafts & jewellery from as many as 20 Indian states. Starting with "Bharati" the Delhi emporium, there are interesting and unique artefacts in Rajasthali, Gurjari, Mrigananyni, Poompuhar and Utkalaika emporia. They represent Rajasthan, Gujarat, Madhya Pradesh, Tamil Nadu and Odisha States respectively.
Carefully look at the distinct culture and products of each State. The variety of items on display are a treat for the eyes & the soul.
The Kashmir emporium has exquisite carpets and papier mache products, Rose wood furniture is available in Cauvery the Karnataka emporium, brass and bronze handicrafts are famous in the Tamil Nadu emporium and bamboo products and endi shawls are interesting buys in the Assam emporium.
The celebrated Coffee House that was the meeting place for bureaucrats and politicians still exists in Baba Kharak Singh Marg. Another interesting fact is that the Visa office for several embassies is located in this road.
Khadi Gram Udyog Bhavan is also close by near Regal Cinema House. Beautiful products made from Khadi cotton fabrics such as shirts, skirts, tops and dresses are available here. In addition, they stock incense sticks, soaps, creams and moisturizers.
Hanuman Mandir near Connaught Place New Delhi
Hanuman Mandir is in this lane. It is an ancient temple and legend has it that it was built during the time of Mahabarata. Hanuman Mandir is famous for bangle sellers who stock an astounding variety of bangles from all over India.
Shanker Market
Step into Shanker Market near the fire station in CP. Older women in Delhi will swear by the fabrics and tailors in this market. It will be a nostalgia trip all over again.
Restaurants in Connaught Place New Delhi
CP has some of the new age restaurants and pubs. There are more than 100 restaurants in CP for every conceivable cuisine.
Bengali Sweet house, Kababs N roll, Pizza Hut, Burger King, Behrouz Biryani, Haldirams, Subway, Sarvana Bhavan Chai Shots, Smoke House Deli, Wok in the Clouds and Nirulas  are a few popular names apart from the long-standing restaurants such as, United Coffee House, Embassy and Kwality Restaurants.
Also Read: Connaught Place Shopping and Food Tour in Delhi
And let us not forget to mention Wengers.  A Swiss couple owned this bakery. It was a two floored bakery cum restaurant which had a ballroom for weddings. Their cakes and breads were popular with diplomats and British bureaucrats. Although there is only one floor now and the fine dining restaurant has been closed down, it is remarkable that this store has survived from the time Connaught Place was built in the 1930s. It is still remarkable that the same interiors with European columns and high ceilings with fans greet you at Wengers. Swiss rolls, black forest cakes, chicken and paneer patties and fruit tarts are their best sellers. They have more than 50 varieties of bakery items on display.
The long queues at this confectionery store tells you the story about Connaught Place and its permanency.
---
View our videos
SIGN UP FOR NEWSLETTER
Be the First to Know. Sign up to newsletter today