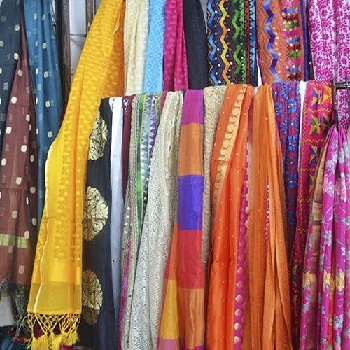 What is a dupatta?
Firstly, a Banarsi or a Phulkari dupatta for instance, is a versatile stole integral to traditional Indian outfits such as the salwar kameez or lehenga choli or sharara. It is also known as like chunnari, chunni and odhni. This garment  is used to cover the upper part of the body and in some instances cover the head too. Further, both traditional & modern women wear this stole. It is fashionable.
Available at Delhi :
Salwar Lane Street Shopping ,Goonghat,  Nalli Silks, Banares Ekaya,(for banarsi dupatta), Phulkari(for phulkari dupatta), Gurjari ( Kutch worked dupatta ), Rajasthali, (bandej dupatta), Mrignayani,(Chanderi dupatta), Gangotri,( for Chikankari dupatta), Roshan (stylish dupatta), Dilli Haat( wide range of dupattas)
Jaipur- Krishna Stores Anokhi , Suvasa , RattanDeep ( Kota,leheriya dupatta)
Available in Bangalore –Salonee Silks Cotton ,Cinnamon,Soch 
Chennai- Fab India,Alwarpet , Kalpa Durma ( cotton dupatta), Bandhej
Kolkata –Gurjari
Origins 
For instance, reading about the origins of the chunni  is interetsing. Uttariya is still worn throughout Indian subcontinent and is traditionally worn over kurta, achkan or sherwani since classical age. It  accompanies the antriya, an ancient version of the dhoti, held with a sash or kayabandh. The uttariya was also a turban. Both men and women wore it. The chunni  is an evolved form of the uttariya. (WIKI-https://en.wikipedia.org/wiki/Uttariya)
Above all, it has  evolved from being a simple fabric to an essential part of women's ethnic outfits.
Varieties 
There are no dearth of patterns, designs, colours and fabrics apropos a  chunni. For instance, this is a stylish apparel and is  worn in a number of attractive styles. Further,  they are made with fabrics such as cotton, silk, chiffon, georgette & Banarsi .Above all, there are elegant embellishments, weaves, mirror work and embroideries to enhance the appearance. The Phulkari Odhni from Punjab is very popular.
The incredible variety of chunni in India is quite overwhelming. Let us share a few examples. The Khada Dupatta  is a  six-yard long dupatta from Hyderabad. It is heavily embellished and is worn during weddings .The chiffon chunni is popular for its natural flow and soft fabric. The printed  ikaat chunni is attractive and classy. In addition, this is from Pochampally.  The Kutch mirror  chunniis also made in Kutch, Gujarat. The simple block printed cotton chunni from Rajasthan are hugely popular. Similarly, the Bandhej chunni. It is adorned with tie & dye designs. Check out the Gujarat & Rajasthan State Emporiums for the hugely popular  odhnis. The Chikankari Chunnari is lightweight and has white embroidery on pastel cotton. The heavy Banarsi brocade Odhni  is from Varansi, again in the  State of Uttar Pradesh. Finally, the beautiful Phulkari dupatta is from Punjab.
The odhnis look equally elegant when fused with western apparels too.
Available at Delhi :
Salwar Lane Street Shopping ,Goonghat,  Nalli Silks, Banares Ekaya, (for banarsi dupatta)
Phulkari(for phulkari dupatta)
Gurjari ( Kutch worked chunnari)
Rajasthali,(bandej Chunni)
Gangotri,( for Chikankari chunni)
Dilli Haat( wide range of chunni)
Jaipur
Krishna Stores Anokhi , Suvasa ,
RattanDeep ( Kota,leheriya dupatta)
Available in Bangalore –Salonee Silks Cotton ,Cinnamon,Soch 
Chennai
Bandhej
Kolkata 
Check our videos
SIGN UP FOR NEWSLETTER
Be the First to Know. Sign up to newsletter today