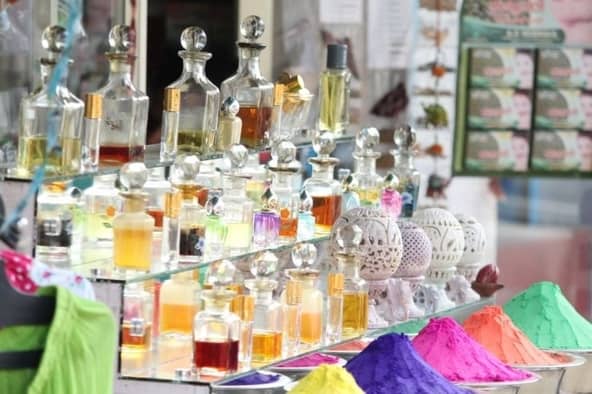 Attar -Scented alleys of the Kolkata
nabadeepa
813 views
add comment
Perfumes/Attar in Kolkata:
"Nothing brings to life again a forgotten memory like fragrance"-Christopher Poindexter. Somewhere in my long lost childhood I came across a book where it was said that every person has a distinct smell. It is so true. After my father's demise ,whenever I brushed my nose against his old shirts, it was the smell of tobacco and the Old Spice aftershave. That smell was so distinct.  For instance, years after the scent faded I tried to recollect it by sniffing the bottles of Old Spice. Alas but that was not the same.
As a matter of fact, that was the time when perfumes started intriguing me, I guess. There were no Davidoff & Channel perfumes in those days.  For instance, in our homes in Kolkata, there were local perfumes, popularly referred to as scents. I still remember one bottle shaped in the form of a doll with a light golden colored liquid. In addition, the bottles were as fascinating as the scented liquids inside .  However, the bottles were off limits for children . For example, when we came  to the closest,  they were sprinkled on our clothes by the elders.  For example , this was while getting us ready for some function or the other.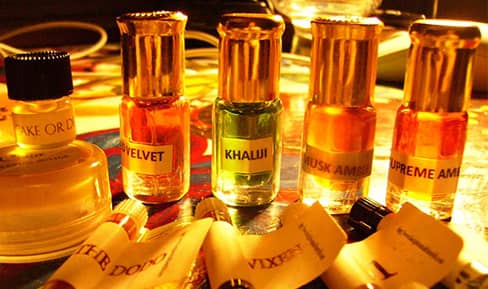 Ittr is a fragrance from Chitpur
One day, while we were visiting family, I hugged my grandmom. And honestly, I was actually not willing to let go of her. In other words ,she smelt so good.  I asked her  "Is that your scent grandma ?". She just smiled and said, "I don't use scent . It's ittr." She said Ittr is a fragrance from Chitpur, one of the oldest Kolkata shopping markets . They were sold by an old man carrying a wooden box which hung from his shoulders , suspended by a belt. He would go around the residential areas and in other Kolkata shopping markets selling Ittr. Ittr or attar was also used to make offerings at temples.
Well, since that was not an age to venture that far, I gradually forgot all about that magical aroma. In addition, as time went by, I  settled for the colognes and body sprays. However, I recently discovered Ittr in the bag of one of my relatives. He is infact  a professional masseur and an aroma therapist. He mentioned Chitpur and it rang a bell. I decided to make the trip to Chitpur, which is a distinct Kolkata shopping market. As soon as I took the turn towards Rabindra Sarani, which is a part of lower Chitpur Road ,I could see the distinct character of this area.
Chitpur-Kolkata Shopping Market
Chitpur,  is primarily a residential area. Further there are affluent families who live here and  there are vibrant shopping markets. This Kolkata shopping market is crowded and congested. There are cars, rickshaws, pedestrians and several roadside shops. There are hundreds of everyday items that are peddled here. Garments, utensils and everything you can ever think of. In addition, there is a covered Kolkata Shopping Market in Chitpur, that stocks vegetables and fruits. As a matter of fact ,this structure is said to be more than 100 years old. There is also the Nakhoda mosque nearby.
Mughal Influence – Attar in Kolkata
There is a distinct Mughal influence as you  look around. For example,  you can see shops that sell antique home décor items, traditional carpets, and exotic spices . in fact, the jeweller here are typically fashioned with middle eastern aesthetics and influences. Nestled amidst all the hustle bustle are the ittr sellers of Kolkata. In other words, they have refused to give up their ancestral trade in the face of the competition from international perfumeries.
Attar in Kolkata: Edible Attar
It was a general perception that ittr or attar is a strong perfume. The only thing that used to confuse me was, when I found my mom adding meetha attar( sweet perfume) to food items. I got to know that these slightly thick liquids are essential oil extracts . The extracts are from flowers, plant roots and spices. In fact, while talking to Mohd. Asif of Asghar Ali Mohammed Ali perfumers, I understood edible attar. I came to know that edible attar can also be used as fragrances.
Attar in Kolkata: How it is made?
He was narrating about how the manufacturing process has changed over time. While in the olden days, the extracts used to be distilled over sandalwood oil, nowadays, due to restrictions on sandalwood trade, mineral oils are being used for the purpose. Subsequently, these oils were kept to age . Further, since there is zero percent of spirit present in them, even a drop does not evaporate. Previously, this ageing period was at least for over two years and in some cases more than five years. But now the ageing process is considerably reduced. It is 10 to 15 days in some cases. Aged ittrs are available in the market . As a matter of fact, and the best quality ones are aged for at least a year. In other words,  the price depends largely on ageing.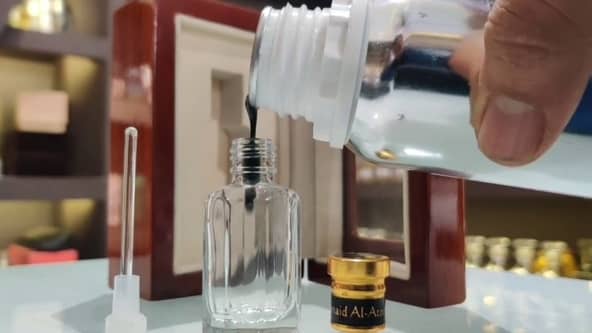 10 grams of the fragrant oil starts from Rs.30, if you want to opt for quality ,you must go for the ones that cost more than Rs 100. Prices can vary between Rs100 to Rs1000 for 10 gms of ittr. There are special ittrs that cost Rs 5000 for 10 gms.  As a matter of fact, there are a few connoisseurs who would be willing to pay Rs.10000 – Rs 12000 for a small bottle of ittr.  For example, even if we buy a bottle of ittr for occasional use and keep it at home, its quality is bound to develop with time and the best part is that it will stay as it is. "This is natural oil with no added chemicals ma'am, not the French perfume that if you open the bottle after five years…more than half of it is gone", I was told by a shopowner.
 The Elite shop for Perfumes in Kolkata
Gone are those days when a large part of the elite society of Kolkata used to venture into these shops.  Above all, today, the customers are mainly perfume makers. Further, people associated with the beauty and wellness industry and also the ones associated with the business of restaurants or catering.  As a matter of fact, the individual customers understand very little about the products. Kewra and Rose water are two of the highest selling products among perfumes in Kolkata.
Artificial Perfume- Attar in Kolkata
The idea is to keep the prices affordable in the face of stiff competition from the artificial perfume market. Hence, several small shop owners are  dealing with a modernized version of ittr.  The attar /ittr is being diluted with a mix of chemicals. They are honest about their practices and their products. On being asked, Mr. Iqbal of Sunnat Perfumery informed us right away that they cannot just stock original products . This is because customers will not be ready to bear the cost. Modernization is a rule of every trade. It was a bit heartbreaking to see that . In fact, barring a couple of shops who preserve the tradition of pure essence and pure oils , all the others were  selling a diluted version.
 Iitr/Attar in Kolkata: Biswa Bangla
Biswa Bangla, the company that promotes Bengal cottage industry, handicrafts and other age old traditional crafts of Bengal, has taken the initiative of bottling back the fragrance. A brand named Chitpur Attar has been launched so that essential plant oils ,such as the Gulab, the Majmua, the Motia, the Bela, the Hina continue be available for public consumption . Apart from the sealed vials they are sold in, ittrs are traditionally stored in beautiful cut glass decanters. These ittr bottles make for splendid collectibles and gift items.
Perfumes of Kolkata
I returned home with a bottle of Mushq Amber and another of Majmua, priced around Rs.250 for 10 grams. One drop dabbed and properly massaged on the wrist or behind the ears is sufficient to smell and feel fresh for the entire day. After that, on my way back,I couldn't stop smelling my wrists. It was not just the sweet smell of perfume, to me it became the aroma of those dingy lanes whose glory may have been lost but the history is still alive. On the earphone my playlist hummed "tu ittr ittr sa meri saanso mein bikhar ja, main fakeer teri qurbat ka…tujhse tu maangu re.."(scatter in my breaths
like some perfume.I'm a beggar of your proximity,I ask you for you, give me yourself.)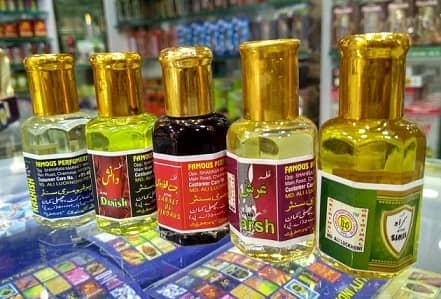 In addition, Apart from ittr, most of the shops also sell surma ( traditional eye liner), tasbih( prayer beads ) and skull caps .
---
View our videos
SIGN UP FOR NEWSLETTER
Be the First to Know. Sign up to newsletter today