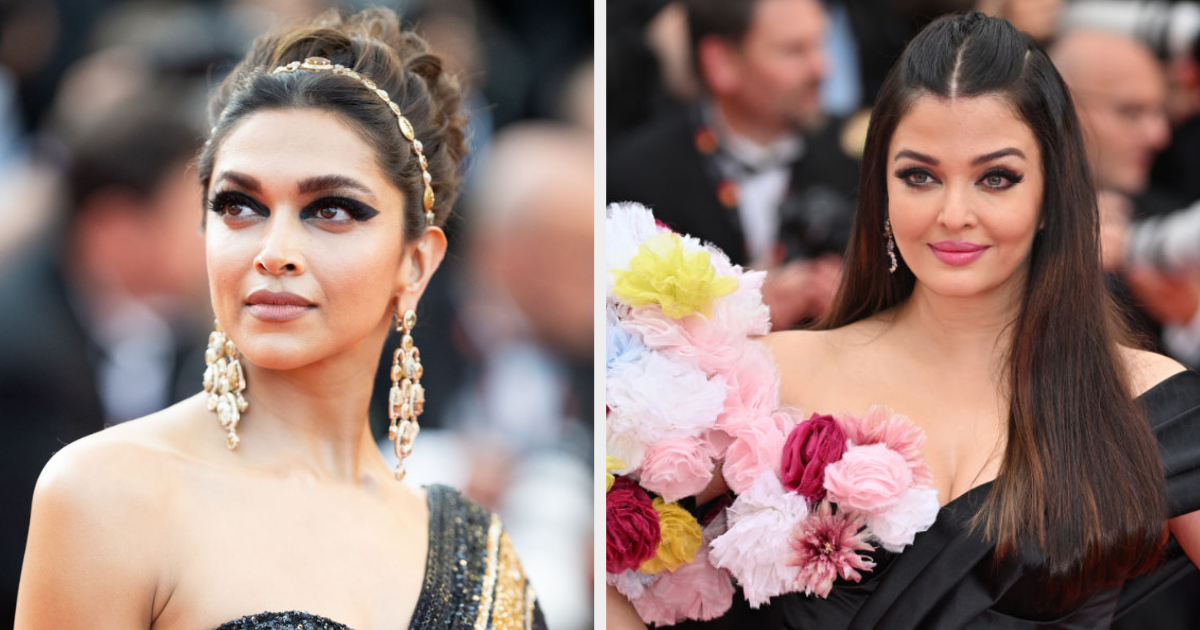 Cannes: 25 photos that sum up 70 years of Cannes red carpet fashion
Jayashree
395 views
add comment
Cannes Red Carpet:  The Cannes Film Festival (festival de Cannes )is watched around the world.  As usual, we are keeping our eyes focused on the red carpet as there is as much drama there as is there inside the theaters. In fact, the Festival the Cannes  has  celebrated 75 years. Over the years, the festival has become an important showcase for European and world cinema. This year Tom Cruise graced the function promoting TOP GUN: MAVERICK ,which was premiered there . He was awarded  an honorary Palme d'OR.
Also this year, Deepika Padukone was jury member from India. Indian delegates included  Anurag Thakur, Minister in the cEntral Government, Shekhar Kapur, Nawazuddin Siddique, R.Madhavan, Kamal Hassan among others.
Cannes Fashion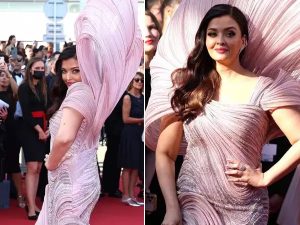 There is almost an equal amount of attention on the people who attend the festival as well as their fashionable dresses. This also extends to the parties that are thrown around the festival to which only the 'who's who' get invitations. After the Oscars, the Golden Globe and the Met Gala, Cannes is where the fashionistas head to. It is the place on which the entire world media is focused. So everyone wants to grab their share of the limelight.
So, here we are, with our share of Cannes fashion that grabbed our attention over the years – some amazing, some outrageous – but all that made news.
1. Bridget Bardot in 1953 – The young actor set many hearts flutter in the fifties. She said "A photograph can be an instant of life captured for eternity that will never cease looking back at you " And this moment is just that

2. Sophia Lauren in 1955. The
Italian

 actress entered filmdom at age 15 in 1950 after she was spotted at a local beauty pageant. She famously
said "A woman's dress should be like a barbed-wire fence: serving its purpose without obstructing the view."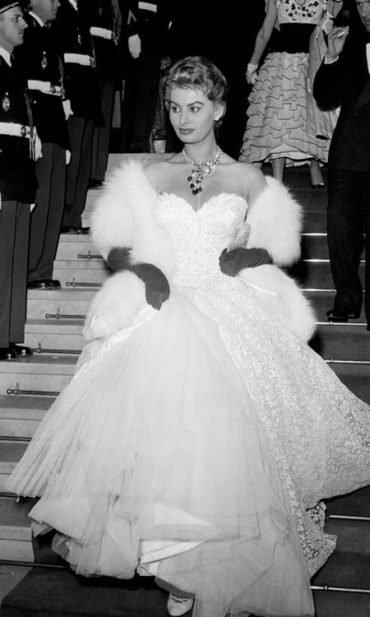 3. Need the view of a queen. Look no further than Elizabeth Taylor during the 1958 Cannes festival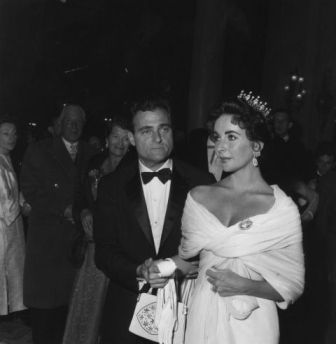 4. And here is our most favourite princess of all times walking the red carpet in 1987. Isn't she simply a vision of grace and beauty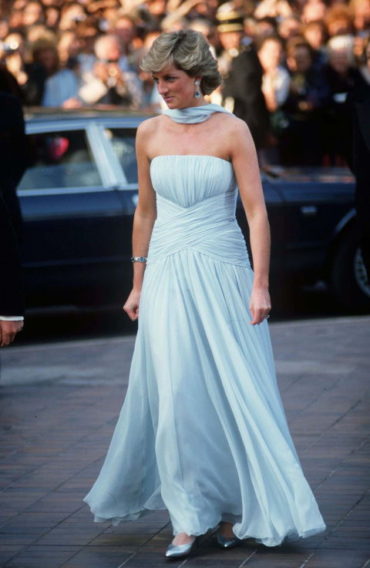 5. In 1995 Naomi Campbell turned heads as she walked the red carpet in one of the best looks we've seen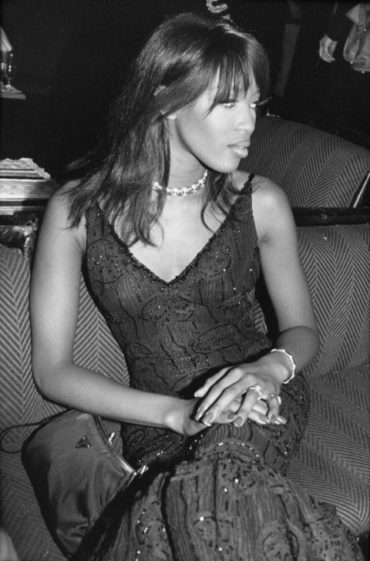 6. The year 2000 saw Sharon Stone pull off only what she can at the Cannes carpet.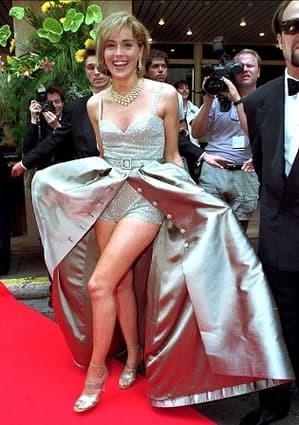 7. In 2001, Nicole Kidman and Baz Luhrmann walked the Cannes red carpet to publicize Moulin Rouge. Black sure is beautiful here.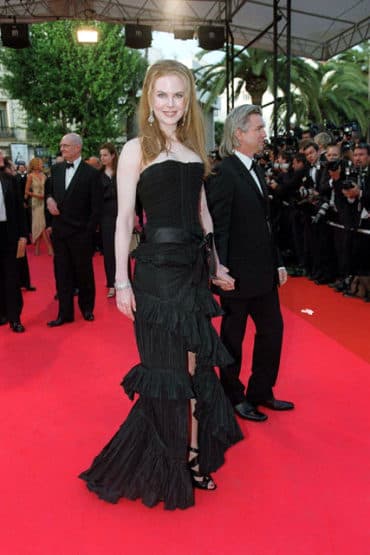 8. The most beautiful woman in the world simply outshone everyone else in a golden yellow saree with matching accessories. It was India all the way on the red carpet (Aishwarya)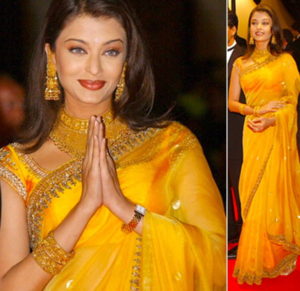 9. Jessica Alba carried this black gown beautifully during the 2005 Cannes festival. It isn't extraordinary by itself but the actress manages to bring in some glamour to the look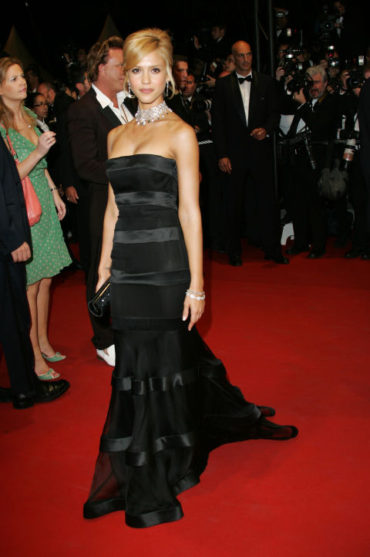 10. French actor Sara Forestier expressed her view on gun control during 2007 Cannes Film festival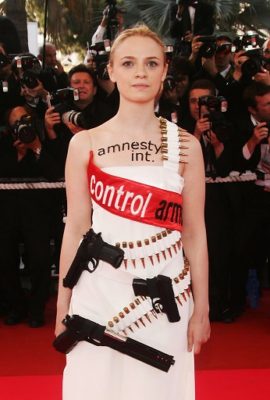 11. Eva Longoria – The famous 'Desperate Housewives' star needed an attendant to straighten her 10 feet long tulle train during the screening of 'Moonrise Kingdom' in 2012.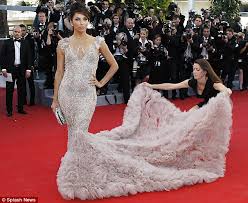 12. Can you pull off a red carpet look in wings? French actress Laetitia Casta looks like she bribed a bird to get into this. We probably think its best to fly off this one.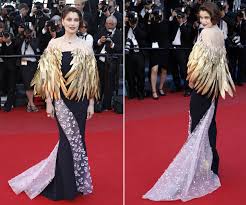 13. Blake Lively had her Cindrella moment on the red carpet during the 2016 Cannes Festival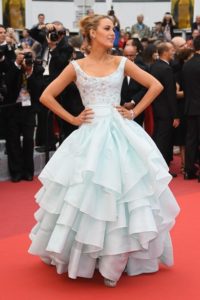 14. Designer Larisa Katz looks like she has popped straight out of the popcorn maker. We wonder what happened to the dress afterwords!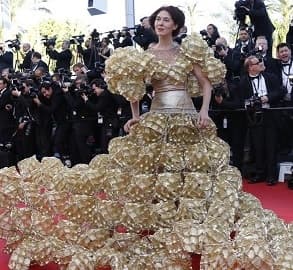 15. Bella Hadid wore an Alexander Vauthier couture dress with strappy black sandals. We think everyone waited with bated breath for an oops moment that didn't come.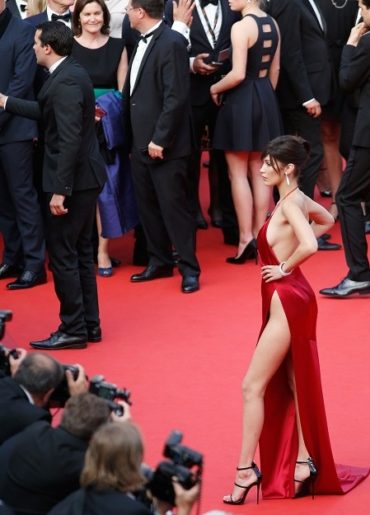 16. Most women look and feel like they are going through an out of body experience during pregnancy. Angelina Jolie shows how to pull off a perfect red carpet look when you are expecting.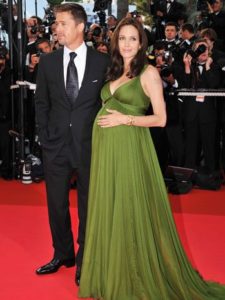 17. Another shade of gold comes home with Aishwarya Rai in a golden Roberto Cavalli in the 2014 Cannes festival.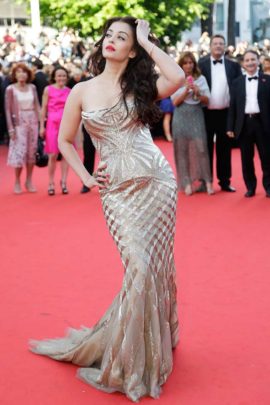 18. We think this grey number did not do justice to the curvaceous Latina but the overall look with the hairdo and makeup somehow seems to work. (Jennifer Lopez)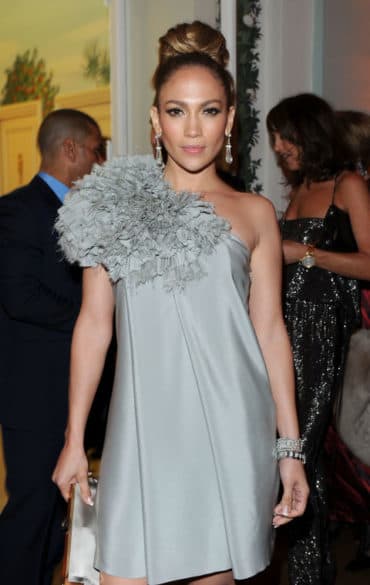 19. We don't think this is the best that Freida Pinto wore to the red carpet but we do applaud how the girl next door made her way to the red carpet in Cannes.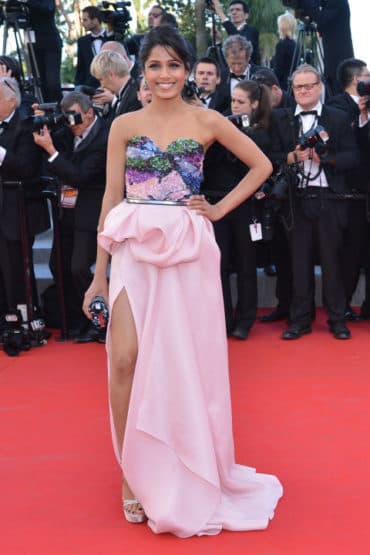 20. Growing up in full media glare is not the easiest thing. Needless to say, this lady from Harry Potter's cast is also the one who turned out to be the best looking as she grew up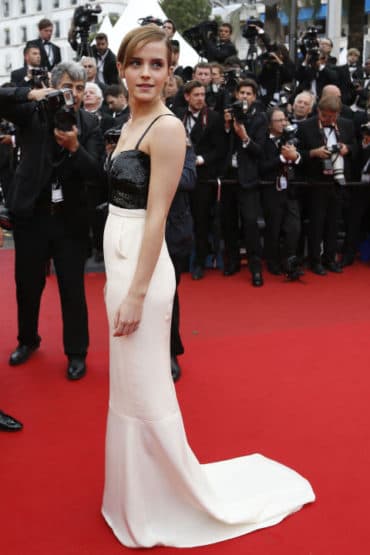 21. During the photo call in 2010, actress Mallika Sherawat posed with a live python to promote her movie 'Hisss'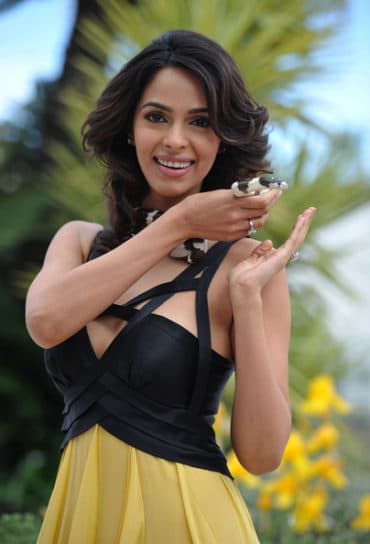 22. Unconventional is the way to stand out. This look by Sonam Kapoor got both bouquets and brickbats.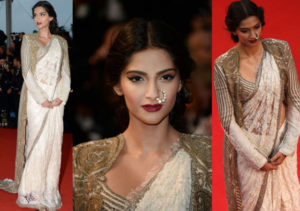 23. The last but not the least on our list is our desi beauty queen Deepika padukone!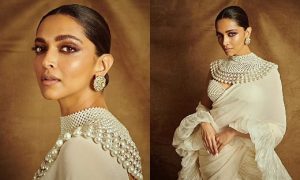 24. There is something about this Chanel dress that is just not right. The sleeves seem wrong. The fringes seem like they have been shredded out of a washing machine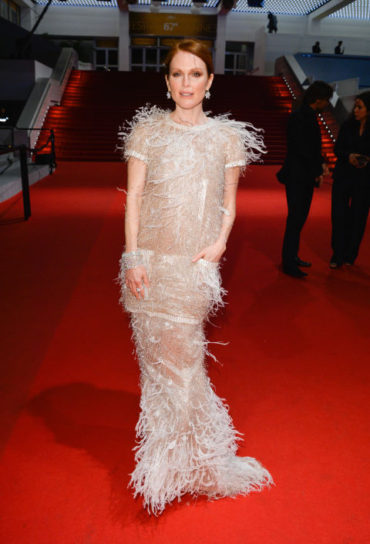 25. The sari affairs continue with Vidya Balan who did some classic no-nos but we would love to see what she can do the next time.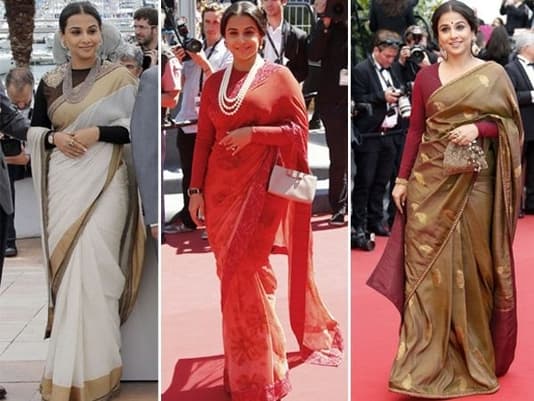 ---
View our videos
SIGN UP FOR NEWSLETTER
Be the First to Know. Sign up to newsletter today