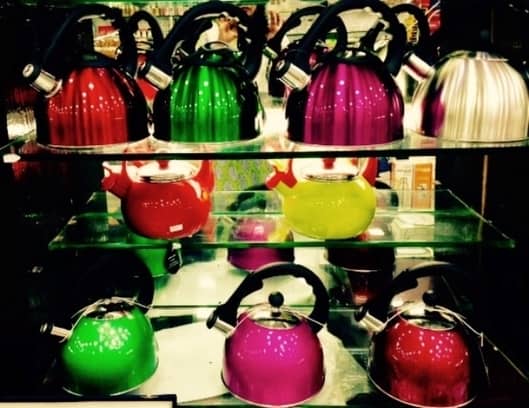 Wedding Gifts-Visit TIP TOP MARKET
Kausy M
2339 views
add comment
Best Wedding Gifts in Karol Bagh Shopping Market
My friend has come to Delhi for wedding  gifts shopping. The first thing on her agenda is to buy gifts for relatives and friends. After making enquiries, we are on our way to the "TIP TOP" Shopping Market near the Karol Bagh shopping market in Delhi. As a matter of fact, Google Map saves the day and we get off at a crowded lane close to the main Karol Bagh Shopping Market. It seems a very busy shopping market with a constant stream of shoppers in and out of shops. The din and the clatter of vehicles add to the hustle bustle.
However ,the Tip Top Shopping Market is a small closed market in this busy lane. It is not air-conditioned and it is quite hot inside. But it is one of the best shopping places in Delhi. It is close to the Gaffar shopping Market. The Gaffar Market is a well known shopping Market for mobile phone & mobile accessories.
At first glance, we see shops to the left, right and center filled with crockery and home accessories. The shops are well lit and the display is attractive. Further, the adjacent building is also a part of this market and there are shops in the basement level, we are told. We walk around and start to explore. We see porcelain and glass articles all around.
Porcelain as Wedding Gifts
There are vases, decorative flowers and figurines in colored glass and serving platters and dinner sets in porcelain. The selection is extensive; 12-piece dinner sets 18 piece sets, 36 piece sets and so on. There are white porcelain sets with gold designs.  In addition, the designs are very beautiful and delicate. There is also a great collection of goblets, wine glasses and whisky glasses that are neatly stacked up, in almost every shop. Look around before you make your choice. You will need at least a couple of hours if you are buying glasses and dinner plates for your home.
We carry on and look around. There are all the exciting tiny shops. You could break a glass or a cup if you are not careful when you walk around the store. Check out these options for shopping for wedding gifts in Delhi…
Best WEDDING GIFTS @ TIP TOP MARKET
a) German/Italian silverware – bowls, trays and serving platters are all available in amazing styles & designs. Above all, they make for excellent wedding gifts. They have great utilitarian value and look like real silver. They are available in the range of Rs. 1000 to Rs. 1500/ piece. We did pick up the beautiful bowl with blue stones for Rs. 900/piece. We bought about 25 pieces for friends & relatives. We have been receiving compliments ever since.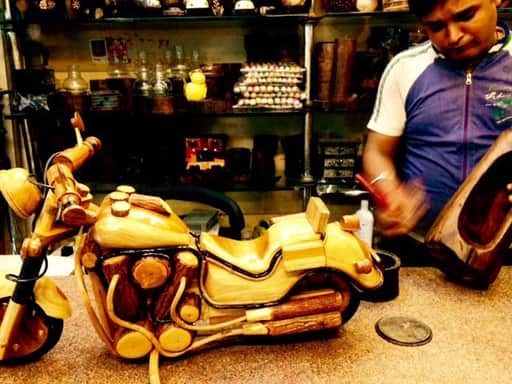 b) Wooden artifacts from Thailand – These comprise of trays, wine holders, toy bikes, nameplates & serving platters. They are all imported from Thailand. There are wall hangings and other knick knacks that are also available. For eg, we picked up a bread basket made from the bark of a tree. It has a nice handle and it cost us Rs 100/piece. Too posh for the bar, did you say?
c) Teapots and cups from China– Looking at the display, you may want to pick up more than one piece. For instance, the colourful & painted tea pots look absolutely delightful. Some made of porcelain and some made of metal. Some with 6 glasses for sipping the kawa green tea and some with 2 cups & saucers for enjoying the tea in the balcony. Even if I am not a tea drinker, I bought a set for coffee. There are several shops that stock these cute little things. So look around and get the best deal.
d) Tablemats and table runners– they are all imported and cost Rs 400 for a set of 6. Dining table covers are in the range of Rs. 750 to Rs. 1000/ piece. If you wish to buy a transparent table cover to protect your beautiful dining table cloth from food & drink stains, then this is the market to look for it. We did not miss this opportunity. We picked up table runners, mats & the transparent table cover as well. From paisley designs to plain colours, they are all available here. Why would I want to buy this in an online store, when I can touch & feel & buy the table mats in the TIP TOP shopping Market?
e) There are shining & stylish lampshades of various sizes, shapes and colours. If you wish to make a bold statement in your living room, buy lampshades in red & gold. There are smaller & more elegant ones too that could be used in the bed room or the study.
f) Artificial flowers like lilies and roses took our breadth away. The colours & the variety are stunning. The shop owners import, these flowers from manufacturers in Thailand & Korea. They have a stock of artificial flowers, stems, plants, pots, Christmas trees and ornamental plants The varieties of flower bunches, sticks & assortment of leaves will leave you astounded. A bunch of beautiful pink lilies will add a dash of sparkle & colour to any room. So we thought & bought the bunch of pink lilies. We are smiling & living so happily ever after.
g) And there are interesting items such as leather sitting stools with innovative designs, trays in colourful glass, Tin boxes in interesting colours & designs, gift boxes & gift baskets.
Shoppers typically visit this Delhi shopping market during festivals and the marriage season and when they have to shop for wedding gift items in bulk. Since this is a wholesale shopping market, the prices are very reasonable. Diwali is the busiest season of the year.
This wholesale market imports 80 per cent of the products on sale from China, Korea and Taiwan. These are then supplied across various Indian States.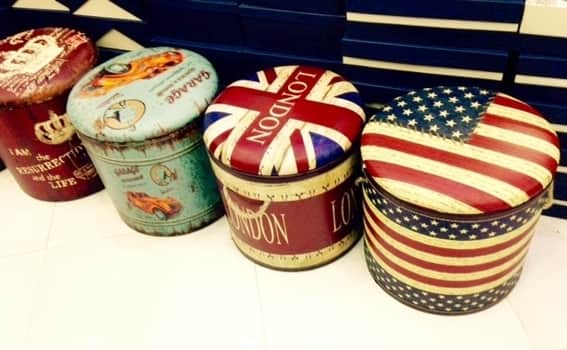 No more fretting about shopping for wedding gifts in Delhi. Karol Bagh Shopping Market is one of the best.In fact, we did see many young parents looking for return gifts for birthdays as well. There is so much to explore in this Delhi shopping market. You can go there every month & find many new shops for gift items. It is a very exciting and happening market. It is retail therapy for the shopaholic.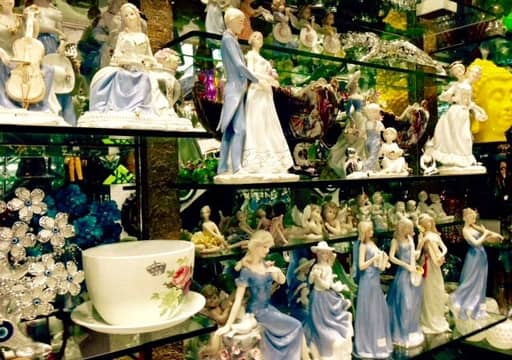 Our other blogs:-
Top 8 Reasons to Visit Chandni Chowk Market, Delhi
Should I keep Up with the Joneses to Host a Traditional Big Fat Indian Wedding?
---
View our videos
SIGN UP FOR NEWSLETTER
Be the First to Know. Sign up to newsletter today