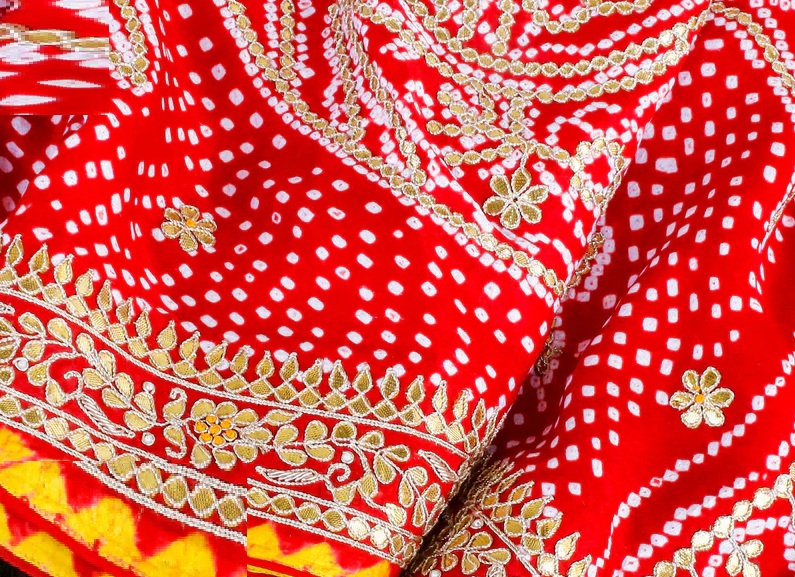 Bandhej & Bandhani Fabrics
What are Bandhej & Bandhini?
Bandhej & Bandhini  fabrics and sarees are popular dotted sarees. These are certainly a specialty of Rajasthan and Gujarat. At first, any visitor to Jaipur, Jodhpur and Udaipur will not miss seeing the colorful bandhini fabrics or dupattas while visiting the busy shopping markets. Men and women use them as drapes, pagadis, dupattas, sarees and dress materials.
Available at Delhi:- Rajasthali
Available at Jaipur:- MK Textiles , Rana's, Ratan Deep, Pratapsons
Shops in Kolkata:- Rajgharana Sarees, Rajasthali-Rajasthan Govt Handicraft Emporium
Available at Mumbai:- Narayani Silk House Indraprasth Mall 
Rattan Deep shop in Jaipur
Bandhej Sarees
The popularity of the bandhini sarees can be seen from the fact that the same age old designs in chiffon & georgette are still used. Simple bandhini sraees in chiffon are still in fashion as compared to newer designs that flood the market.In addition, the colours are attractive and fascinating. The fushcia pinks, cherry reds ,the magentas and the  copper sulphate blues really stand out.
How is it done -Bandhej & Bandhini
The sarees and fabrics are made by the tie & dye method.
Artisans wrap fine threads tightly around small pinches of  white fabric to create an intricate pattern. Bandhan means tied in the Hindi language. Hence the name bandhini. They are certainly distinct and uniquely patterned.Artisans soak the white fabric in coloured water. The points they tie the fabric retain its original colour.
Bandhini is available in rich colours and the dots are often in white. Artisans make use of satin, georgette and silks to create the bandhini sarees. They are popular in Rajasthan and Gujarat.
Cotton bandhini dresses are very popular in summer. In addition, bandhini skirts, salwar kammez are also popular now.Colourful Bandhini dupattas, when paired with plain white dresses, really make a  statement.
Finally, bandhini makes for a regal pagidi (head gear for men). They are available in a host of designs.  Pagidis are are certainly a mark of identification of the clan and the region they represent.
Check our videos
SIGN UP FOR NEWSLETTER
Be the First to Know. Sign up to newsletter today