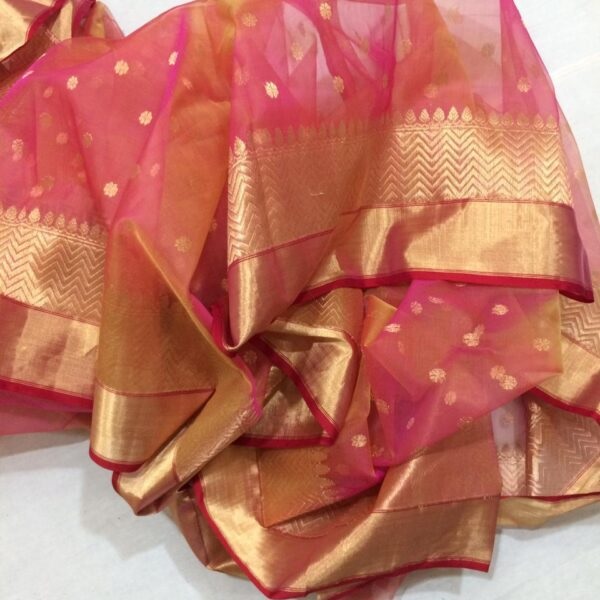 Chanderi Silk Sarees
Chanderi is the name of a town near the city of Gwalior in Madhya Pradesh. Chanderi fabrics and Chanderi Silk  Saree are the fabrics and sarees woven in this town.
The weaving of this fabrics began in the  13th Century. The Mughal rulers encouraged and patronised this craft.
Available at Delhi:- Mrignayani, Print Center, Kalpana Sarees, Tulsi by Neeru Kumar Kilol
Available at Chennai:- Signora(Chennai), Nalli( Chennai), Varsidhi
Shops in  Kolkata:- Benarasi Kuthi, Kalika
Available at Bangalore:- Gaurang  and Fab India
Chanderi  Silk Sarees
Chanderi sarees are transparent and super fine. Typically, the Chanderi sarees are in silk cotton or in cotton organza fabrics. At times, the silk thread is used as a wrap and the cotton thread is used as a weft .The sarees have small zari bhutis and and a gold border. There are parallel gold stripes on the pallu. Chanderi sarees are crafted in a variety of pleasing light colours. Magenta, yellow, green blue & red.
 Chanderi Salwar Suits
Chanderi Fabrics for salwar suits and kurtis have become immensely popular now. Shops all over several Indian cities have a stock of Chanderi fabrics for salwar suits and ready to stitch salwar suits as well. They have the appearance of silk and they are lightweight. They come in multiple shades, colours and designs.
Dupattas in Chanderi Silks are available in plenty in Fab India and Kill.
Bridal Wear-Chanderi Silk Sarees
It is interesting to know that designers have ventured to create beautiful bridal wear in Chanderi silk. This light weight fabric has a lot of volume and hence is ideal for fashionable bridal wear. This is ideal for a mehendi function or for a bride who does not wish to spend a lot on Banarasi or silk bridal wear.
Th Government Coopertaive Institutions  have  done a lot to promote this fabric in recent times.
Check our videos
SIGN UP FOR NEWSLETTER
Be the First to Know. Sign up to newsletter today