TOP 9 Exquisite Carpets From India
Kausy M
1588 views
add comment
Cleopatra, Queen of Egypt did not roll out the red carpet, she rolled out of it. 9Legend has it that a beautiful carpet was delivered to Julius Caeser, Emperor of Rome. When it was unfolded, a young woman, fell out- It was Cleopatra, the Queen of Egypt. The year was 48 BC. That moment changed the history of Rome & Egypt forever. Since then carpets have had an enduring allure. A red carpet is an unmatched symbol of luxury & pomp. Carpet, durrie & rugs are, in fact, expressions in aesthetics. A floor covering essentially adds colour & softness to any interior space in addition to the functional aspect of  support while sitting or kneeling on the floor. It also absorbs sound. From rich & royal to modest & practical, there is an  infinite range of carpets & durries in between. In this blog, we explore some of the best that India has to offer.
First, let us understand the different types of carpets. Carpets, usually refer to wall to wall, floor to floor coverings, while rugs are of smaller dimensions and are moveable. A dhurry or durry/durrie is a flat woven rug made of twisted yarn.
Middle Eastern Carpets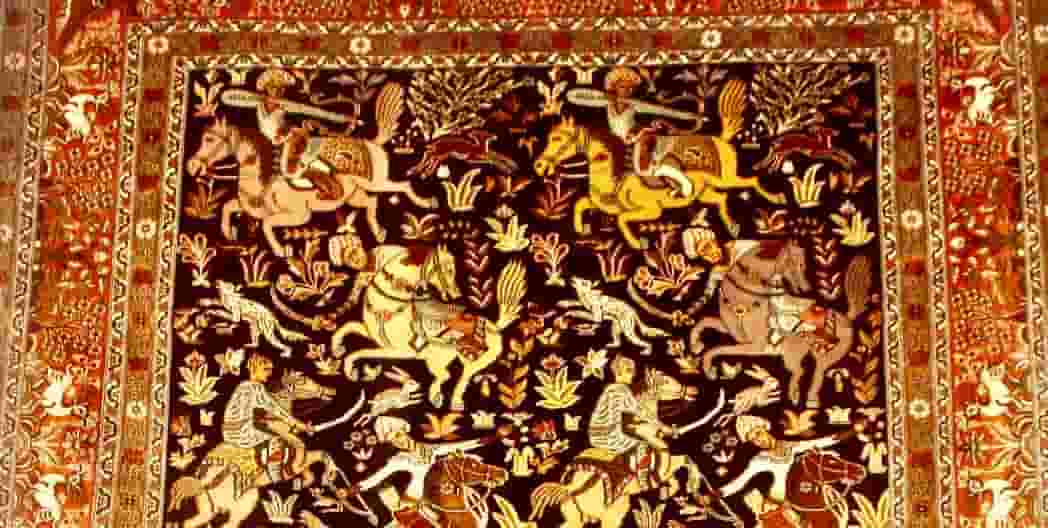 Carpets
Carpets from Iran, Turkmenistan, Afghanistan, Azerbaijan, Armenia, China, India, Turkey and several central Asian countries have captivated the world.
Types of Carpets
1. Hand knotted carpet or rug is woven by hand 
It is said that handmade floor covering originated in Central Asia. The Turkman tribes from Turkmenistan  produced the rugs to keep themselves warm in the cold winter months. For instance, the hand knotted rug, as the name signifies, is made by skilled weavers working with their hands. The warp threads forms the base of the rug. The weft is interwoven with knots. For example, multiple threads of various colours depending on the design are used. Above all, the weavers tie every single knot individually. The knots per square inch, which primarily defines the richness & hence the price of the rug, is a term often used in carpet vocabulary. In other words, more the number of knots, the thicker and more intricate is the rug weave. Hand knotted rugs in silk, wool & cotton are the outcome of a very elaborate & time consuming procedure. They are distinct, unique & classy.
2. Hand tufted carpets & rugs
Contrary to the hand knotted carpets, the hand tufted carpets are made by tufting the yarn into the base cloth by hand or with a machine gun. A stencil is used to trace the design and the tufting is done as per the design. This method is not labour intensive when compared to a hand knotted carpet. The loops are sheared subsequently and the edges are folded and the back of the carpet is glued or painted.  In other words, this creates a smooth surface in the front & is also known as cut pile surface. Cut pile & loop pile are 2 different forms of scissors to be used with the machine gun on the fabric.
3. Machine made carpets & durries
As the name signifies, they are machine made as compared to hand made carpets. However, they are produced in mass scale and one can find multiple carpets in similar designs. Power looms are used in making machine made carpets. Wool, silk, nylon  & acrylic are used in machine made carpets.
Commonly used Materials for making  Carpets , Rugs & Durries
1.Wool
Wool is easily available as it is sourced from sheep. It is also sustainable as the sheep are sheared and the wool will grow back again. Wool also keeps us warm in winter months.
Acrylic – It is a synthetic material and feels like wool. However, it is much cheaper than wool
3.Silk
Is a natural fibre as it is produced from the larvae's cocoon. However, making silk carpets is a time consuming process& is labour intensive. Silk rugs are  soft & beautiful  & have a shiny finish to them.
4.Cotton
Cotton is easily available and the fibre are soft & strong. Cotton easily blends with other materials.
Hemp & Jute are also natural fibre and so is bamboo. They are inexpensive.

Viscose is again a natural fibre which is  obtained from cellulose.
7. Polyester & Nylon
These are the two synthetic materials that are  also used to make  floor coverings &rugs. They are machine made and come in an assortment of colours. They are inexpensive. Nylon is durable but absorbs moisture. Polyester, on the other hand, is water resistant.
Indian made carpets /durries/rugs
Due to the harsh cold winters in North India, floor coverings  are part of normal life .
Uttar Pradesh 
The State of Uttar Pradesh is a very prominent carpet weaving centre in India. The Mughal Emperor Akbar is said to have brought in weavers from Persia to Agra to give an impetus to the carpet weaving industry in the 16th Century. In Varanasi and other centres, the Persian influence is very apparent in the carpet designs. Mirzapur, Bhadohi, in addition to Varanasi & Agra, are the other 2 important carpet weaving centres. Wool & cotton are most popular here for floor coverings.  Designs are predominantly of flowers, animals, gardens, ,creepers & trees. In  addition to prayer mats, the blue & red floor coverings used in wedding halls are made in Uttar Pradesh .
Sikkim
The small State  of Sikkim is another place famous for its  hand knotted carpets. Due to the high altitude, wool is easily available here. In addition to the weavers coming  from Tibet, several of the designs on the carpets are also from Tibet, which is adjacent to Sikkim. Wool from the Tibetan sheep are used to make carpets .Small carpets are used as decorative pieces on the wall, the chair and on the bed. Natural dyes are used to colour the wool. However, wool from Bikaner & Panipat is being used now. Further , it is interesting to note that the designs are an influence from Tibet, Burma, Assam & West Bengal. The Sikkim carpets have attractive colours and distinct patterns like the dragon. As a matter of fact, they look good on the wall.
Assam
In Assam, woollen and cotton carpets are  extremely popular. Further, bamboo silk carpets are also quite popular. Silk carpets are made in Jorhat. Lakhimpur, Barpeta Tinsukiya are other weaving canters. Several households have small looms to weave the traditional gamcha (scarf).  Further, the influence of the tribal colours and designs is very  prominent.
Andhra Pradesh
Andhra Pradesh  in South India has the maximum number of handloom weavers in India. Wonderful cotton & silk yarns are available here. Geometric shapes such as squares, stripes are the most popular designs. The popular Warangal  durries, with a GI index, are made in cotton & jute. It is a cottage industry and they use natural dyes. For example, the craftsmen work on pit looms & it takes 2 days to make a small durrie. Cotton carpets are also produced in Karimnagar or Kurnool. In addition, Eluru is a prominent  weaving centre in Andhra Pradesh. Hand knotted doormats are popular here.
Karnataka
Navalgund in Karnataka  produces a small quantity of unusual durrie in  striking colours & geometric patterns. Women work in looms at homes to produce the Navalgund durrie. Prayer mats are very popular. Mysore, Bangalore & Chennapatna are other  popular centres for  durrie making in Karnataka.
Madhya Pradesh
The Jai Vilas Palace in Gwalior, Madhya Pradesh has the largest carpet in Asia. It measures 100 ft long & 50 ft wide. It is adorned with faces of the earlier rulers of the State & is  stunning. Above all, it is said to have been woven by prisoners. The State has several waving centres. Wool, cotton and art silk  is used in making these floor coverings. The local Bhil community  is involved in  the manufacture of durries. It could take 3 months to complete a hand knotted one  depending on the size.
https://www.youtube.com/watch?v=OTn0l9c_UKY
 Rajasthan
Jaipur, Barmer, Bikaner & Jodhpur are weaving centres in the State of Rajasthan. The Mughal influence is very visible here.For instance, the silk is procured from other States, while wool is procured locally & the weaving done in the State. Sturdy floor coverings can be found in rural areas. Cotton & woollen floor coverings are very popular in Rajasthan. However, woollen durries, door mats  are the more popular. A variety of contemporary & Middle Eastern designs have been adopted. Further,  in Jaipur, the road near the Amer Fort has several carpet manufacturing wholesale shops. All of them export their products. A visit to the Jaipur City Palace & the Amer Fort Palace  will expose you to the magnificent carpets of Jaipur. The Amer Fort complex has several Government  owned shops.
Punjab
The greta ruler ,Maharajah Ranjit Singh is said to have invited weavers from Kashmir to Punjab when he was ruling both States. The durrie weaving industry flourished in Amritsar & surrounding villages. For instance, Punjab specializes in hand knotted woollen coverings in Persian or Kashmiri designs.  Further, Patiala district is famous for the thick durries of Punjab. Durries have a functional use in the cold climate of Punjab. They are also called galicha or kaleen.
Kashmir 
Last but not the least is the Kashmiri Carpet. Floor coverings  were introduced in Kashmir in the 15th Century AD by Sultan Zain Ul Abedin.The silk on silk carpets of Kashmir are sheer poetry. They are unmatched in beauty, aesthetics & elegance. They are popular all over the world. However, the silk on silk carpets are expensive. At times, they use artificial silk  as well to make it less expensive. The designs are predominantly Persian, Turkman & Mughal in origin. The designs are distinctly different in each of the above. Flowers, animals and  paisley designs are typical of Kashmiri designs. Above all, one must understand the unique way in which carpets and shawls are woven in Kashmir.
The patterns are written in a special coded script called the Taleem & the master weaver sings it to the weavers as they work on the carpet or the shawl. In other words, weavers hear the code & create the carpet.
In addition to carpets, Namda which is made of embroidered felt & gaba ( small felt pieces) are used locally as prayer mats and for other functional uses.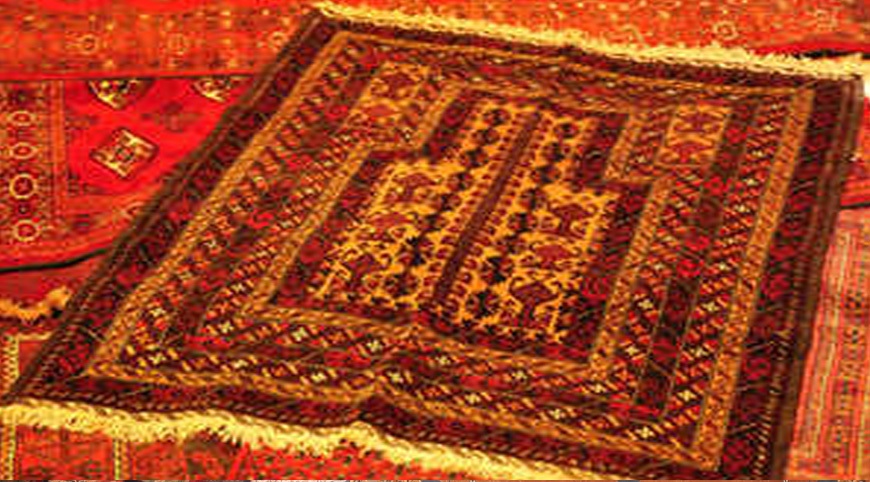 Cleaning
Before we sign off, we wish to share a tip on carpet cleaning. Vinegar and baking soda sprinkled on the top are two good carpet cleaning agents .
Read our other related blog
Best 5 Shops for Carpets in Chennai
Top 5 Kashmir Handicrafts

Glossary on :-
Carpets
Kashmiri Carpets

Available 
Delhi
             Central Cottage Emporioum
             NCE Oriental Rugs
             Siva Oriental Rugs
             Kashmir Government Emporioum
             Gangotri ( UP Govt. Emporioum)
             Shaw Brothers 
Bangalore 
             Kashmir Cottage Emporioum
             State Cauvery Emporium

Chennai 
             The Old Curiosity Shop
             Rug Weave
             Cottage Industries Exposition
             The Museum Company

Pondicherry
             New Cottage Arts
             Treasure
             Elegance 
Jaipur 
             Channi Carpets and Textiles Pvt.Ltd
             Rajasthan Small Scale Industries
---
View our videos
SIGN UP FOR NEWSLETTER
Be the First to Know. Sign up to newsletter today