Karva Chauth 2019: It's a matter of heart, and as we all know, the heart knows no logic. So when it comes to fasting from sunrise to moon rise for the longevity of their soulmates, Indian women leave no stone unturned to celebrate the festival of Karva Chauth with great enthusiasm. The popular North Indian festival is basically devoted to a happy married life.
This is the perfect occasion to catch that extra sparkle in the eyes of a married woman, especially from North and North Western regions of our country. Dress up in the best of their fineries, Hindu women observe a day-long fast for the good health and well-being of their husbands.
Unmarried women also keep the fast sometimes either for their fiancés or desired life partners. In the modern era, men have started fasting too to express their love for their better half.
Karva Chauth 2019: Date & Rituals
The word 'Karva Chauth' is a combination of two words: 'Karva' meaning a small earthen pot of water and 'chauth' meaning 'fourth' in Hindi. So this auspicious festival falls on the 4th day of the waning moon (that is, after Sharad Purnima) in the Hindu month of Kartik. In other words, Karva Chauth comes exactly 9 days before Diwali every year.
This year, the festival of Karva Chauth will be celebrated on October 17, 2019. The festival also occurs simultaneously with the wheat-sowing time. So it's very likely that Hindu women initiated this festival to offer prayers for a great harvest.
The festival is quite popular across the northern states of India including Uttarakhand, Uttar Pradesh, Himachal Pradesh, Jammu and Kashmir, Haryana, Punjab, Rajasthan, Chhattisgarh, Madhya Pradesh, and Gujarat.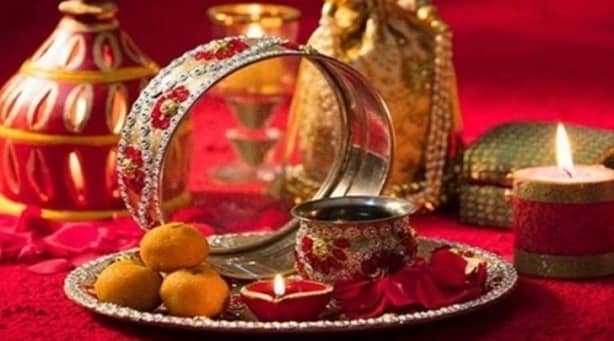 Origins
The festival of Karva Chauth finds its roots in mythology. Legend has it that a young princess named Veeravati gets married to a king at a tender age. Once she visits her parents' place on the eve of her first Karva Chauth. When the rigour of day-long fasting makes her feel dizzy and lose consciousness, her seven brothers devise a plan to break her fast as they could not see their loving sister in this state. With the help of a mirror, they actually make it look like the moon has finally arisen so she can eat something.
Just as Veeravati breaks her fast, she gets the news of the death of the king. Devastated by the loss, the queen rushes to the palace. Next, Goddess Parvati appears in front of the grief-stricken queen and asks her to observe the fast again to offer her prayers of penance. With her devotion and love, the queen was able to bring back the king to life. And they lived happily ever after.
Karva Chauth 2019: Tradition To Adore
It may be a day-long ceremony but Karva Chauth calls for the preparation a few days in advance. After all, there is a lot that women need to shop for! Right from beautiful ethnic outfits in bridal colors of red or pink to solah shringar (bridal adornment) items to gorgeous gold and diamond jewelry, women can be seen shopping for a week before the Karva Chauth puja.
Top Delhi markets like Chandni Chowk, Lajpat Nagar, Kamla Nagar, Sarojini Nagar, South Extension Market, Shahpur Jat Market and Karol Bagh are hots favorites for all the traditional Karva Chauth shopping as well as Puja materials. While splendid boutiques in Shahpur Jat market can help you finalize your perfect Karva Chauth outfit, Chandni Chowk and Karol Bagh are your go-to destinations for more affordable bargains.
As part of the tradition, daughters-in-law presents new clothes to their mothers-in-law and mothers-in-law, in return, gifts them red sindoor, bindi, bangles and other make-up items. The gesture is symbolic of the blessings of elders for a long and happy married life.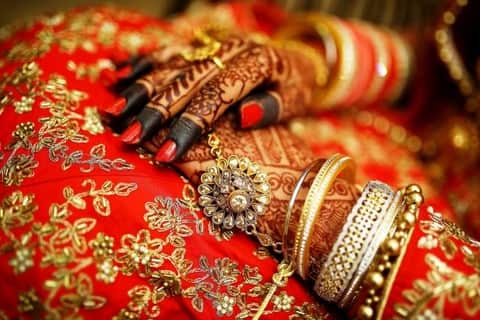 Karva Chauth 2019: Flaunt The Best Mehendi Design 
There is also a famous tradition of applying beautiful curls of mehendi or heena on the hands and feet. It symbolises prosperity for the married couple. Be it Indian, Arabic, Moroccan, Indo-Arabic or the glittery one, there is surely no dearth of options to choose from. It might take hours to get the trendy multi-coloured designs done, but the end result is certainly worth waiting for!
This is the time when the famed mehendi artists are busy applying mehendi on the hands of women. If you are planning to get your hands beautified with mehendi just the night before Karva Chauth, be prepared to shell out extra money. Mehendi artists charge the highest at the eleventh hour with rates going as high as Rs 1,000 per hand. It also depends on the intricacy of the mehendi design you choose to opt for.
Lajpat's Central Market as well as Sarojini Nagar is almost like treasure troves if you are scouring for a great mehendi wala this year.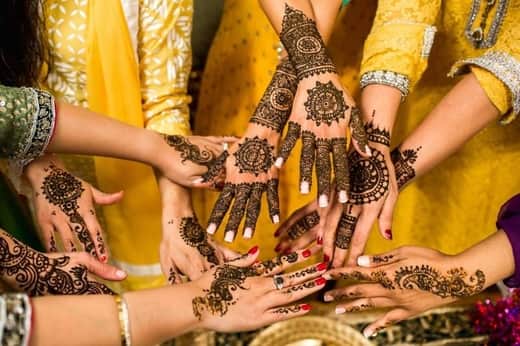 Karva Chauth 2019: Beautify Your Karvas 
Pre-celebrations of this festival also include buying new 'karvas' or earthen pots and painting them with lovely designs. What women put inside these karvas are home-made sweets, make-up items, ribbons, small clothes and bangles too.
Karva Chauth 2019: Sargi
Primarily a part of Punjabi tradition, Sargi is a kind of food hamper that is gifted by a mother-in-law to her daughter-in-law. It includes nuts, mathri, kheer and fruit juice, among others.
To observe the fast, women wake up before sunrise and enjoy Sargi as a treat with blessings from their mothers-in-law. They don't eat anything until the moon-rise after this ritual.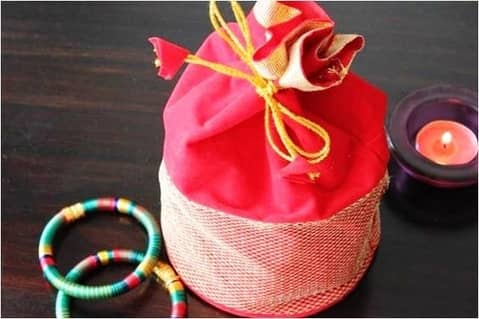 Karva Chauth 2019: Puja
In the evening, women dress up and gather for the puja in the neighbourhood. The katha (story) is read aloud as women pass the decorated thali in a circle. It carries a diya, a glass of water, sweets and other puja materials. After the narration of the story, women wait for the moon to rise.

Later, women break their fast after looking at the moon and the face of their husband through a sieve (net). It's a very common practice to take a sip of water from their better half's hands. All family members then enjoy a delicious meal together. After all, the festival is all about spreading the love and happiness with your close ones.
Are you ready to outshine the moon with your bridal finery on Karva Chauth night? Here's wishing all the beautiful women a very Happy Karva Chauth 2019…
Read our other Blog: Shopping For Karva Chauth