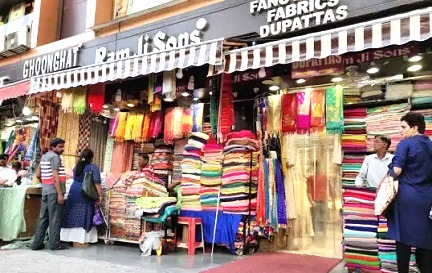 Lajpat Nagar Market
Shopping in Delhi is certainly a great experience. From Lajpat Nagar market to Chandni Chowk to Janpath, India\'s capital city offers amazing places to go for street shopping with all the contentment of bargaining and getting a steal deal. Where...Read more
Shopping in Delhi is certainly a great experience. From Lajpat Nagar market to Chandni Chowk to Janpath, India's capital city offers amazing places to go for street shopping with all the contentment of bargaining and getting a steal deal.
Where in Delhi do people shop for clothes, home decoration, crockery and kitchen utensils, and jewellery – both costume and real hand and travel bags? Which is the popular market to get household goods fixed? Where do people prefer to buy lingerie and cosmetics, as well as uniforms for children? Which pharmacies and beauty parlours attract them the most in the hustle-bustle of things?
Lajpat Nagar Central Market – this is no luxury shopping, not by any stretch of imagination. Located in Lajpat Nagar II, it is only for convenience, convenience and more convenience.
Shopping in Lajpat Nagar Central market, Delhi | Shopkhoj
Central Market
Lajpat Nagar takes its name from the freedom fighter, Lala Lajpat Rai, known as Punjab Kesari or Lion of Punjab. It is now divided into four parts.
Lajpat Nagar I has car accessories and clothing stores while Lajpat Nagar II has the Central Market.  Lajpat Nagar III has the TDI Mall which houses the 3Cs Cineplex, and food outlets like Sagar Ratna, Chopsticks Express, McDonalds, The Street Foods of India and The Bakers Street.Westside  has a large outlet in this complex.
Further,Lajpat Nagar IV houses the Amar Colony. Amar Colony market has a an antique street furniture market.
Despite the crowds and chaos that give an impression of disorderliness, the shops themselves are organized theme-wise. You will find clothes in one cluster, kitchenware in one corner, costume jewellery in one lane, puja (prayer) paraphernalia in one pocket, and footwear in shops lined up in a row.
Fabric Shops in Lajpat Nagar Market
Above all, Lajpat Nagar Shopping Market is well liked for its fabric shops too. Brocade, chanderi, banarsi and silks are available in plenty. Check out the sari borders in brocade and mirror work. They are exquisite.
Further, you can shop for salwar kameez fabrics in the Salwar Lane. There are more than 10 shops in this lane. In addition, there are shops for bridal wear dresses and renting bridal wear as well.
Shop for beautiful imitation  and fashion jewellery, bindis and bangles in the jewellery lane market.
You can buy furnishings, school uniforms, footwear, handbags and more at very reasonable prices.
In addition, you could also pick up plastic flowers, sunglasses cheap winter clothing and a host of other things.
Finally, the street food such as chole kulcha, tikkis and Dry Fruit Sindhi shops are popular here.
Read our popular blogs here:
Fabric & Jewellery in Lajpat Nagar 
Hire/Rent bridal lehengas in Lajpat Nagar
---
103 views