Why is Karwa Chauth Celebrated?
It is an age old custom where married women fast and pray for the longevity of their husbands.  The fast is undertaken from sunrise to moonrise.  It is traditionally observed by certain communities in North India. Karwa chauth is celebrated in the month of Kartik (October/November)
The fourth day after new moon day after Dussehra, is Karwa chauth. It is celebrated before Diwali.
Rajasthan,Punjab ,UttarPradesh and Gujarat are the Indian States where it is celebrated.
Chauth is the 4thday after a new moon and karva refers to a pot.
Preparation for Karwa Chauth
Women prepare themselves by buying cosmetics, jewellery, new garments and puja thalis(plates).They get their henna/mehendi done in a local market.
Mehendi
Women apply mehendi /henna  in their hands. Henna is a powder made from the plant Lawsonia inermis.
The henna powder is typically mixed with water and made into a paste. This is applied with the help of a plastic syringe or a piping nozzle on the hands.
Intricate designs are created on the palms. It is washed away after a couple of hours. Although it appears orange in colour after washing off the hands, it slowly turns to a deep red colour to display the designs.
Mehendi artists can also be found near the jewellery lane in Lajpat Nagar and in the GK M Block Market.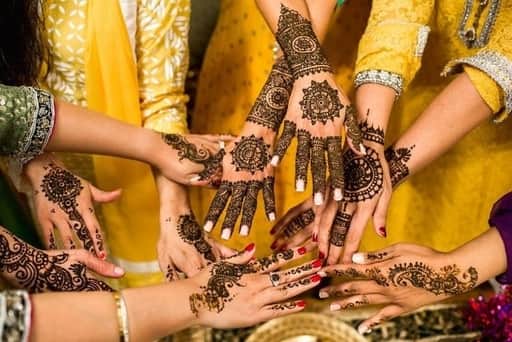 Shopping for bridal finery
In fact, when you visit the Lajpat Nagar shopping Market, the GK M Block Market shopping Market or the Karol Bagh shopping market you will find women thronging the market and shopping for lenehga (long traditional skirst)cholis,(blouses), salwar suits and sarees.
Shops such as Nargis in Lajpat Nagar, Frontier Raas in South Extension Market and RCKC in Karol Bagh are popular places to shop. The jewellery lane in Lajpat Nagar is crowded as women like to buy bangles and bindis before karwa chauth.
Shops that stock fancy thalis for the puja are also crowded.
Many women visit spas and beauty parlours before Karwa Chauth.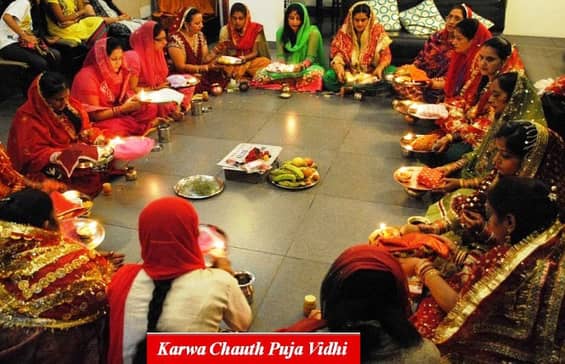 Activities before sunrise
Women wake up early in the morning and have fruits, sweets and milk prior to sunrise.
During the day, many of them do not take any food or water.
Karwa Chauth Puja
Around evening time, women get dressed in their bridal finery. They wear bright coloured  saris, salwar suits or lehengas.
Women get together with their relatives and friends and do a puja. They typically congregate together in a garden to do the puja.  Sometimes a priest is brought in for a story telling session. Mythological stories that talk about the virtues of women and their prayers for their husbands are often spoken about.  Aarti  is performed and the songs are sung to celebrate Karwa chauth.
There is a great sense of bonding & community participation.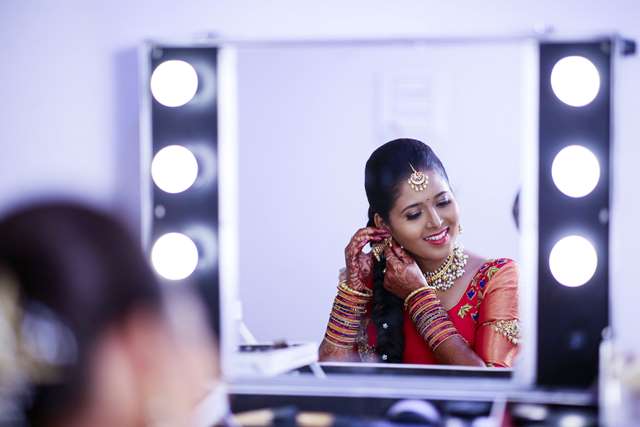 Preparing for Moonrise
Women worship the moon when it is first sighted. They stand in gardens, terraces and any open space to sight the moon .The moon is first seen through a sieve or a veil.
The moon is worshiped and offerings are made.  Subsequently, they pray to their husbands and receive his blessings.
The husband then offers the the first morsel of food to his wife who is fasting for his health, prosperity and happiness.
Sweets are passed between them.
Food-Only vegetarian food is consumed in Karwa Chauth. Malpua, Sweet Mathri, kheer, badam puri, phirni and atte ka halwa  are all consumed as a part of the celebrations.
Like all other Indian festivals, Karwa chauth has become a popular festival in Delhi and women are prepared to spend large sums of money on this day.
Also Read