Juttis in Bapu Bazar -Jaipur
If you are looking for Juttis in Bapu Bazar, there is one shop that Shopkhoj would recommend. The Tourist Shoes shop is a small Jaipur shop at the corner of Linking Road in Bapu Bazar. They specialize in traditional Rajasthani footwear. Shop for Jaipuri, Jodhpuri & Nagra shoes, chappals (flip flops) and sandals for men, women and children. They are mostly made using camel leather.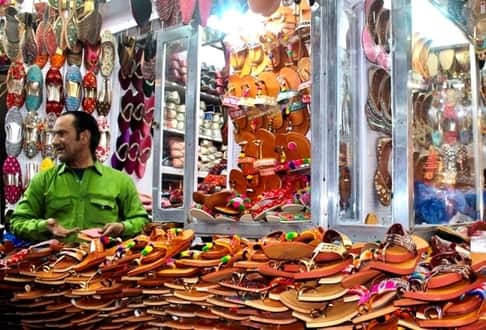 Juttis are covered flat footwear made from camel leather that are ideal to be worn in the desert. Parts of Rajasthan were barren dessert places where men and women had to walk for miles in the dessert sand. The juttis are perfect footwear for both summers and winters except that the winter ones are thicker.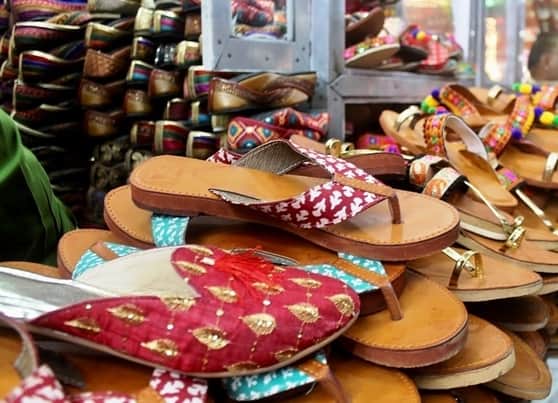 Embroidered Juttis in Bapu Bazar
Salman Khan has been in the shop for decades selling juttis to several tourists and locals. Although it is a small shop, their collection is vast and interesting.
The sandals are so colorful, soft and not very expensive. You will certainly want to walk away with more than just one pair.
You may find intricate, colourful and fancy embroidery done in some of the juttis. Some of them are with appliqué work in  blue, red, yellow and green colours.  Some others are with intricate mirror work designs on them. The variety of designs on any pair of footwear is really amazing.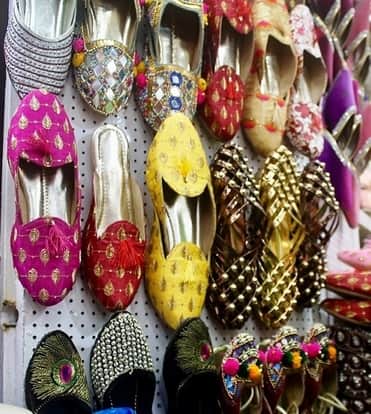 The fancy Juttis for men have a curved front design that looks distinct. They are also available in cream & gold, black & gold and in myriad colours and designs. Men usually wear these colourful Juttis with a sherwani or with a bandgala jacket (typically in special occasions like weddings).
They also stock Kholapuri chappals and shoes. Kolhapuri, which first became famous in the town of Kolhapur in Maharashtra, are colourful open sandals. They are certainly ideal for summer.
Don't forget to shop at Tourist Shoes in your next trip to Jaipur to buy yourself a lovely pair of shoes!