Jaipur Weekend Shopping
Firstly, anytime a relative, friend, foreign-visitor or colleague asks me the best weekend gateway from Delhi – I have one answer- Jaipur! Jaipur Weekend Shopping is a must-try experience.
The grand capital of Rajasthan, Jaipur, offers weekend visitors everything from India's finest 5-Star luxury resorts and historic forts to sumptuous culinary delights and of course, some of the best shopping in India!
Therefore, it is not surprising that the State of Rajasthan attracts the maximum tourists to India.
Amer and Jaigarh forts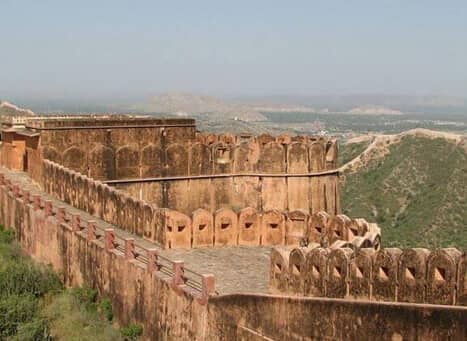 One of the best parts of the 5 hour journey from Delhi is the entry into Jaipur. Veering through the Aravali foothills, you take a turn and suddenly see the majestic Amer and Jaigarh forts atop a hill. The dusty brown foothills descend into a large blue man-made Man Sagar Lake. The sparkling white Jai Mahal palace right in the centre is a rare sight to behold.
Art and Craft in Jaipur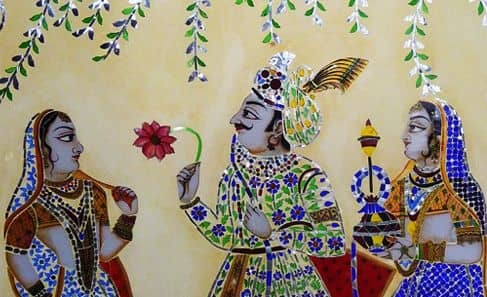 There are a row of shops selling furniture, statues and souvenirs  made with marble and with mirror inlay work. Mirror inlay is a craft when tiny- coloured glass pieces  in indigo blue, red and green are etched into the marble. The  Taj Mahal has mirror inlay work in it . These shops also sell beautifully embroidered fabric umbrellas in bright fuchsia pinks and oranges . They also sell the  famous Rajasthani Puppet – a set of two cloth dolls wearing traditional  Rajasthani attire.
These items are all great for home decor, children's rooms and as gifts.
The narrow road then leads to the historic old part of Jaipur- called the 'Pink City', where all monuments, shops and buildings are painted a dull pink shade by law!
Watch out for the Hawa Mahal or wind palace used by the women of the Palace in the olden days to watch processions below, because they could not been seen by the general public.
Johari Bazaar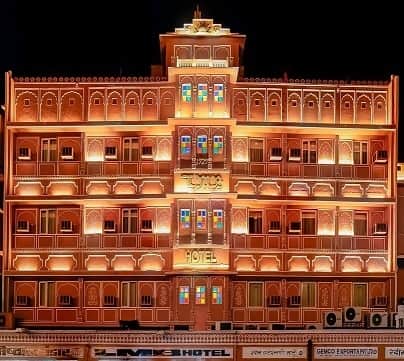 You are now in Johari Bazaar or the jewellers market, where you can pick up gemstones in any color. The gemstones  can be customised into designs and styles of your choosing. The silver earrings are a hot favourite amongst teenagers and young women as they look great with both Indian & western dresses.
Jaipur's finest jewellery traditions  include 'Kundan' or cut and polished glass/gemstones on pure gold or metal, 'Polki' or uncut diamond in gold base and 'Minakari' jewellery or enamel/intricately painted jewellery.
For lunch, head straight to the famous LMB (Lakshmi Mishtan Bhandar) snack house located on the same street. It is always very crowded. The best things on the menu are the Pyaaz ki kachori and the Rajasthani 'Thali' (Set meal). You can buy neatly packed boxes of 'Ghewar' sweet for relatives and friends as well.
Post lunch, stay in Johari to shop.'Ranas' one of the oldest shops in Johari Bazaar has sarees and bridal lehengas in typical Rajasthani fabrics. Rajasthani designs such as  leheriya, bandhej and zardozi in popular rani pink, maroon, red and orange are popular. I have been here each time I visit Jaipur, just to look at the intricate handcrafted work on the lehengas – they are exquisite. As a result, many Delhi brides get their bridal outfits from here.
Bapu Bazaar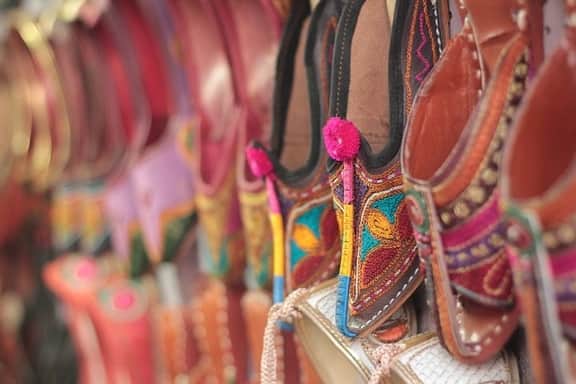 At the corner of Bapu Bazaar on Linking Road there is a store selling traditional 'Juttis' . They are flat soled camel-leather shoes in various colors, some with fabric exteriors and some embellished with tiny beads. You can pick up some lac or glass bangles and traditional printed dupattas and jaipur quilts (razai).
If you are visiting Jaipur for the first time, we recommend Chowki Dhani – a 40 minute drive from the city centre where you can experience a typical Rajasthani village atmosphere and authentic local cuisine.
Most shopping areas are closed on Sunday but some shops such as Zari, located opposite City Pulse mall and Neerja located in Civil Lines are open.
Zari's three floors sell lovely sarees in Zardosi, sequins, embroidery and Jaipur's most famous Gottapati work.
Neerja sells Blue Pottery. It is a hand-made pottery item using deep indigo dyes that is available only in Jaipur. The range of products include plates, trays, candle stands, bowls and tiles. Tiles painted  in blue and complemented with yellow and green floral patterns are an exquisite buy.
Finally,Instead of shopping, you could also visit the Jaipur City Palace and the Jantar-Mantar– an 18th-century park & heritage site.
Hence, you can return to Delhi at leisure with great memories, great pictures and all the Jaipur weekend shopping.