Top 5 Places To Shop In Jaipur
Kausy M
4923 views
add comment
Jaipur, the capital of Rajasthan, is a city that evokes a sense of history, valour, romance and awe. It is a sense of wonder and joy when you first visit Jaipur. That is not all. The city continues to inspire you with the forts, palaces and museums with elaborate architecture serving as a reminder of their royal heritage. Let us also not give the 'Best Shops in Jaipur' a miss.
Welcome to the Pink city of Jaipur!!!
Forts, Palaces & Museums in Jaipur
Firstly, as you approach the Amber Fort on the outskirts of the city, there is a sense of grandeur that envelops you. This is one of the top 10 Forts in Rajasthan. The majestic fort, with a moat around it, served as the principle place of the residence of maharajahs and their families. Further, being situated on top of a hill, it assisted the ruling army to spot the approaching enemies well in time. It includes the Diwan-e-Aam (public audience hall), the Diwan-e-Khas (private audience hall) and the Sheesh Mahal (the famed hall of mirrors). Indian cinema has made full use of this romantic hall and many memorable  scenes have been picturised here.
Adjacent to the Amber Fort is the Jaigarh Fort that is located on a hill. It is located at a height of 500 feet above sea level and has spectacular views. It was built in 1726 AD. In addition, cannons and other artillery used by the maharajahs are on display here. The world's largest cannon on wheels, called the 'Jaivana Cannon' can be found here.
 Jaipur City Palace
The City Palace, in the heart of Jaipur, is another marvel. It houses the Maharaja Sawai Man Singh II Museum. The arms and ammunition used by the maharajahs are on display here. An interesting tit bit is that the silver container which was used to carry the Ganga Jal (water from the Ganges), when the maharajah went abroad on a voyage is prominently displayed in the museum.
The famed Hawa Mahal is right next door to the City Palace. This is where the queens could witness the Maharajah's victory procession, hidden from public view.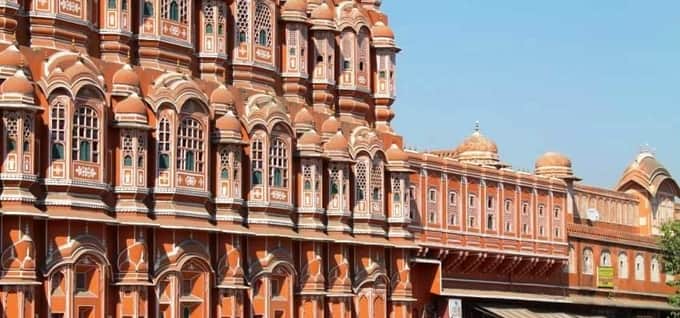 The Janatar Mantar observatory in Jaipur was built in the early 18th C.
Jaipur Shopping
While Jaipur has places of tourist importance, most noteworthy is the fact that  it is also a shopper's delight. The incredible variety of textiles, jewellery and furnishings that are available in Jaipur is astounding to say the least.
Let us explore the   Best Shops in Jaipur in Jaipur…
1. Amber Fort Shopping in Jaipur

The area around the Amber fort is known as Amer or Amber Fort Area.
Outside the fort are several shops selling marble handicrafts, white metal handicrafts, blue pottery, bed covers and bangles. While some of them may look touristy for sure, we have identified the following shops in this shopping market. In addition, there is a Government operated shop within the premises of the Amber Fort. One can shop for carpets, textiles, silver jewellery, marble artefacts and miniature paintings here.
a. Saurashtra Impex is a 4 storied building known for mirror worked wall hangings, jackets, quilts, cotton dhurries, and home furnishings.
They stock a variety of textiles in cotton and silk for creating dresses and salwar suits. You are bound to spot tourists and buyers from abroad buying in bulk here. They can customize and deliver garments to you in days' time.
b. Antiquariat is a renowned jewellery shop known for gem stones, jewellery, silver, antique handicrafts and paintings.
c. Bhandari Jewels Pvt. Ltd is a popular store for Jaipur Jewellery. Shop here for necklaces, earrings and bracelets in precious stones and gold. They also stock wooden handicraft pieces.
d. Riddhi Siddhi Textiles This is another popular shop for patch work quilts, quilted jackets, patch work umbrellas and soft furnishings.
Best Shops in Jaipur for Carpets 
Finally, Jaipur carpets are world famous, especially the cotton & woollen carpets. Check out the following stores for carpets.
2.  Johari Bazar, also known as Jewelers Market

Jaipur City was  at first painted pink in the year 1876 by the then Maharajah of Jaipur. It was done to honour Queen Victoria and her husband Prince Albert.
When you visit Johari Bazar today, you will be awestruck with the pink colour on all the buildings. This is a tradition that is being followed in the city ever since.Further, the identical size of the shops and the numbering on the shops is also something to be noted.  Finally, you will be overwhelmed with the multitudes of people walking in the pavements, the endless noise and the buzz of cars, carts and rickshaws. Johari Bazar is a riot of colours. Colourful bandhni sarees, skirts and phagadis (head dress) are displayed in the shop windows. The City Palace and the Hawa Mahal are in this road.
Best Shops in Jaipur-Jewellery shops in Johari Bazar
This shopping market is popular for silver jewellery shops and semi-precious gem stones.  As a consequence, it is always crowded. As you walk by in the bazar, you will find several shops selling authentic silver jewellery such as silver earrings and silver earrings. Check a few shops for designs and prices and then pick your choice.  However, the most attractive part of jewellery shopping in Johari Bazar is the strings of garnets, rubies ,sapphire and emerald that one can get to shop for. Do not miss the opportunity.
  Best Shops in Jaipur-Bridal dresses in Johari Bazar
Ranas, the popular store for Rajasthani lehengas is here. It is one of the larger shops.  Therefore, the who's who of Jaipur visit this shop for creating their traditional bridal lehengas.If you are looking for Gharchola sraees, Bandhej & Leheriya sarees in satin and chiffon and beautiful Kota sarees,  check out the   Rattan Deep  store in this road.
Best Shops in Jaipur-National handloom Store
Quilts, steel plates with typical Rajasthani Meenakari work, bangles, sarees, and many interesting items will keep you in the shop much longer than expected. It is certainly  a very interesting shop at very reasonable prices.
Further, walk into the iconic LMB hotel. This is an authentic Rajasthani vegetarian restaurant. Enjoy the pyaz ki kachori, bajra ki  roti and Rajasthani thali here.
3. Bapu Bazar

Adjacent to Johari bazar is Bapu bazar. It is also crowded at all times.
Best Buys in Bapu Bazar
The best buys in this bazar include bed covers and bed sheets, soft fabrics for sawlar kameez, juttis and bangles.
Jaipur is popular for lac bangles and glass bangles. You will find that Bapu Bazar has more than 10 bangle shops. Colourful glass & lac bangles with intricate thread work, bead work and mirror work will want you asking for more. The prices are very attractive too. In addition, Juttis in camel leather with colourful embroidery are in fashion and they are comfortable.
Check out Tourist Shoes for colourful footwear .
Best Shops in Jaipur-Fabrics in Bapu Bazar
a. Krishna Stores has home furnishings in cotton at very reasonable prices. They also stock salwar suits pieces in cotton and a range of colourful dupattas. Block printed fabrics are available in the stores here.
b. MK Textiles is another popular store for fabrics and salwar suits with Rajasthani prints. Bed covers, bed sheets and quilts are available at Rs. 500/piece in bright cotton fabrics.
There are several shops that sell supari (after-dinner digestive) in Bapu Bazar. The flavors range from rose supari, ginger based digestives to tangy tamarind digestives. Sweet mango papad and other varieties of papads are hot sellers here.
4. MI Road

Mirza Ismail Road or MI Road is at the centre of Jaipur and runs from Sanganeri Gate and Ajmeri Gate to the Government hostel. Mirza Ismail was an erstwhile prime minister of the princely states of Jaipur. Most noteworthy is the fact that some of the best shopping in Jaipur can be done here. It is a broad road and there is less pedestrian traffic here. Let us take a look at some of the best shops located on this road.
Best Shops in Jaipur-Rajasthali
Firstly, there is Rajasthali which is a Rajasthan Government emporium. It has 2 floors. There are carpets, handicrafts, jewellery, furnishings and garments in typical Rajasthani block prints. Painted white metal handicrafts and marble handicrafts are popular here.
 Jewellery in MI Road
The best jewellery shops for gem stones and polki jewellery are in the MI Road. If you are on the lookout for jewellery shops, do check out Kuber Tholia, Amrapali, The Gem Palace, Birdichand Ganshyamdas and Shree. Finally, Silver Mountain  has loads of silver bracelets, earrings, rings and necklaces on the first floor. If you are interested in buying glass bangles and lac bangles, check out Chudi Ghar (bangle shop) on the main MI road.
Garments in MI Road
Anokhi, another big shop is close by MI Road. Anokhi has 3 floors of ethnic clothing for men, women and kids and a separate section for home furnishings. In addition ,the Anokhi café has become extremely popular. They serve healthy snacks & drinks. Their cakes & desserts are very popular.Saffron by Nidhi Tholia is the designer bridal wear shop. This is nearby Panch Bhati Circle in MI Road.
Restaurants in MI Road
Check out Niros and Natraj which are authentic old style restaurants here. Try the lassi in the earthen pot that is available in several places in MI Road and at the Panch Bhatti circle. Jaimahal is a popular ice cream place and Raj Mandir cinema hall is also close by. We recommend that you pay a visit to the MI Road shops in Jaipur.
 5. Civil Lines Market

Jaipur is famous for its cotton fabrics in Bagaru prints and Sanganeri prints. Some of the best shops for cotton garments and home furnishings are in Civil Lines.
  Best Shops in Jaipur-Salwar kameez stores in Civil Lines
Cottons , Suvasa, Soma and Rattans are some of the best shops for printed salwar kameez fabrics, skirts, stoles, dupattas and readymade dresses. Home furnishings available in the stores are soft in pastel colours and flowery designs. In addition,  If you are looking out for blue pottery, step into Neerja, which is one of the best shops for blue pottery in Civil Lines.
Hari Mahal hotel is a heritage hotel. You can stay here and enjoy an authentic Rajasthani thali or better still stay at the hotel and enjoy the feel of large rooms and hospitality reminiscent of the maharajahs.
Jaipur is growing into be a large & modern city. However, the historic past is an integral part of the city. Despite the swanky malls coming up in the city, the old and dusty shopping markets of the old city still attract shoppers from all over the world.
Also Read
---
View our videos
SIGN UP FOR NEWSLETTER
Be the First to Know. Sign up to newsletter today