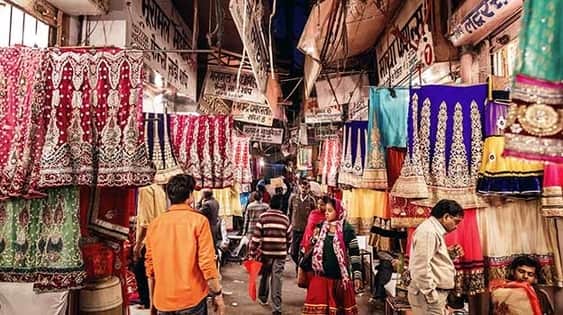 Top 5 Street Shopping Places in Mumbai
Jayashree
1421 views
add comment
Everyone likes a good bout of bargain shopping. To a shopaholic, bargain shopping is pure therapy. To others, it is a great way to save some cash. No matter what your reason, you'll find  the top 5 bargain  shopping places in Mumbai that are the right mix of quality and bargain.
As a matter of fact, bargain shopping in Mumbai markets requires a bit of preperation. We guess that the following prep rules are good no matter where you head shopping actually.
The first and foremost is comfortable shoes and clothes. You'll have to get in and out of several shops and walk quite a bit. The lanes are sometimes narrow and crowded.
Stay light and carry a bottle of water.
Replenish yourself before you start. Fill up with a decent brunch but not too much to drink. (You won't find a good toilet unless you get into a mall)
Do a bit of homework before you go on what you can buy and the price range for it. (That's what Shopkhoj is here for)
The first rule of bargain shopping is that you offer exactly 50% of the quoted price. Be prepared to haggle for a good 15 minutes. If you show that you are 'too interested' in buying then the shop guy won't budge. You may have to sometimes stage a 'walk away' too.
Bargain shopping places in Mumbai mostly involve roadside vendors. If you walk into a market, you'll find several vendors selling very similar stuff in the same line on the street.
Now, you know there are other options and so do they. So when you get into the bargain dance, be sure you know the price beyond which you won't pay for an item
Keep an eye out for quality. Now, it's roadside street shopping in Mumbai. You aren't exactly going to get supreme quality (no matter what the shopkeeper promises). But don't get fleeced with torn, faded or undone garments that may have a button or two missing.
Keep a little extra money than you've actually budgeted. You'll chance upon a good pair of earrings or scarf that'll be a total MUST have.
Take a best friend for shopping – someone to get a second opinion and gang up on the bargain buy. Besides, its all the more fun!
Keep your wallet and phone safely tucked away at all times. Don't talk while you shop and be careful when you have your purchase in one hand and wallet in the other.
Now, with all the basics out of the way, you are ready to scour the top 5 cheap  bargain shopping places in Mumbai
Linking Road, Bandra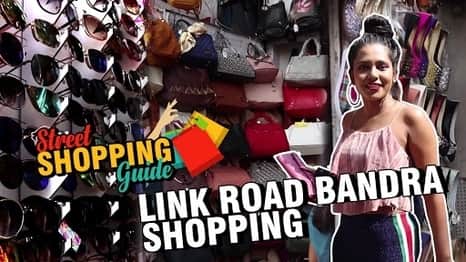 Linking Road in Bandra is one of the best shopping places in Mumbai for clothes, bags, shoes and junk jewellery. If you use one of Mumbai's arterial trains, you can get of at Bandra station. You'll even get a share rickshaw to Linking road – that's how much it is frequented.
The shops start at the beginning of the Linking road stretch and have clothes and bags hanging high from the shops. The shops themselves aren't bigger than a small room but display their wares with full aplomb. You'll have the shop guys scream out the day's bargain and even invite you to come over and check their ware out.
 Street Shopping in Mumbai – Serious buyers & window shoppers
With years of experience, it takes just a few seconds for the shop guys to differentiate the serious buyers from the window shoppers. Depending on which category they put you in will determine the amount of attention you get from them. If you are the former, you'll be invited in to see a better range and colour. If you are in the latter, the shop guy will stick to just answering when asked and let you look around.
A good way to shop around linking road is to start with 'non-intrusive' window shopping. Go around the market looking at all the shops and their prominent wares on display. During this process, mentally mark the shops you want to go back to. If you don't do this, you may end up buying a bag or top and find a better one at a better price in the shop right next to it. To avoid the psychological pitfall, do your market survey first like a seasoned shopaholic. Stop in between to just ask for the price and refrain from further conversation.
Bargain & Start Shopping
Now that you are armed with all the info on what's available where, delve head first into shopping. There are line of shops for bags, sandals, clothes – both Indian and western wear and accessories. You'll not find a drastic difference in the product variety, quality or price here. A good strategy is to try a maximum of three shops in each category, pick the best and go for the kill. Otherwise, you'll simply confuse and exhaust yourself with all the choices.
The market has a couple of cafes where you can stop for a quick break before you continue shopping. Most groups from colleges head to Bandstand after a good time shopping at Linking Road.
Linking Road – The side you may not see
Hustlers of Linking road: Most shops have a 'hustler' in the vicinity. If you become a 'difficult' customer who is arguing about quality, picking a fight or want to return a purchase, a hustler will be called to scream and shoo you away!
The Hide and seek from police: Several of the vendors operate here illegally. If there is a sudden news about a police raid, you'll see them collecting their wares and escape like they never existed. After the whole drama dies down (with a few unlucky ones being caught and their wares confiscated),  others return back to business as usua
2. Street Shopping in Mumbai
– Colaba Causeway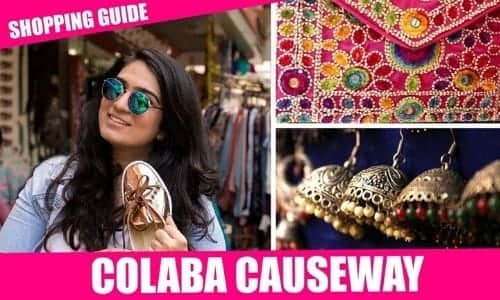 Situated in the 'town' side of Mumbai, Colaba Causeway is a street filled with roadside shops and a few branded stores. If you are heading to this market, we suggest you eat light because there are so many interesting food options around here.
If you plan to ride the ferry at Gateway, do this before you go shopping.
Insider info: The street is frequented by 'foreign tourists' so the prices are more in line with how much they can pay instead of locals. Therefore you'll have to do a good deal of bargaining.
To know about the best shops in Colaba Causeway, see our market review here (link)
The two things you can shop for here is good junk jewellery and western tops.
Crawford Market-Street Shopping in Mumbai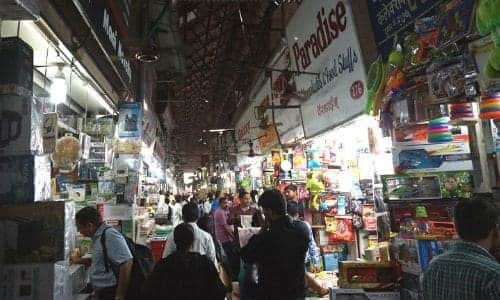 Aurthur Crawford was the first Municipal Commissioner of Mumbai. This is where the market got its name. Mahatma Jyotiba Phule Mandai is the new name for the market.
The market is a complete amalgamation of wholesale products. Most small business owners flock to the market to buy the wares and sell it on a mark up elsewhere. You'll also find most of Mumbai's bakers here purchasing wholesale items used in making cakes and decorations. If you have a party and need decorating items, party props and return gifts, this is the place you jostle over to make a bulk purchase. If you have a toddler at home who is screaming for a new toy every week, you can buy Chinese make toys here at a better rate than elsewhere in Mumbai.
Shop for shoes, clothes, belts, jewellery & diapers too
You can even buy diapers in bulk here! The market also has shops that sell shoes, bags, belts, ready-to-stitch clothes, stationary, toiletries and electrical light fitting shops. From perfume and make up to spices and toiletries, we are yet to think of something we can't find here. In fact, there are many things you'll never think of but end up buying when you come here.
Needless to say, it can be a mayhem if you wander here without deciding on what you want to buy in advance. Fun facts: Lockwood Kipling designed the stone fountains inside the market. He was the father of the famous Rudyard Kipling.
Fashion Street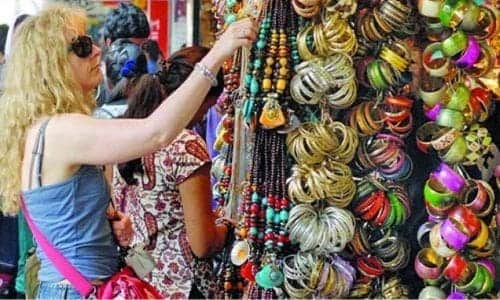 A set of 300 odd shops near Azad Maidan constitute Fashion Street. Some exclusively sell shirts, others sell just western wear tops, some do children's clothing, some do belts and accessories. When you walk the line, after a while, it all seems to merge into one. Don't expect to find fine quality here. These shops are good for picking up clothes that'll be in trend for a couple of months only because beyond that the clothes won't really last.
As always with street and bargain shopping places in Mumbai, start haggling at half the price and then meet at a midway point. Most shopkeepers expect this and purposely jack up to twice the price in any case.
What's good about this market is that, once in while, you'll just find a complete gem – something nice and trendy right of the ramp flowing into the street. Finding it is nothing short of a treasure hunt so get ready to scour the highs and lows of this market to find that one top or one belt that'll make your day.
5. Hindmata, Parel- Old Cloth Market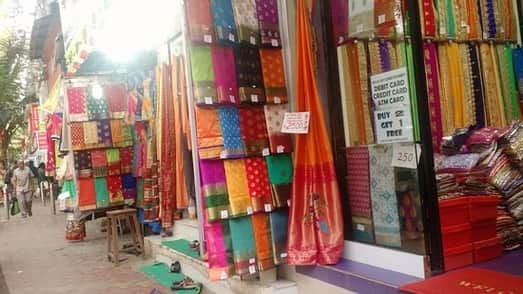 Hindmata in Parel is one of the old-time cloth markets of Mumbai. Like Gandhi Market, you'll see lines of shops in an old shopping centre. There are shops outside it too. The market is most famous for buying dress materials.
For instance, the best way to shop at Hindmata is to first decide what type of dress material. The party wear dress materials may cost 1.5k upwards, sometimes up to 3-4k depending upon the amount of Karigari or work done on them. The regular office-wear material will go from Rs. 700-2000.
Finally,just outside the main shopping centre are other shops, some of which have a great collection of sarees, especially the bandhni bandhej kinds. You can look up this market for saree shopping in Mumbai too.
As we go forward, we will be sharing our best pick of shops from each of these markets. If you have a favourite mall or market and would like to share a review, drop us an email at contact @ shopkhoj.Com
---
View our videos
SIGN UP FOR NEWSLETTER
Be the First to Know. Sign up to newsletter today