Best Shopping Places In Mumbai
Apr 09, 2019
Kausy M
1770 views
add comment
Shopping Places in Mumbai: When I enquired about shopping in Mumbai, I was directed to Hill Road, Turner Road, Colaba, Santa Cruz, Linking Road and Fashion Street .  I was informed that we could get a variety of items from garments to accessories and footwear in all the markets. it would depend on the budget.
One took the Uber to Hill Road to spend the day shopping. It was a bright and sunny morning and 11 am was a perfect start to a shopping day.
There are shops on either side of Hill Road. It was not very crowded and it was pedestrian friendly. One could see some shoppers on the road. However, it was a busy road with buses and cars moving continuously.
 Mumbai Street shopping -Elco Arcade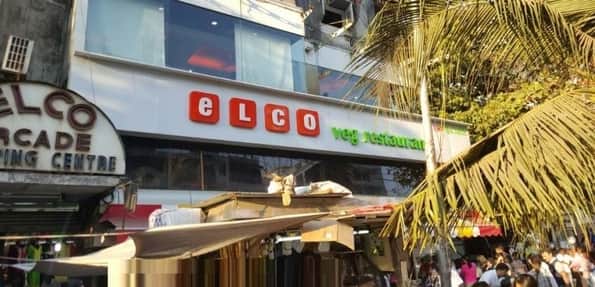 Elco Arcade was the first market I stepped into to check out. It is a closed circular market. There are at least 50-60 small shops in this arcade. I was astonished at the number of fabric shops in the market. Fabrics from simple cotton to glitzy embroidered fabrics in trendy designs were available. It appeared that several of them were imported from abroad.
Further, there were salwar suits, lehengas, nighties, home furnishings and footwear.
All the items were at budget friendly prices. I could see several local shoppers walking in and out of the shops. It seemed a very popular market place.
Elco Chat Shop
Outside Elco Arcade is the Elco chaat shop with all the street food you can dream of eating. Pav Bhaji and Bhel puri were the hot sellers.
While there were people standing in queues and enjoying the chaat, they had some seating arrangements on the inside.
Chaat items are savory dishes. Aloo tikki, bhel puri, pani puri and pav bhaji are some of the all-time favorite chaat items.
Fende Femme & Trios Mall
They are stores that are opposite Elco Arcade. Fendi Femme is a small shop with a lot of gowns and dresses in the Rs. 1000 to Rs. 2000/piece range. Stylish tops, off shoulder gowns and wrap skirts were all available at reasonable prices. You had to try them on to make sure the fit was good. Trios Mall is a 3 storied shop with garments for the entire family. They have a stock of bridal wear dresses, nighties, lingere and clothes for children as well.
Imitation Jewellery & Footwear
There were several small street shops selling imitation jewellery in this side of the road. You could buy silver and gold plated earrings, bracelets bangles and rings at very reasonable prices.
Footwear- There were many shops selling footwear on Hill road. From sneakers to peep toes, everything was available.
We walked into "La Judi Shoes", which had come highly recommended. The prices were cheap, and the variety was interesting. It would not compare with high end international brands for sure, but at 1/10 the price, you can probably have more quantity if you are not too obsessed with quality. La Judi Shoes has a store in the Elco Arcade as well. The iconic "Bata" stores are also present in this Mumbai shopping area. Bata has plenty of trendy shoes and is a fashionable brand these days.
Marks & Spencers
As I turned at the red light, I spotted a Marks & Spencers (M&S) store. M&S, as is well known, is a popular UK retail chain which stocks western wear, accessories such as shoes & bags and personal care products. The shop was spacious and well appointed.
Turner Road Shopping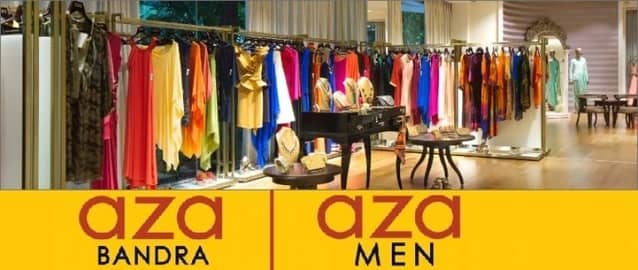 Turner Road on the other side of M&S is full of upmarket shops. There are well known jewellery shops and garment shops on this road.
I spotted Tanishq, Nontandas, Popley & Sons and Farah Khan.
Tanishq is a Tata branded jewellery shop and is a chain of jewellery shops across the country. It is a trusted shop for gold & diamond jewellery.
Farah Khan is a popular name among the celebrity crowd for stylish & bespoke jewellery pieces. They participate in exhibitions around the country.
Nontandas & Popley & Sons are also popular for Polki diamond jewellery. This small stretch in Mumbai has great choice for jewellery lovers.
Bridal Fashion in Turner Road
Aza is a multi-designer store for wedding wear in Turner Road. There is Ensemble, Manish Malhotra's designer store and Monisha Jaising's designer store as well. You get a fantastic choice of bridal wear dresses, gowns, shararas, gararas and salwar suits in the latest trends.  The best of fashion and wedding wear is a treat for the would-be bride's eyes. You can shop the whole day in these stores.
The good old Fab India is also present in this area. All the casual wear kurtis and summer dresses are best bought in Fab India. If you need a respite from shopping, walk into the Crossroads book store that is right across the Fab India store. Let us not forget the restaurants while we are shopping.
There are the usual fast food joints such as KFC, Burger King, Mc'Donalds and Subway. In addition, there is Smoking Joe's, the Beer Café and The Bandra Project among others. Cafe Irani Chai is a popular restaurant in Hill Road.
Theobrama for cakes and Natural Ice creams are dessert places.
Seriously, this place does not lack for anything.
 Mumbai Street shopping @Colaba Causeway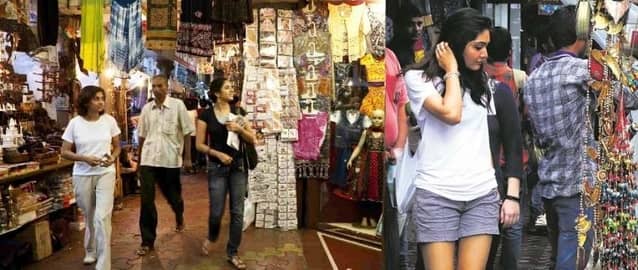 Colaba Causeway is where the Gateway of India and The Taj Mahal Hotel in Mumbai are located. The Gateway of India is the most iconic tourist spot in Mumbai. Come evening and the place is full of people from all ages enjoying the views or taking a boat ride on the Arabian Sea as also children enjoying kite flying and balloon flying experiences. It is that time of the day when Mumbaikars seem to put their feet up.
Luxury Shopping in Colaba
It is also an upmarket area with top designer wear showrooms. Manish Malhotra and Tarun Tahiliani, two acclaimed Indian designers, have their showroom in Colaba. The Taj Mahal Hotel itself  is home to international brands such as Chanel, Jimmy Choo, Salvatore Ferragamo, Gucci and Cartier all of who have their stores in this hotel.
Fab India is a good place to do some serious shopping. It is on the street right next to the hotel. It is great place to shop for ethnic wear clothes and accessories. Trouser tops in cotton, salwar suits, palazzos, skirts, dresses, stoles, silver jewellery, packaged food products and personal care products are some of the products available here.
 Shopping in Colaba
However, street shops are located  in the lane behind the hotel. There are several local shops for silver jewellery, silver gift articles, leather footwear, handbags and casual wear dresses.
Aquamarine is a very well-known shop for ethnic and contemporary jewellery. They have branches in several places in Mumbai.
Street Shopping
It is interesting to note that in addition to regular shops in Colaba, there are street shops that sell palazzo pants, skirts, hairclips and handbags on the footpath. Bargain and enjoy shopping in these shops. Above all, Colaba is one of the few places where one can shop for luxury goods as well as budget friendly common goods.
Café Leopold, Starbucks & Café Coffee Day are some of the places where you can step in for food and coffee.
Santa Cruz Market- Mumbai Street shopping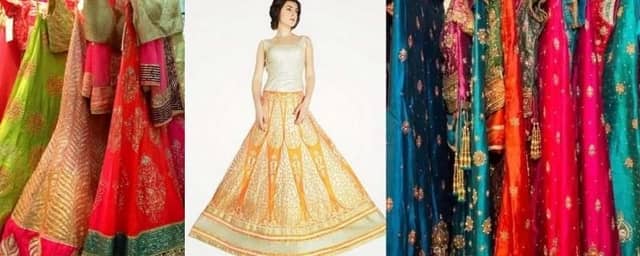 The SantaCruz Market is an old and established shopping market. Some of the best shops in Mumbai are right at the crossing on the way to the Santa Cruz railway station. For instance, it is a 'go to' place for wedding wear and bridal wear. Seasons, Neeta Lulla, Aza and Aishwarya Design Studio are sought after places for wedding dresses. Sarees, bridal lehengas, and shararas with glittering zardozi and embellishments are sure to captivate your imagination.
Jewellery in Santa Cruz
Top shops for jewellery in Santa Cruz are TBZ ( Tribhuvan Das Zaveri)  The House of Rose, Mehta Emporium and Sia Art Jewelry. In addition, the way to the Santa Cruz railway station is replete with street shops selling knick knacks and is teeming with people at all times.
Street Shopping in Linking Road, Bandra
Close to Hill Road is Linking Road. It is a Mumbai street shopping hub. This place is best suited for teenagers who shop with gusto.  However, you can also spot tourists in large numbers in Linking Road. The range of goods and the budget friendly prices make it an attractive shopping place in Mumbai.
For instance, the garments, shoes and bags are all displayed on the street.  Above all, it is fun shopping for jeans, skirts, scarves, tops and bags, especially when you are with friends. Shirts and tops are best selling items here. You can also spot shops with ethnic salwar suits.
Jewellery & Footwear in Bandra
The best thing about this place are the chappals, jootis and sandals.  for instance ,an interesting variety of goods is available here at throwaway prices. Imitation jewellery, handbags and clutch bags are great buys in a limited budget. The street shops are organised in a way that similar type of goods can be found in adjacent shops.
Street Shopping in Fashion Street in Mumbai

Similar to Linking Road shopping is shopping in Fashion Street in Mumbai. It is a kilometre of infinite shopping. This street has the latest variety of jeans, shorts, shirts, jackets and dresses for kids too. You can watch people buying scarves, tops, nightwear, sportswear, electronic gadgets, hats and sunglasses.
It is a flea market ideal for teenagers and students.
Bargaining is allowed and is vigorous. There are no trial rooms and that is the flipside. So go ready with your measurements if you are interested to buy, jeans, shirts and jackets.
This is a market for men, women & kids too.
Therefore,it is time to enjoy Mumbai shopping places and street shopping in Mumbai.
---
View our videos
SIGN UP FOR NEWSLETTER
Be the First to Know. Sign up to newsletter today