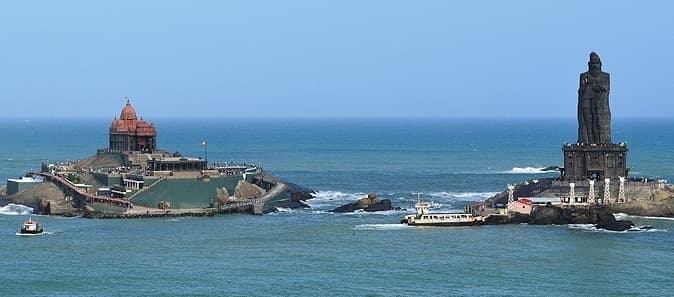 Eight Fabulous Temples in Tirunelveli, Tamilnadu
manjula
1229 views
add comment
Temples in Tirunelveli:
Tirunelveli located in South India, is a small town which attracts millions of tourists. As a matter of fact, it is situated about 650 km south of Chennai. It is located on the banks of the river Tamiraparani. Above all, the town is nearly 2000 years old. For example,  the name of the town is derived from three Tamil words "Thiru", "Nel", "Veli" meaning sacred paddy hedge.  In other words, the story goes that Lord Siva saved the paddy using a fence, hence the name. In addition,  this town is very famous for a sweet made of wheat ,sugar and ghee, called the Tirunelveli halwa. Although this sweet is available everywhere, the best place to buy this sweet is at "Irrutukadai" (dark shop) where the halwa is made every day and available only from 4 pm. Consequently, one can see  long queues in front of the shop.
How to Reach Tirunelveli 
This town  can be reached from Chennai by bus, train and by air. Several Government and private tour operators run buses between Chennai and Tirunelveli. More than 13 trains run between Chennai and Tirunelveli every day, with the journey taking about 11 hours. The nearest airport is Tutuicorin, which is 50 km from Tirunelveli. There is a daily flight from Chennai to Tuticorin.
Temples in Tirunelveli
The town of Tirunelveli is a hub for many historic temples that were built centuries ago. The temple architecture is spectacular and the frescoes and sculptures are unique and unusual. The temples are largely dedicated to Lord Vishnu and Lord Shiva, who make the divine trinity together with Lord Brahma Trimurti.
1. Temples in Tirunelveli: Kanthimathi Nellaiappar
This temple is dedicated to Lord Shiva and his consort Parvati, also known as Kanthimathi Amman. This is a large temple and covers an area of over fourteen acres. Among all the Shiva temples, five temples are revered in Hindu mythology as five sabhais( performance halls ), where Lord Shiva is said to have danced as Nataraja. Tirunelvelli's Nelliappar temple is one of the five. ( Pancha Sabhai Sthalams). Here, the dance is called Gowri Thandavam and the Sabhai is called Thamira Sabhai (Copper Hall). In addition, the following are a must see in this temple complex.
Musical pillars
One thousand pillared hall,
Tamarai Sabha(Lotus hall)
Vasantha Mandapam
500 year old temple car where the deity is taken in procession.
Musical pillars
One thousand pillared hall,
Tamarai Sabha(Lotus hall)
Vasantha Mandapam
500 year old temple car where the deity is taken in procession.
https://en.wikipedia.org/wiki/Nellaiappar_Temple
2. Temples in Tirunelveli: Sri Venkatachalapathi, Then Thirupathi, Thirvegadam
Also known as Thirunankoil, MelaThiruvenkatanathapuram, this is a small temple situated in a hillock around 10 km from Tirunelveli. Further,this temple is known as ThenTirupathi (South Tirupathi), representing Lord Balaji of Tirumala (Andhra Pradesh).
3. Temples in Tirunelveli: Arulmigu Subramaniya Swamy Temple, Tiruchendur
Similarly , this temple is dedicated to Lord Murugan, son of Lord Shiva. This temple at Tiruchendur is supposedly one of the six abodes (called Arupadai Veedu ) of the Lord. For example, it is situated about 60 km from Tirunelveli. The gopuram is magnificient, with eleven tiers, and the temple itself is 300 years old. Thousands of devotees visit the temple every day and more so on Tuesdays and other auspicious days.
4.  NavaTirupathi Temples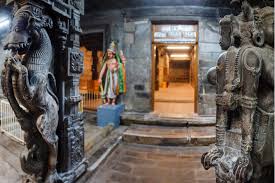 Situated on the Tirunelveli-Tiruchendur road is a set of nine temples which is dedicated to Lord Vishnu. They are supposed to represent the nine planets .The nine temples are as below.
1. Srivaikuntam Sri Vaikuntanathan Perumal Temple – Surya (Sun). Two days in a year the rays of the sun fall directly on the Lord Vaikuntanathar, in the sanctum sanctorium.
2. ThiruVaragunaMangai Vijayaasana Perumal Temple – Chandra (Moon). The Lord is depicted in a sitting posture.
3. ThiruPuliyangudi Bhoomipalagar Perumal Temple – Budha (Mercury). The lord is depicted in a reclining posture.
4. Rettai Tirupathi – North Temple (Sri Aravindalochanar Temple, Tholaivilimangalam) – Rahu.
5. Rettai Tirupathi – South Temple (Sri Devapiran Temple, Tholaivilimangalam) – Ketu. The Lord is depicted in a standing posture.
6. Perungulam Swamy Mayakoothar Temple, Thirukkulanthai – Shani (Saturn).
7. ThenThirupperai Thiru Makara Nedunkulai Kaather Perumal Temple – Shukra (Venus).
8. Thirukolur Sri Vaithamanidhi Perumal Temple – Mangala (Mars).
9. Alwarthirunagari Perumal Temple, Thirukkurugoor – Guru (Jupiter)
In addition, the temples are located within 10 km of each other. It is possible to visit all nine temples within a span of three hours by road from Tirunelveli. Further, the temples are clean, well maintained and daily pujas are performed with reverence.
5. Temples in Tirunelveli: Sankaranarayan Temple, Sankaran Kovil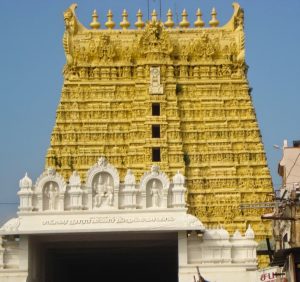 Firstly, this is a beautiful temple for Lord Shiva, situated in the ancient town of Sankaran Kovil, about 50 km from Tirunelveli. For instance, this temple is held sacred by devotees of both Lord Shiva and Lord Vishnu. For example, the deity itself is half Shiva and half Vishnu. Above all, the right side of the deity has the crescent moon, the rudraksha and the Mazhu (the weapon), all symbolic of Lord Shiva, and the left side of the deity adorns a Lakshmi mala, a conch and a hanging ear ring, all symbolic of Lord Vishnu.
6. Arulmigu Nachiar(andal) thirukoil, Srivilliputhur.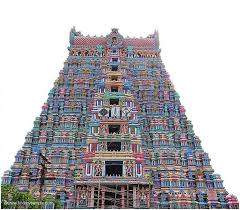 As a matter of fact, Srivilliputtur Andal Temple is the official symbol of the Government of Tamil Nadu.
This place is believed to be the birth place of Sri Andal, the only female saint of the 12 alwar saints. Sri Andal is said to have married the Lord in her mind, through her unwavering devotion.
After that, one cannot leave the temple without spending a few minutes admiring the towering Raja Gopuram, the tallest in Tamilnadu. The primary landmark of Srivilliputtur is the 12-tiered tower structure dedicated to the Lord of Srivilliputtur, known as Vatapatrasayee. The tower of this temple rises 192 feet (59 m) high .Other significant temples of the Pandyas include the famous Meenakshi temple in Madurai.( WIKI)
Finally, do not miss eating the Palkova sweet, a milk sweet that is very popular in Srivilliputhur. ( WIKI)
7. Suchindram Anjaneyar Temple
Also known as the Thanumalayan Temple, the temple is situated about 100 km from Tirunelveli, and can be reached by road after a 90 minute drive.  As a matter of fact, this is a unique temple, where the main deity is a combination of three deities, Shiva, Vishnu and Brahma. The top part "Sthanu" for Lord Shiva, the middle "Mal" for Lord Vishnu and the base "Ayan" for Lord Brahma. Further, the 18 feet tall Anjaneyar, which is a depiction of Hanuman in a giant form , known as Viswaroopam, attracts a great deal of crowd.
Finally, the majestic 130 feet white gopuram is visible from a distance and is adorned with intricate sculptures from Hindu mythology.
8. Bhagavathy Amman Temple, Kanyakumari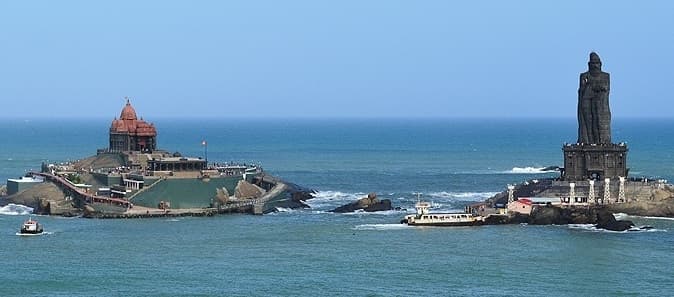 Kanyakumari is the southernmost tip of peninsular India. In other words, the name comes from the Devi Kanya Kumari Temple in the region.
In addition, on the sea shore stands the Kumari Amman Temple. Kanya Kumari means 'young girl' in Tamil . Above all, this is  regarded as a Shakthi peeda ( temple of the goddess), the deity of Amman is of a young girl, with rudraksham in one hand together with a shining nose ring that is said to be visible even from the sea. As a matter of fact, legend has it that the nose ring shines so brightly that an ancient ship mistook it for a light house and crashed the ship on the rocky shores. As a consequence, the eastern door of the Temple remains closed and is opened only on festive days.
Vivekananda Rock ,Kanyakumari
Further, there are two prominent rocks on the shore. Above all, the Vivekananda Rock,  is where Swami Vivekananda is said to have meditated. In addition, the second rock where a majestic statue of Tiruvalluvar, the great Tamil poet, has been erected.
Finally, the confluence of the Bay of Bengal, the Arabian Sea & the Indian Ocean is a sight that is not to be missed.
Other  Blogs :- Weaving India's Pochampally saris
---
View our videos
SIGN UP FOR NEWSLETTER
Be the First to Know. Sign up to newsletter today