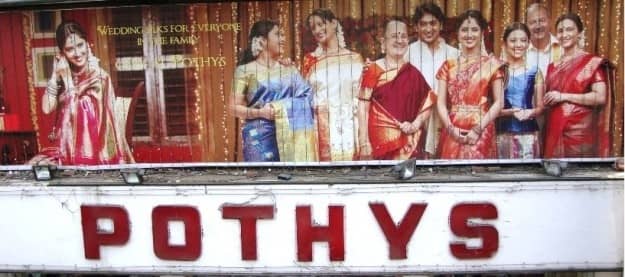 The Do's and Don'ts of Shopping in T Nagar, Chennai
Jul 12, 2018
Kausy M
4814 views
add comment
Shopping in T Nagar, Chennai
Planning to visit the city of Chennai?  We strongly recommend that T Nagar shopping is added  to your itinerary. T Nagar, shops in downtown, Chennai  are very popular. T. Nagar, and is one of the busiest at all times of the day. The area is considered the biggest shopping district in India in terms of daily revenue.
What with the flower sellers and other street vendors selling anything from hairpins to sweetmeats, the auto rickshaws, the taxis and the pedestrians, the area is chaotic at all times. Although initially conceived as a residential locality, T. Nagar is now one of the principal districts for shopping in Chennai. For instance, the  bazaars are frequented by a number of shoppers. Similarly, on a typical weekend, the number of people who visit Pondy Bazaar, the area's principal commercial market, might exceed 500,000. However, during the festival season, because of the discounts and price reductions offered by the shops in T Nagar, this number could be higher.
Above all, there are a number of apparel, jewellery and utensil stores that are frequented by the locals everyday. For example,Usman Road in T Nagar is the costliest commercial stretch in Chennai. Some of the famous shops in this area include Nalli Chinnasamy Chetti, Pothys, RmKV, Kumaran Silks and Prince Jewellery. The retail giant Sarvana Stores has an apparel showroom and an utensils showroom in T Nagar. Ranganathan Street, famous for household goods, is one of the most crowded roads for pedestrian traffic during day time.
These are some do's and don'ts when you are planning to shop in T Nagar Chennai…
DO'S of T Nagar shopping
In the street shops- Yes, put your bargaining skills to use when you do street shopping. Bargain up to 50% of the asking price.
Keep your things safe- This place is crowded and you should beware of pickpockets.
Keep yourself hydrated – Chennai is hot and humid at all times. You need to have plenty of fluids to keep your energy levels up for shopping.
Try the raw mangoes that are being sold on the roadside. They are delicious.
Buy a few jasmine flowers from the flower seller. The fragrance is exquisite.
6.Try the 1 hour stitching service (for salwar kameez and blouses)- The tailors do a pretty good job.
Above all, Do visit the Nallis, Kumaran Silks & Pothys store for exquisite saris.
DON'Ts of shopping in T Nagar
 However, It is  better not to go shopping in T Nagar during Diwali season or during any festive season. The festival weekends can get extremely crowded. Try and visit the shops prior to the festival days.
 In addition, avoid taking auto rickshaws or a 3 wheelers – It is always better to walk than to take an auto rickshaw as it will take a longer time in navigating the traffic.
If you don't know Tamil, chances are you are going to pay more in the street shops. Therefore, it is better to go shopping with someone who knows Tamil. However you  can try your hand at some basic Tamil.
 Check Out T Nagar Shops
Pothy's: Pothy's history says it was started 90 years back. This shop has sarees, salwar kameez , fabrics and apparel for men and children as well.
Saravana Stores: Saravana Stores is a place to go to for apparel and all household stuff. As their prices are very affordable, there is always a huge crowd in this store.
Nalli Silks: Nalli Silks has the distinction of being the very first shop in this location and they continue to attract a lot of customers. They have one of the best collection of silk sarees in Chennai.
Palam Silks: They specialize in light weight silk sarees with contemporary designs.
RmKV: This is another well-known shop specializing in silk sarees and several other varieties of sarees and apparel for men, women and children.
Read about the T Nagar Market here -T Nagar 
Happy Chennai Shopping!
---
View our videos
SIGN UP FOR NEWSLETTER
Be the First to Know. Sign up to newsletter today