Top 5 Kashmiri Handicrafts
Monika Chauhan
330 views
add comment
Beautiful locations, decked up shikaras, orchards in full bloom, lush greenery, scenic meadows, Chinar trees, kahwa tea, snow-capped Himalayas, gorgeous panoramas, and gushing rivers…It's not without reason that Kashmir is the called the Paradise on Earth. Be it the delightful autumn or the romantic snowfall, you will certainly love the colors of all seasons here. The quaint landscapes of Kashmir are equally filled with natural wonders. And yet, it has one of the warmest lot of people you will ever come across anywhere in the world. The beautiful paradise called Kashmir is not only abundant in natural beauty but also one of the richest Indian cultural heritages. Kashmiri handicrafts are well-admired across the globe for their grandeur and craftsmanship.
From Pashminas to Kashmiri carpets to papier mache, the state abounds in a variety of rich art and crafts. Let's take you through the most intriguing handicrafts of Kashmir…
Pashmina
Your shopping in Kashmir is certainly incomplete without beautiful pashmina shawls and stoles. They are available in diverse colors, designs and weaving patterns. You will surely be spoilt for choice with these authentic Pashmina apparels.
The word 'Pashmina' is synonymous with the beautiful land of Kashmir. But it has its origins in Hamedan of Iran. Pashmina is also popular as 'Cashmere' in Europe and other countries.
Yo may find this traditional Kashmiri product expensive. But the texture and softness of the popular Pashmina shawl make it worth every penny spent.
From shawls to stoles to sarees, every material promises fine print and embroidery rich in floral motifs.
Papier-mâché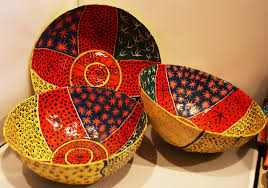 Have you ever come across any object made of Papier-mâché? We are sure it impressed you with its attractive colours and designs, more than any brass or bronze handicrafts.
This form of handicraft relates to the transformation of paper pulp into intricately decorated pieces. The diverse range of Papier-mâché products includes boxes, cards, bowls, wall brackets, cups, jewellery boxes, flower boxes, inkstands and numerous other handy objects.
For the uninitiated, papier-mâché means chewed or pulped or mashed paper. Though this is one of the most beautiful handicrafts of Kashmir, Papier-mâché was actually introduced by Sultan Zain-ul-Abedin in 1417-67 AD from Iran.
The making of a Papier-mâché product involves two different groups of artisans: Sakhtasaz and Naqqash. While the former one makes the object with paper pulp, the latter creates the ornamentation of the surface with colors. Kashmir originally used this art for making Kalamdan (the pen case) only. So it is also known as Kari-Kalamdani.
Among prominent elements in Papier-mâché designs are the objects of nature such as birds and flowers. They also include historical figures, hunting and battle scenes as well as court scenes. The 'hazara' (implying thousand flowers), 'gul vilayat' (the dear flower) 'gulandergul' (flower within flower) are among the well-known patterns and motifs of this traditional handicraft.
Carpets 
If you are looking to infuse a perfect air of interior beauty and warm look into your home, a gorgeous kashmiri carpet is what you need. This handmade, hand-knotted beauty of luxurious art from Kashmir certainly spells royalty.
King Budshah, the Great King-II, introduced the concept of carpet weaving in Kashmir in the late 15th century. He brought Persian artisans in India in order to upskill Kashmiri people in spinning and weaving carpets. This traditional craft is passed on from one generation to another within a family.
The Kashmiri carpets are popular the world over for their exclusive and opulent designs along with the elegant finish. Predominantly, artisans make these carpets  in pure wool, pure silk and occasionally wool and silk blends.
The carpet factory or the Kharkhaana is the place where weavers together give shape to a masterpiece. The making of a carpet necessitates the involvement of many people, right from designer to dyer to weaver. On an average, artisans take around 2 years to complete a carpet depending on its size and design.
The Kashmiri carpets are available in wide-ranging colors, designs and sizes. So when are you buying one?
Kashida Embroidery
If you were to glance through the embroidery styles that India boasts of, you will find the myriad forms of this beautiful handicraft bears testimony to the rich cultural heritage of our country.
Be it the intricate Chikankari from Lucknow, the bright and colorful Phulkari from Punjab, the elegant Kantha embroidery from  Bengal and Odisha, each embroidery weaves its own magic with perfection. Indian embroideries today are inspiring generations of designers all over the world.
One such intrinsic art is the Kashmiri or the Kashida embroidery. The exquisite needlework and thread work make sure this traditional form of art stays true to the beauty of paradise state. The signature style of the Kashida embroidery is that it involves a single long stitch to make the design. Also, it requires dedicated artisans and craftsmen to pull off the beautiful Kashida embroidery with an eagle's eye and a lot of patience.
This art form takes inspiration from Kashmir's scenic locales. Popular designs include birds, trees, maple leaves, twigs, branches, as well as lotus blooms.
The practise of this handicraft started way back in the early 11th century, though, at the small level. Over the years, the Kashida embroidery scaled up and grew well in the Mughal era. This was the period when Kashida became one of the most elite forms of embroidery.
Different Types of Kashida embroidery
Besides the single stitch style, Kashida can be of different types. These include chain stitch, satin stitch, slanted darn stitch, herringbone stitch and the stem stitch. Artisans prefer to use silk, wool or cotton as the base of the fabric. Also, it is a traditional practise to employ the intricate art of Kashida embroidery for Kashmiri shawls.
You may also find Pashminas, salwar kameez, sarees and jutis with this type of beautiful needlework. Craftsmen use Kashmiri embroidery to decorate many different types of garments like shawls, sarees, salwar kameez, jutis etc.
Walnut Wood Carving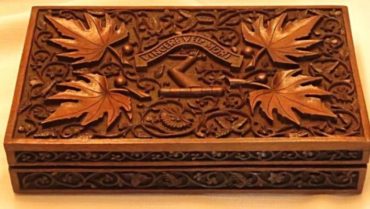 Sheikh Hamza Makhdoom introduced this ornamental art in Kashmir during the reign of Zainul Abdideen in the 15th century. Walnut wood carving is unique to Kashmir due to the concentration of walnut trees in this region. The Kashmir craftsman rejoices in carving intricate and varied designs.
The wood is hard and durable, its close grain and even texture facilitating fine and detailed work. It also presents visually interesting effects with mere plain polished surfaces.
A variety of carved products bear recurrent motifs of the rose, lotus, iris, bunches of grapes, pears and chinar leaves. Dragon motifs and patterns taken from kani and embroidered shawls all find their place in wooden objects with deep relief carving.
Wood used for carving can be from the root or trunk of the tree.
For the motifs on the wooden artifacts, artisans take inspiration from the various natural wonders of Kashmir, Chinar leaves, Vine leaves, flowers like Lotus and Rose. The Kashmiri specialty of wood carving is Khatam-band which has geometrical patterns beautifully done on the wood.
---
View our videos
SIGN UP FOR NEWSLETTER
Be the First to Know. Sign up to newsletter today