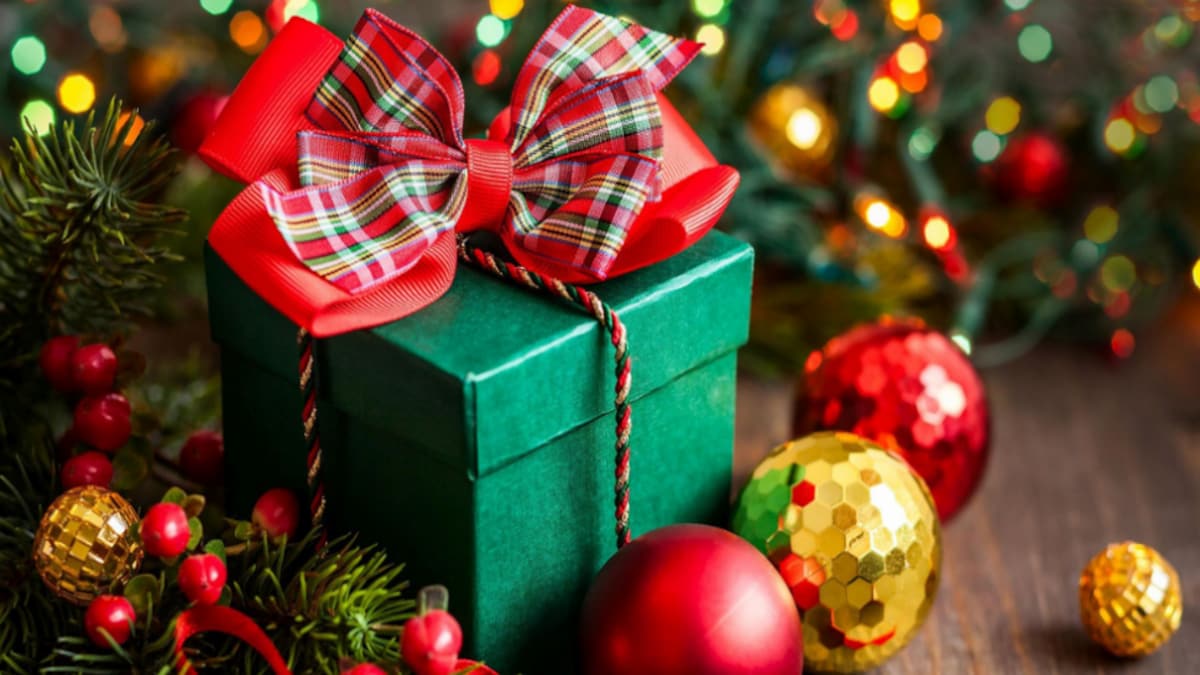 Top Diwali Gift Ideas For Friends & Family
Oct 13, 2022
Guest Blogger
4627 views
add comment
It's always a joy to give and receive gifts. And festivals make them all the more special as your friends and family will remember and cherish the gift for a lifetime. With few days left for the much-awaited festival of lights, the festive spirit has already gripped everyone young and old alike. It's lovely to see our neighbourhood being beautifully lit-up with decorative items like lamps and twinkling fairy lights. We are sure some of you have already started buying gifts for your loved ones. But for others who are still finding it tough to choose, here we present  Diwali Gift ideas specially for your loved ones this year…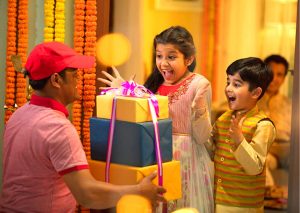 1. Diwali Gift: Diya Sets
One cannot imagine Diwali without traditional diyas (earthen lamps) — the ubiquitous symbol of the festival of lights.  They are available in painted terracotta & brass. It could be one of the best items to brighten up the faces of your friends this Diwali. And if you could try adding your personal artistic touch to these diyas, they surely will make for a truly priceless gift.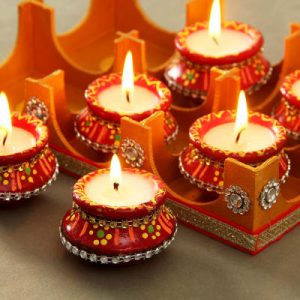 Available @ Local Shops. The Blind School is open for Diyas and  they are available online too.
2. Diwali Gift: Crockery
When was the last time you saw your mother or aunt jumping with excitement? Well, here is your chance! Gift her a set of colourful crockery this Diwali. It's not just pretty but functional too so she will be happy to use it on a daily basis. Choose from a range of options available at great prices online. Cookware, Bakeware, serving dishes & bowls.
Available @ Amazon India, Flipkart, Fab India & Good Earth & Nestasia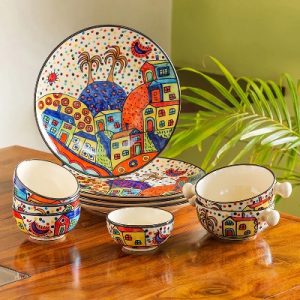 3. Diwali Gift: Dry Fruits and Honey
Instead of sweets, go for a pack of dry fruits this Diwali. A healthy alternative for your daily snacks, dry fruits are rich in proteins, vitamins, minerals and dietary fibre. Choose your best pick from almonds, cashew nuts, walnuts, raisins, dates and figs, among others. Your near and dear ones will certainly be happy to receive one of these powerhouses of nutrients. 
With festivities abuzz, these so-called energy bombs will help boost their energy levels up throughout the Diwali celebrations. Also, you can club dry fruits box with a pack of honey. Different flavoured honeys are easily available online. After all, health and happiness make for the most memorable gift of all!
Available @ Amazon India, Fab India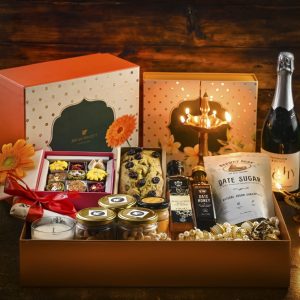 4. Diwali Gift Ideas: Hot Air Balloons aka Floating Lanterns
Amaze your loved ones with these ready-to-use hot air balloons or floating lanterns. The new-age Diwali paraphernalia will make it a picture-perfect Diwali for your near and dear ones. They will enjoy writing a message of their choice on these sky lanterns before releasing them. The best part is that they are far safer than fireworks and eco-friendly too.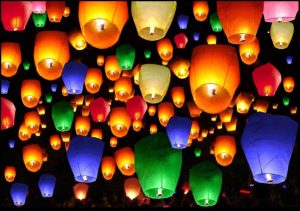 Available @ Amazon India, Flipkart
5. Diwali Gift: Handmade Chocolate Hamper 
Handmade chocolates have their own unique charm, especially as they come in a variety of chocolate flavours. So treat your friends and family with a box of delicious chocolates, and add sweetness to your relationship. Shop online for chocolates with attractive packaging in the colour shades of red, pink, and lots more.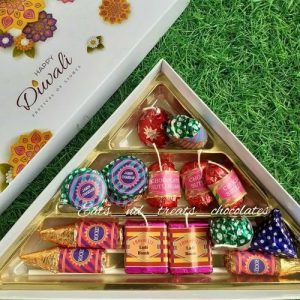 Available @ Ferns N Petals, Royce,Sugar & Spice
6. Diwali Gift: Tea Box
Have you run out of gifting ideas for this festive season? Now here is an unconventional gift option for your relatives and friends. Instead of gifting a box full of sweets or dry fruits, you could try out this uncommon gift hamper. Being the most widely consumed beverage, this would surely be a perfect gift for all tea lovers. You may like to pair it up with an attractive tea mug for your bestie.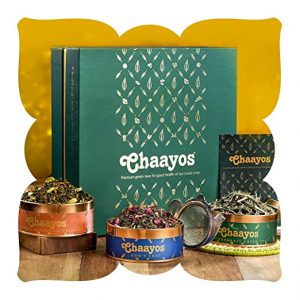 Available @ Chaayos,  Sancha Tea, Fab India, Amazon, Devan's 
7. Diwali Gift: Cakes and Cookies
Let's keep the excitement of festivities intact with the fresh cakes and cookies to impress our loved ones. Theobrama Patisserie at Delhi's famous markets, for instance, has come out with variations of gift hampers. 
You may pick one with a combination of truffles, brownies, macaron & cookie combos, and more. With a starting price of Rs 500, they will cost you anywhere up to Rs 2,500. Did we mention their Diwali-special tins are completely irresistible?.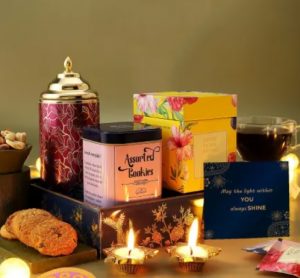 Available at  Theobrama ,Sugar & Spice, Cookie Man, Amazon India 
8. Diwali Gift: Home Furnishings
The markets all around the country are buzzing with Diwali gift hampers. Wondering what to gift your friends and family this Diwali? It's a thoughtful idea to opt for some home furnishing items. They can help your loved ones achieve their idea of a dream home. You may go for bedsheets, cushions, and blankets, among others.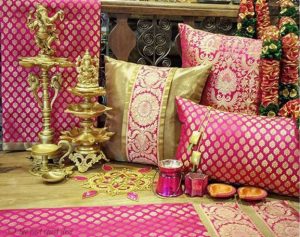 Available @  Diwali Bazar, Good Earth, Fab India, Amazon India and Jagdish Store
9. Diwali Gift Ideas : Home Decor
Further, Diwali calls for adding some new decorative touches to your house. Beyond everything, home decor items appeal to people's mood. So when you opt for one this festive season, you may rest assured that friends or relatives would promptly add new decorative things to refresh the look of their home.
Here are your gifting options to choose from: photo frames, lamps, paintings, wall arts, wall mirrors, wall hangings, clocks, aroma oil diffusers, candles, wind chimes, trays & boxes, and flower pots. You may also consider buying other home decor products like idols, collectible figurines, and silver pieces. Photo frames are available in light weight material.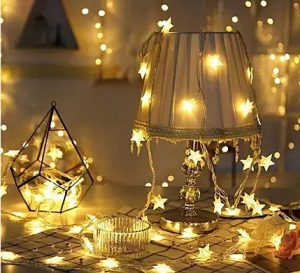 Not just perfect Diwali gifts, these items will surely help add a positive vibe to your loved ones' place. 
Terracotta Lamps:  In other words, we spotted these beautiful Terracotta lamps at Delhi's ever-popular Blind School Mela. We found these products so enchanting that we couldn't resist buying ourselves one!
Additionally, Rajasthani door hangings, candle stands, pans made of tree-bark, and handmade cards also caught our eye at the Mela. You may also head to the venue to buy other knick-knacks for the festival such as diyas, candles, candle holders and papier-mâché products.
Available at Blind School Mela, Fab India ,Good Earth, Amazon India and Flipkart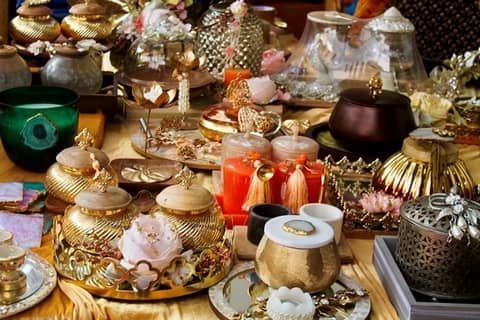 10. Diwali Gift Ideas : Indoor Plants
Think sweets and chocolates are passe, indoor plant is certainly the new buzz. To address the issue of polluted air and smog especially during Diwali, indoor plants provide us with an easy and cost-effective solution. Really, a thoughtful gift to help your friends and family go green this festive season! 
We are sure your loved ones will be more than happy to get this present of good health and happiness. Above all, they add zing to your home decor while giving great joy to the keeper. 
Go for one of these options this Diwali: Aloe Vera, Money Plant, English Ivy, Spider Plant, Gerbera Daisy, Peace Lily, or Areca Palm.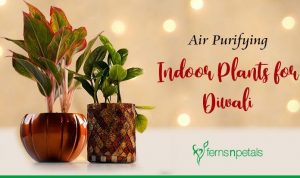 Available at  Ferns n petals, Amazon & Rajendar Nursery in Jor Bagh
11. Diwali Gift: Apple Watch Series 
If you have a hardcore techie friend, Diwali is definitely the best time to give him/her the perfect techie treat.  The new Apple Watch Series  could be a noteworthy option to consider this festive season. The latest iteration from Apple is being seen as the best smartwatch for the iPhone. 
Interestingly, it provides users with an always-on display, besides a new Compass companion app to determine location. It is currently available on Amazon's deal of the day too. So you could save extra bucks if you order the product online.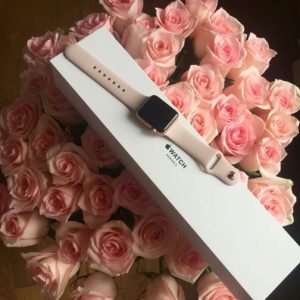 Available @ Amazon India and Flipkart and Apple India Stores 
12.Diwali Gift Ideas -Dips & Sauces
Glass jars with sauces & spreads- Attractive glass jars with spreads & dips are a hot favourite. There is a cheese platter too . Roasted Garlic, perri perii, hummus, cilantro & Jalepeno, pesto, aglio olio dips are all much in demand. As we experiment with cooking, Italian & Chinese  cuisines ,sauces & dips are popular.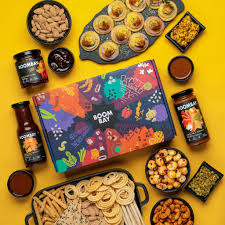 Shop at :Sugar& Spice,Fab India, Diwali Melas 
13.Jewellery-Diwali Gifts 
Customised bracelets, cufflinks, chains, photo frames in a variety of shapes & frames add a personal touch. This can be an ideal gift for close family & special friends.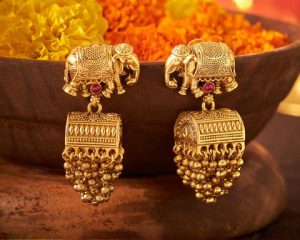 Shop at Jyapore, Amazon
14.German silver baskets & bowls- Diwali Gift Ideas 
This metal adds a shine & festive touch . You can choose from kum kum holder, ashtalakshmi Kalash, Pooja thali set, mangal kalash, cups with spoons, glasses with trays, urli for flowers and so on.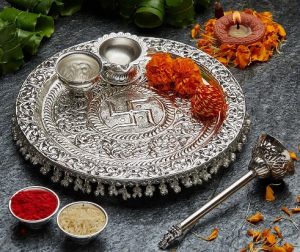 Available in Amazon & Flipkart
 Diwali Melas
Diwali Melas are great places to look for Diwali gift ideas.  Melas or fairs are held in practically each colony in Delhi & they draw a huge crowd. The Blind School Mela is definitely one of the sought after melas.  The ones in Sunder Nagar & Defence Colony are a few of the other popular ones.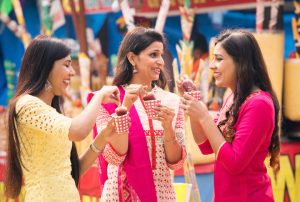 The idea behind  the Melas is to get the community to participate. The melas have several stalls to showcase products from entrepreneurs & small business owners. A visit to any of these melas will highlight the amazing range of products such as clothing, jewellery, accessories, furnishings & so on. As a matter of fact, homemade sauces, dips, ice-creams, packaged foods & juices are also available.  It is a great opportunity for small business owners to exhibit their products & grow their presence.
 The Melas also have some excellent street food.The organisers include a wide variety of cuisines form Rajasthan, Punjab, Bengal & South India too.
Diwali Celebrations
It is celebration time once again. Diwali or Deepawali is the festival of lights.It is being celebrated on the 24th of October 2022.
In the mythological tale of Ramayana, Lord Rama killed the demon King Ravana in Sri Lanka and returned to Ayodhya in India . Legend has it that as he returned in the night time. Lamps were lit to welcome Lord Rama, his wife Sita & Lakshmana home. That is the reason for celebrating Diwali. The tradition continues till today. The joy & celebrations are the biggest, liveliest & joyous festival in India.
Method of celebrating
People clean their homes. Further, homes are decorated with lamps & diyas. Families travel from far to be with their loved ones during Diwali. As a matter of fact, every member of the family buys new clothes.  Goddess Lakshmi is worshipped  to bring in prosperity. Special Aarti is held in the evenings for lord Ganesha & goddess Lakshmi. Once the puja is done, people play cards. People believe it is auspicious to play cards. In addition, bursting crackers was another important part of the festival. However, the pollution caused by the crackers has put an end to it. Festivities include celebratory lunches & dinners. Diwali parties start much before Diwali. As a matter of fact, it starts a month ahead.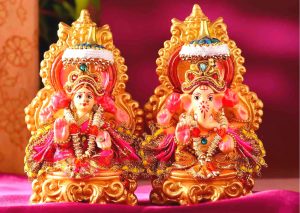 In conclusion, sharing gifts with family & friends is an important activity during Diwali.
The Diwali shopping festival starts one month ahead of Diwali. Both offline & online shops offer discounts & other incentives to  entice customers.It is the best season to buy clothes, jewellery, & white goods.
Amazon, Flipkart are the best online shops offering clothes, artificial jewellery ,accessories & White good too.
Read our other blog on Diwali:
---
View our videos
SIGN UP FOR NEWSLETTER
Be the First to Know. Sign up to newsletter today