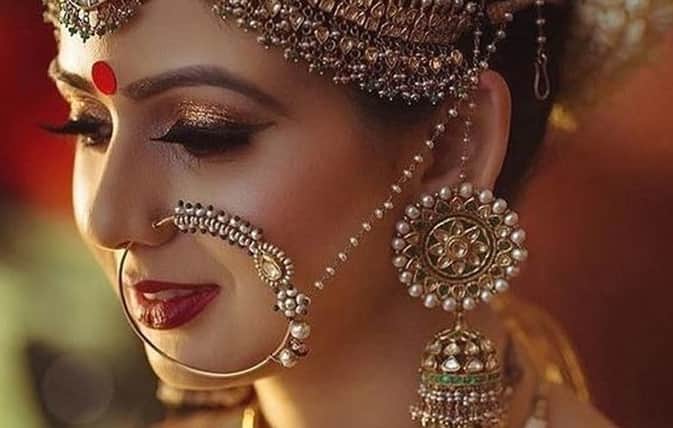 10 Must have Jewellery Pieces for an Indian Bride
Jan 26, 2019
Monika Chauhan
4651 views
add comment
The minute your fiance' pops the question and you say "yes", you start to plan your wedding wear. It further entails choosing bridal jewellery that helps add the much-needed panache to your wedding outfits. After all, it is  the most important day of your life and you would love to walk as a bride in the finest jewellery.
All About Bridal Jewellery
If you are a bride-to-be, here's a list of essential head-to-toe jewellery!
From maang tikka to jhumkas to mangalsutra to kamarband to anklets, we have covered all that you need to adorn yourself with to look a bride dreams of on her special day…
1. Maang Tikka
Firstly, mango tikka is worn by women on the centre parting of the head. It is a traditional piece of jewellery and a way to transform you into a beautiful princess. Erstwhile princesses and royal women wore the maang tikka. A heavier tikka goes well with a broad forehead while a lighter one looks elegant on a forehead smaller than average.
Multipurpose jewellery is in these days. So for those keen on buying jewellery that can be used in multiple ways, it is advisable to pick a necklace or even an earring which can be substituted as a maang tikka. You just need to act smart while picking those jewellery pieces.
Kalyan Jewellers has listed out a beautiful collection of gold maang tikkas. It includes both simple designs as well as headgear type designs made in 22k yellow gold with the gemstones set in bezel setting.
The Temple Jewellery maang tikka is a very elaborate and ornate one. It is typically worn by South Indian dancers.
2. Earrings
It is always a good idea to invest in earrings that you can use on your wedding day and post your big day as well. You can choose your traditional look by opting for gold earrings, temple earrings, chandelier earrings, polki and pearl chandbalis, diamond and gemstone drop earrings.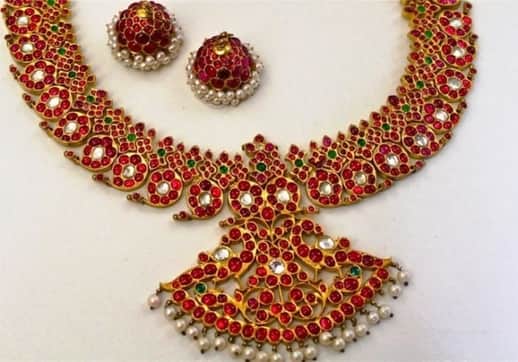 Make sure you don't go for very heavy earrings as they may cause discomfort to you if worn for prolonged periods.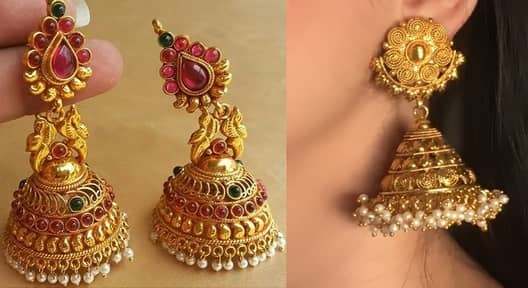 Jhumkas are traditional Indian cone shaped or bell shaped earrings that are hollow inside. Check out these earrings from Prince Jewellers for your special occasion.
3. Nose rings 
If you want to add another ethnic piece of jewellery to your bridal look, even a simple nose ring can work wonders!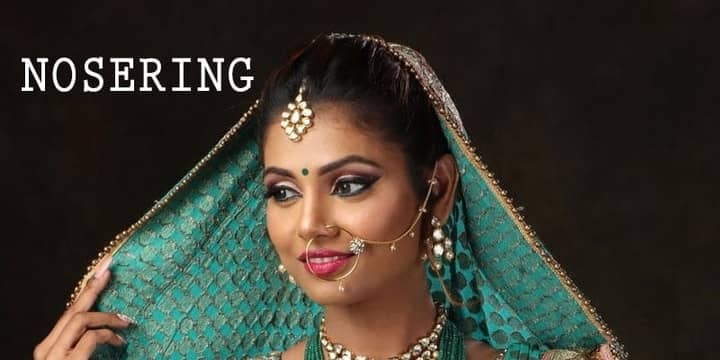 Nose rings are fashionable these days with pop stars like Madonna and Lady Gaga sporting them. The conventional bridal look is incomplete without a traditional-looking nose ring. In case your nose is not pierced, clip-on nose rings are also available.
Check out these beautiful nose rings from Mehrasons Jewellers and Tanishq
4. Necklace
An exquisite traditional necklace is all that you need to give a well dressed and refined touch to your personality. A necklace not only helps cover the bare neck area but also enhances the overall bridal look.
You can pick the one that matches well with the overall theme of your attire. Let's list out 7 hot necklace styles Indian brides are in love with these days – Choker, Satlada, Navratan, Gulbandh, Bib Necklace, Collar Necklace, and Guttapusalu.
However ,it is  not just gold that rules the jewellery boxes of today's brides, they instead prefer necklaces made of gold accompanied with kundan, polki or diamonds.
Check out Vummudi in Chennai.
5. Mangal Sutra
The mangal sutra is a piece of yellow thread or chain which is tied or put on the bride's neck by the groom. Mangal means auspicious and sutra means thread.
Khazana has a lovely collection of necklaces in a wide price range. Check more details here
6. Rani Haar
Many communities consider it intrinsic to the bridal ensemble. The Rani Haar is similar to a necklace. However it is a long neckpiece.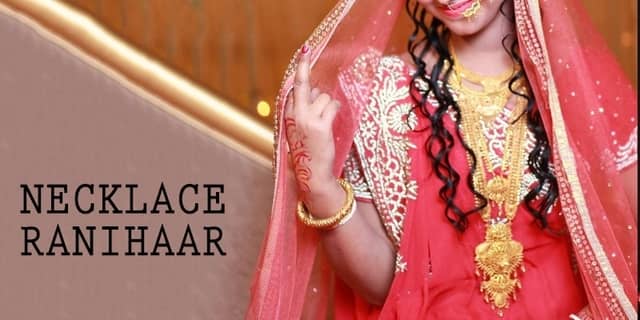 It comprises of multiple layers of pearl or gold strings with pendants to impart a royal touch. The Rani Haar is at times made with rubies, emeralds or even diamond strings.
7. Bangles- Quintessential Bridal Jewellery
Be it a Punjabi chura, Jaipuri kada, the traditional Kerala kappu, gold or Polki diamond bangles or even kaleeras, that are worn by the Punjabi brides (danglers), bangles definitely beautify the delicate wrists of an Indian woman.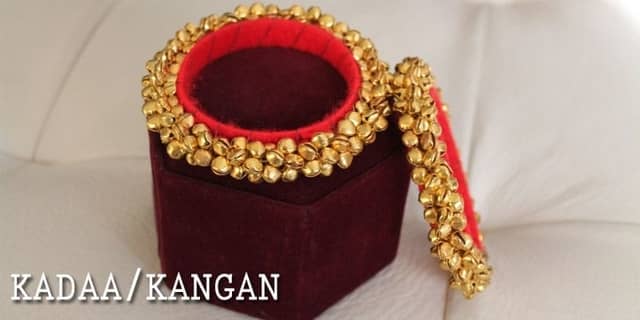 They also symbolise good fortune and prosperity for a married woman in India. Conventionally, all married women  in India wear bangles all the time. Importantly, in a country like India, you get a plethora of designs from which to choose. Each State in India has multiple choices for bangles at a variety of price points.
Suranas has these golden bangles to offer.
8. Hand harness/ Hathphool
Hathphool (or flowers of the hand) is worn on the back of the palm by brides to accentuate the beauty of the hennaed (coloured) hands.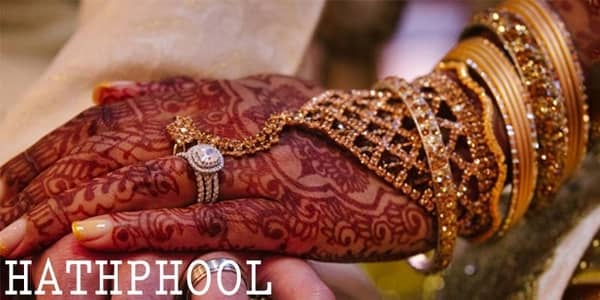 When mixed and matched with an exquisite ring, this beautiful jewellery can add some extra oomph to your wedding look.
Take a look at these elegant designs from Jaypore here.
9. Kamarband
The traditional kamarband, also called a waistband or a belly chain, can help make you the most gorgeous bride ever. Interestingly, this classic piece of jewellery goes as well with a saree or even your one-piece ethnic gown as with your lehenga. Let's see all the options available where you can accentuate your waist with a kamarbandh.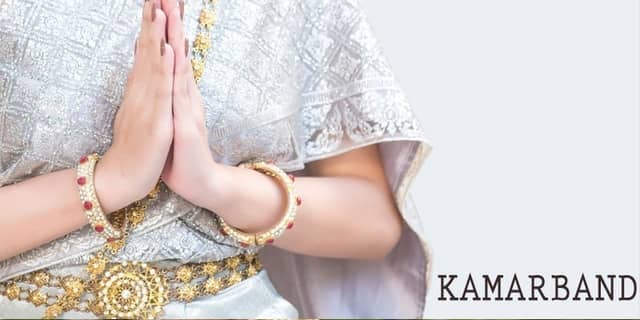 An aesthetic design to get decked up in is a waist belt adorned with coveted patterns like flowers, peacocks, buds and leaves. If you are looking to add a timeless beauty to your closet, a golden kamarband could as well become a cherished treasure for years to come. Further, there are layered strands of kamarband in kundan work that could look appropriate on a gown.
The royal pearl kamarband can also help transform you into a sensuous bride. And in case you want to keep it minimal, a simple and elegant chain encrusted with beads or crystals is a good alternative to enhance your waist-centric beauty.
Check Out Sukra and Vummudi for Kamarbandh designs.
9. Ring- Quintessential Bridal Jewellery
"The wedding ring goes on the left ring finger because it is the only finger with a vein that connects to the heart." No wonder we associate great significance with wedding rings as they signify commitment to stay devoted and true unwaveringly.
Oval-shaped diamond rings, large Solitaire diamond rings, pearl-shaped stones and cocktail gold ring in yellow or rose gold are among the top ring trends that brides are in love with this wedding season.
Check out the latest collection from Tanishq here.
10. Anklet and Toe Rings
There's no better way to add magic to your mehendi-laden feet than wearing anklets (popularly known as payal and pajeb in India) paired with those little attractive accessories called toe rings. You are sure to fall in love with the clinking sound of anklets as they enhance the look of your delicate feet. To choose one, you may take inspiration from these trendy designs: a silver anklet embellished with chunky jewels, a contemporary design with dainty pearls and stonework, a stylish oxidised silver anklet or a broad silver payal with Kundan embellishments.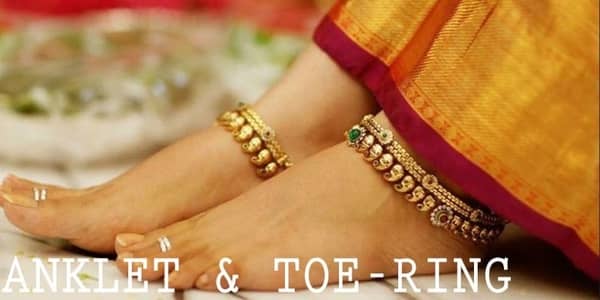 You may go for these designer anklets we spotted at Mirraw, as per your choice and budget.
Toe rings denote the married status of a woman in the Indian traditional context. This ethnic accessory is part of 16 essential ornaments or 'Solah. Shringaar' worn by women.
Manglam Jewellers is offering toe rings in following four categories: Studded, Enamel, Plain and Top Openable. Check details here
Chennai Jewellery Shops, Jaipur Jewellery Shops , Delhi Jewellery Shops , Bangalore Jewellery Shops,
---
View our videos
SIGN UP FOR NEWSLETTER
Be the First to Know. Sign up to newsletter today