Top 5 Diwali Melas To Visit This Festive Season In Delhi
Oct 18, 2019
Monika Chauhan
226 views
add comment
If you were to put together the world's major religious festivals, we bet you still won't get anywhere near the number of festivals Indians celebrate in a year. Each and every festival holds a special place in our hearts. They let us feel the warmth and enclosing presence of our elders like our entire culture is there with us. With the brightest festival of Diwali around the corner, Delhi gets set for the festive rush with lights, colors, sweets, ethnic wear, decorations, brighter homes and of course, lots of happiness. Yes, it's time for the city to host some of the best Diwali fairs in the country. Organizers vie with each other to host the best Diwali Mela in the city.
5 Festive Days of Diwali
Diwali is also known as 'Deepavali', which refers to a row of diyas/lights. The five-day-long festival is not only celebrated all over the country but by Indian diaspora across the globe. Let's talk about the festival of lights in detail, the significance of each of these days and the stories behind them.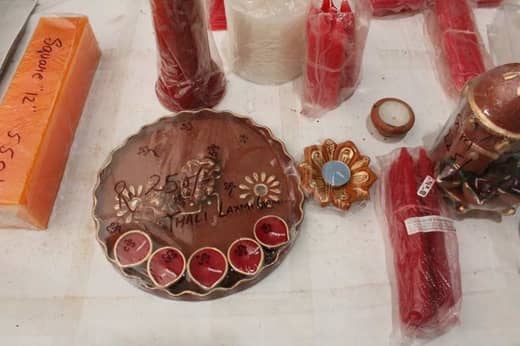 Dhanteras
Dhanteras, the first day of Diwali festival, falls on October 25 this year. Also called Dhanatrayodashi or Dhanvantari Trayodashi, the festival is dedicated to Lord Dhanvantari. This is an auspicious day to buy utensils, silver coins, gold and vehicle. People also seek blessings of happiness and prosperity from Lord Kuber, the idol of wealth and money.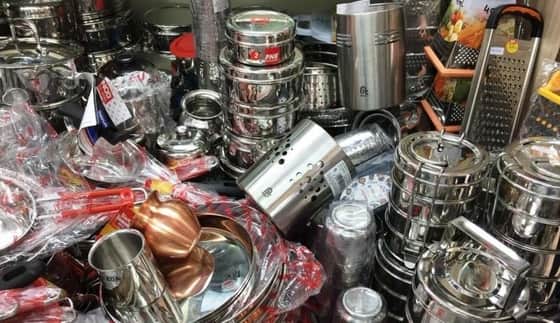 Naraka Chaturdasi or Choti Diwali
The second day of Diwali is celebrated as Naraka Chaturdasi or Choti Diwali or Kali Chaudas. It falls on October 26 this year. Legend has it that demon Narakasura was killed by Lord Shri Krishna on this day (rescuing a total of 16,000 captive princesses). As a traditional practice, devotees get up before sunrise,
take a holy bath and wear new clothes to celebrate the day with friends and relatives. They also visit each other's homes to exchange gifts and sweets.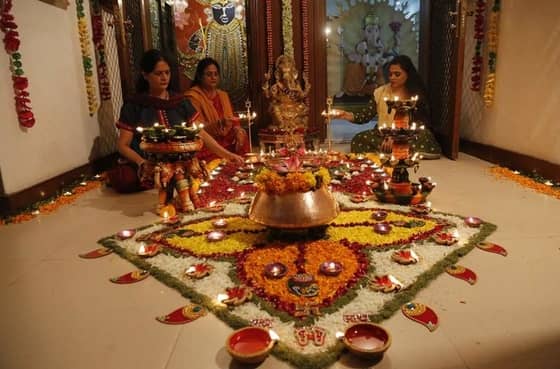 Lakshmi Puja
Lakshmi Puja or the third day of Diwali is the most important one among the five days. It falls on October 27 this year. The auspicious day is dedicated to Goddess Lakshmi, the Hindu Goddess of fortune and prosperity.  She is worshipped along with Lord Ganesha, the God of auspicious beginnings, on the eve of Diwali.
People light diyas and candles in each and every corner of their house to let it be blessed by Goddess Lakshmi.It is certainly a belief that worshipping Lakshmi will bring peace and prosperity.
It is also believed that Lord Rama rescued his wife Sita from the demon king Ravana on this day. After the end of the epic battle where Rama defeated Ravana, the former headed northwards towards his home in Ayodhya. When he returned to his Kingdom, people had lit up his path with diyas so he could return in the dark. Hence, the day commemorates the triumph of good over the devil.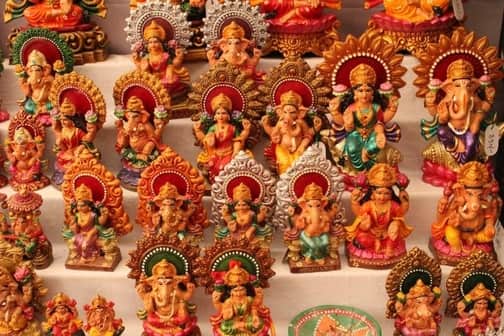 Rangoli Designs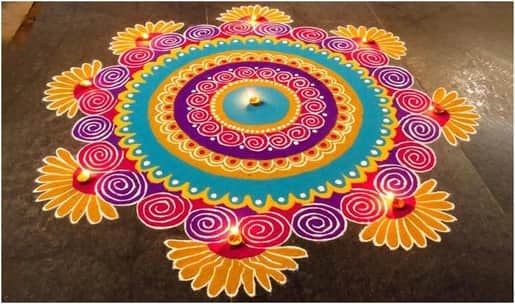 The beauty of Diwali comes from the warm glow of lights prettifying homes and shops everywhere in the neighbourhood. The festival also gives an opportunity to create beautiful Rangoli patterns.
It's time to delve a bit deeper into your childhood days to uncover some beautiful memories. Remember spending the festive evening together with your cousins, parents as well as grandparents in the best of your clothes and moods of course! Well, I had a great time indeed creating a colourful rangoli pattern.
Taking a pinch of colour between my fingers and trying my best to make a replica of the design next to my brother's. Though my borders were never perfect and the lines shaky, I was really proud of my Rangoli after getting praises from everyone around. I am sure you will be happy to plunge into your beautiful childhood memories by adorning the entrances of your home with the elegant Rangoli designs.
Govardhan Puja
The fourth day or the day of Govardhan Puja is also celebrated with great pomp and show in the northern States of India. According to a popular legend, Lord Krishna lifted the hill called Govardhan Mountain to shelter villagers from the vindictive Indra. It is a traditional practice to make a small mound, usually of cow dung, and worship it.
Gujarati New Year
In India's westernmost state Gujarat, the festival marks the beginning of the new fiscal year. Celebrated on the next day of Diwali, Bestu Varas or  Gujarati New Year is equivalent to sudekam of the Kartik month. According to the Hindu lunar calendar, Kartik is the first month of the year and Bestu Varas coincides with the first bright day of Kartik.
On this auspicious day, people in Gujarat beautify their homes with the use of flowers and lights. They also dress up in the best of their traditional attires and visit temples to offer prayers to Gods and Goddesses. A day of great rejoicing filled with the essence of Gujarati culture, the festival includes splendid fireworks too. Moreover, it is a common practice for Gujjus to close their old account books and open new ones on this day.
Moreover, women prepare an array of delicious sweets and farsans to be distributed among friends and family. Delicacies like Khambat's suterfeni, Surat's ghari, kajukatri, sohan papdi, ghugra and kansaar, among others add immense sweetness to the festive fervor.
Bhai Dooj
In conclusion, the fifth and last day of the festivities is celebrated as Bhai Dooj. It falls on October 29 this year. The festival is equivalent to that of the popular Raksha Bandhan festival. Brothers visit their sisters' homes on this day for the 'Tilak' or 'Tika' ceremony. Prepared with rice and vermilion, the Tilak is first applied on brothers' forehead followed by aarti. Sisters also lovingly prepare sweets for their brothers, wishing them a happy and healthy life.
5 Diwali Melas You Can't Miss This Year
Adding to the festive shine, Diwali Melas certainly make for the most exciting part of Diwali celebrations. Each of these fairs is a medley of crafts from across the country, with a number of products on offer.  Some of these Melas also host cultural performances in the evenings, making them all-things exciting for one and all.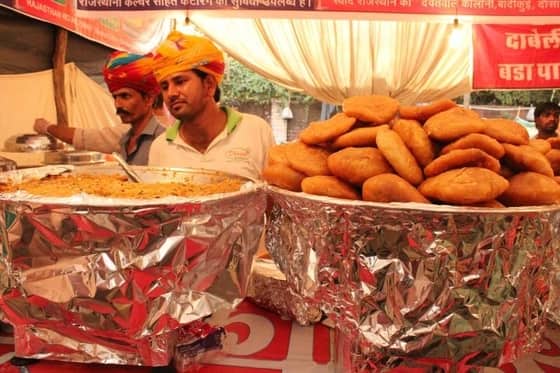 Blind School Diwali Mela
One of the most popular Diwali Melas by far, Blind School Diwali Mela is run by Blind Relief Association at the School Grounds near Lodhi Road. This is where you can shop for a variety of products to your heart's content. These include beautiful diyas, candles, dry flowers, Ganesha Lakshmi idols, jewellery, Feng Shui items, hanging lamps, clothes, home décor items, handmade chocolates etc. Foodies won't be disappointed here as a variety of irresistible food options are available at the Mela. In addition there is garam chai(hot masala tea)being served at the Food Court.
Check the video here: Diwali Mela at Blind School
Last but not the least, you will certainly walk away with the satisfaction of contributing to a noble cause after shopping from this popular Mela. The proceeds from Blind School Diwali Mela help in funding the expenses related to these visually-impaired students.
DATE:  18-24 October 2019
VENUE: Blind School Grounds, Lal Bahadur Shastri Marg, Near Oberoi Hotel, Lodhi Road
Sunder Nagar Diwali Mela
This is one of the oldest Diwali Melas, being organised for more than 50 years now in the city of Delhi. What makes this Mela the popular one among Delhiites are magic shows, loads of activities for kids and elders,  the giant Ferris Wheel ride, and fun-filled competitions. One can also shop here for Diwali knick-knacks. These include beautiful handicraft items, jewellery, clothes, bags, diyas, home decor items and colourful floating candles.
Needless to say, amazing food awaits you to devour at this grand Mela!
DATE: 19-20 October 2019
VENUE: Colony Park, Sunder Nagar, New Delhi
Dastkar's 'Festival Of Lights' Mela
The second edition of Dastkar's Diwali Mela has already started on October 10 with 'Sky full of sparkle, hearts lit up with crafts'. If you are in love with  India's handicraft traditions, this is the perfect Mela to make your Diwali truly special!
This year, the 'Festival of Lights' mela will showcase Bihar's Madhubani paintings, Andhra Pradesh's leather puppets, and Jammu & Kashmir's papier-mache, among other authentic handcrafted products. You can score here home decor items, 3D articles, apparel, jewelry, collectibles and a lot more under one roof from more than 130 craft groups. Besides a range of lip-smacking cuisines, cultural performances will also be a part of this 14-day long Mela.
DATE: 10-23 October 2019
VENUE: Nature Bazaar, Andheria Modh
Dilli Haat (INA) Diwali Mela
You know how Dilli Haat already charms visitors with its open-air handicrafts bazaar. It is quite popular for its ethnic wear, Indian cuisine and cultural performances as well. So when it's about Diwali celebrations, the traditional village market certainly gets even better!
You can experience at the INA Dilli Haat vibrant and colorful shades of festivities. From a host of crafty products like diyas, handcrafted lamps, candles, and traditional decorative items to mouth-watering delicacies, you will certainly be spoilt for choice at this Mela.
DATE: 16-27 October 2019
VENUE: INA Dilli Haat, INA
Preet Vihar Diwali Mela
If you are looking forward to one of the most extravagant displays of Diwali celebrations in East Delhi, this is where you should be heading for. Offering plenty of shopping and food options for you, Preet Vihar Diwali Mela certainly makes your festive fantasies come alive.
Among the highlights at this mela are kids activity area , multiple shopping options as well as a large food court.
DATE: 19-20 October 2019
VENUE: CBD Ground, Near Leela Ambience Hotel
 In conclusion, Diwali 2019 promises to be a center stage of festivities and fun! Do visit one of these most-talked about Diwali Melas for an enthralling experience throughout in the city of Delhi.
Read out Other blogs on Diwali
Diwali Saree shopping in Chennai 
---
View our videos
SIGN UP FOR NEWSLETTER
Be the First to Know. Sign up to newsletter today