The Kolkata Shop for Wedding Sarees : Banarasi Kuthi
Rakhi Acharyya
1797 views
add comment
Banarasi Kuthi Saree Shop in Kolkata For Wedding
This shop  comes with quality, variety and service that has created hundreds of loyal customers in Kolkata and beyond. Read why this is a saree shop you must visit and of course buy from.They are best known for wedding sarees in Kolkata
Wedding Saree Shopping in Kolkata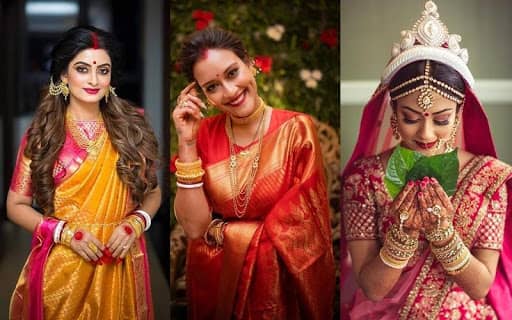 What do you see when you first step in Kolkata? The Howrah bridge? Gongaa? Further, there are  thousands of people making their way through the busy streets, stopping for a gorom(hot) chaa and phuchka? May be some shopping around the old markets? The remnants of its colonial past and the tell-tales of its witness to the evolving art, music and culture? The art deco buildings and the streets filled with the aroma of freshly baked rosogolla? The lyrical rickshaw horns or the vendors selling fresh rui and ilish on the sidewalks?
Kolkata is the city which lets you romance the charms of the old world and the new. And a large part of this charm is in its food, its culture & music. In addition, there is beuaty in the varied styles that people adorn themselves. For example, the baabu in dhuti and the boudis in beautifully colored sarees. Sarees are a signature of this city and so are the really famous house of sarees. People from all over the country flock to buy sarees. And one of the famous hubs of the choicest collections of sarees is Banarasi Kuthi.
This wedding saree shop is  in Gariahat, the shopping paradise for the enlightened shopper!
Banarasi Kuthi Saree Shop in Gariahat Shopping Market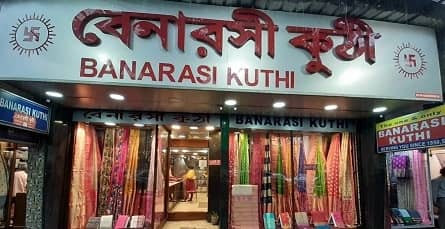 Banarasi Kuthi saree shop in Kolkata is located within 150m west off Gariahat crossing, towards Priya cinemas. A sister branch is located further down in Triangular Park. The store itself could be easily missed with the excess of street vendors lining up the sidewalks. However, practically anyone should be able to direct you to it if you ask for it by name or reference. In other words it is a popular saree shop in the area. So definitely ask, if lost.
When you do step in, don't get intimidated by the rather large crowd of eager buyers. Just aim for the nearest store clerk and let your choices be known. They will take care of you through the rest of the shopping experience. Most of them have been associated, with the store, for over a decade and are well versed with the collections.
Banarasi saris, Jamdani saris, Tassar saris & more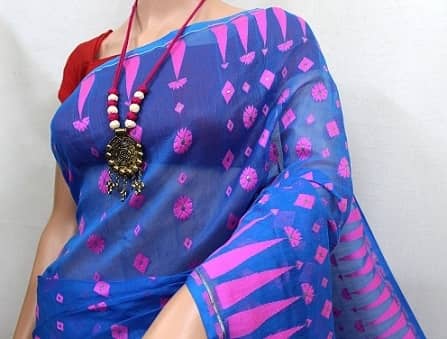 Banarasi Kuthi, unlike what you might assume from its name, is not just a house of Banarasi sarees, though they do have a wide variety of them. They have Kanchivarams, Chanderis, Dhakais, Dhakai Jamdaanis, Knatha Stitch, Bomkais, Kataan Silk, Tnaat, Balucharis, Ikkats, Mysore Silks, Mangalgiris, Narayanpets, Matka Silks, Tassar Silks, and even Mekhla sarees. In other words, if you want to find a one stop shop for all the best quality, and best designs, you needn't venture too far down Rashbehari Avenue. As far as Banarasi Silks are concerned, they have their very own weavers in Banaras, crafting exquisite unique pieces of art.
 Additional Services
And what's more is that they provide additional services. They take care of stitching the fall of the sarees and the underlying netting for some of the more delicately stitched sarees where protecting the fine embroidery might be a concern. All these without any additional cost. And if this is not enough, they even offer a lifetime service of taking care of your Banarasi sarees, purchased from them. So you can go ahead and wear your artwork and not be too worried about wearing it out. All you have to do is take it back to the store and request for a polish service. So, not only does this store care about the quality of good sarees, they do so even after they are long sold. And that shows dedication to customer care and a love for what is precious.
Banarsi saree prices
In other words, the prices are reasonable too.  For example, a Banarasi saree can range from a couple of thousand to about couple of tens of thousands, giving you an opportunity to select your wonder in your budget. Dhakai sarees are about two to three thousand, Kanchivarams between five to fifteen thousand and Bomkais within five. This is one store where you will be guaranteed a solid product no matter what strings your pocket pulls.
And your beautiful saree and all this assurance comes with the backing of hundreds of customers who have been loyal to this store for all their shopping needs. So whether you are planning to take a one time trip to taste the wonders of Kolkata or whether you are a citizen of this beautiful and charming city, do stop over this quaint little saree shop, hidden in the bustling crowds of Gariahat, and experience a saree shopping thrill like you will never get anywhere else. And whatever you do, we bet that you won't walk out into the street without a Saree-prize in your hand.
Go on, try it for yourself!
---
View our videos
SIGN UP FOR NEWSLETTER
Be the First to Know. Sign up to newsletter today