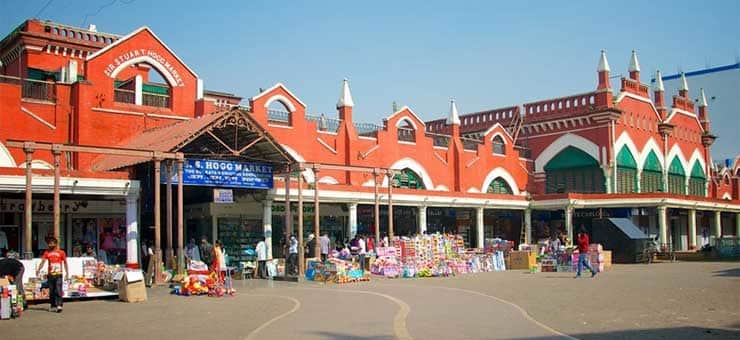 5 Shopping Places in Kolkata & What They are Popular for
Monika Chauhan
1849 views
add comment
Shopping Places in Kolkata: It is the city founded by Job Charnock. It is the city where the British East India Company first started to trade in India. The city of Nobel Laureate Rabindranath Tagore and Satyajit Ray, the great film maker, and the City of Joy, according to Dominique Lapierre.
Kolkata is a city bursting with political energy, historic buildings, die-hard sports enthusiasts and cultural attractions. As you travel through Kolkata, you will notice that there is an unparalleled grace even in its rusted grandeur. Hop on to a tram and get a taste of old 'Calcutta' as it traverses the streets filled with gorgeous old structures.
Kolkata takes pride in the oldest operating electric tram in Asia, a full hundred and fifty years of service. This fascinating city certainly keeps you glued to its magnificent palaces, historic venues, grand museums, its bustling streets and roadside food kiosks.
Finally, Kolkata is a city that leaves a shopaholic traveller impressed. There is no limit to what you can buy here. Catering to a wide range of budgets, the shopping places in Kolkata offer attractive options to locals as well as tourists visiting the city. Kolkata is particularly famous for designer Indian wear. Lal Paal cotton sarees, Banarsi sarees, Tussar sarees, gold and artificial jewellery as well as delicious Bengali sweets are among the major attractions here.
So without further ado, let's check out the best of the spots that make up the exciting shopping scenario in Kolkata…
Shopping Places in Kolkata
1. New Market

For locals, New Market is the 'Mecca' of shopping in Kolkata. It is one of the oldest and crowded markets in the city. No matter how diverse your shopping needs are, this distinguished market offers 2,000+ stalls to let you browse through an array of exciting stuff. The Hogg's Market is next door.
The much-loved Lal Paar sarees (white cotton sarees with red borders) are also available here. Synonymous with Bengali women, these sarees reflect the essence of femininity. Furthermore, these sarees top the list of itineraries when women go for Durga Puja shopping.
Likewise, you will find plenty to choose from salwar kameez and nightwear to jeans and footwear shops. The goods are very affordable. Moreover, you could turn the shopping scene into an endless adventure with the right bargaining skills.
Popular for: Cotton sarees,  salwar kameez, imitation jewellery, home appliances, kids wear and toys and footwear.
Location: Lindsay Street, Kolkata 700087
2. Gariahat Market

The Gariahat Market is home to some of the best shops in Kolkata. The best shops for Bengal cotton sarees, Tussar sarees and Banarsi sarees can be found here.
If you try touring the entire stretch of the market, chances are you will get confused by the wide array of shops that you will come across. So hit on only the best few!
Some of the popular shops are located in Rashbehari Avenue adjacent to Gariahat. These include Benrasi Kuthi, India Silk House and Mabesha. Furthermore, Weavers Studio and Kanishka are a must visit for beautiful Tussar sarees and light silk sarees.
You can also pick up tote bags to match your mood and outfit alike. Prices start from as low as Rs 30 per piece.
The market is also home to readymade apparel shops, graphic design shops, and art galleries. From jhumkas to neckpieces to bangles, Gariahat is simply awesome with its varieties of trendy jewelry.
Do not hesitate to try the puchkas (golgappas) on the roadside.
Popular for: Tussar sarees, Bengal cotton sarees and Banarsi sarees, tote bags, funky accessories
Location: Gariahat Market, Kolkata 700019
3. Dakshinapan Shopping Center

If you are looking for some ethnic products made by Indian artisans, you must have Dakshinapan on your itinerary. The desi style shopping mall offers handicrafts, textiles, fancy goods and imitation jewellery from almost all the states in India.
There are many State Government emporiums inside the complex  as well. The Andhra Pradesh Emporium Lepakshi and the Madhya Pradesh Emporium Mriganayani, for instance, stock a great range of fabrics, sarees, handicrafts and gift items. The Kashmir Emporium is also popular for walnut wood furniture, carpets, shawls as well as some really adorable papier-mâché plates and boxes.
Furthermore, you may purchase beautiful handcrafted jewellery such as dokra necklaces and terracotta jewelry at reasonable prices at jewelry shops here.
In addition, the popular Dolly's Tea Shop at Dakshinapan never fails to attract shoppers and college-goers in hordes. The 20-year old shop is most loved for its authentic Darjeeling tea. The complex also has the Madhusudan Mancha. One of the best auditoriums of the city, the Madhusudan Mancha lets you enjoy Indian style of entertainment with different cultural programmes.
Popular for: Handicraft items, Imitation jewellery, Dolly's Tea Shop, Madhusudan Mancha
Location: Gariahat Road, Kolkata 700045
4. Sudder Street

Sudder Street is all for the people looking for hip clothes and accessories. A paradise for backpackers, this is a reliable flea market full of good restaurants as well.
In the '60s and '70s, this area was inhabited by young westerners at the peak of the hippie movement. The traces of hippie fashion continue to be seen in the products sold in this market even after the movement has long faded.
Sunshine and the Art Museum Store are among the most visited stores in this shopping market. People love to buy apparel made from pure cotton, jute, and jute cotton from this market. Other popular low-priced items available at Sudder Street are tie and dye kurtis, patch-worked harem pants, block printed skirts, palazzos, t-shirts and bandanas with religious motifs, sequined jhola bags and stylish accessories.
A popular lodging area for foreigners, this street also has a great number of budget hotels and several foreign currency exchange kiosks.
Besides shopping, you may also explore visiting the Indian Museum to look at fantastic exhibits from different civilizations.
Popular for: Hip clothes and accessories
Location: Sudder Street, Kolkata 700016
5. Russel Street

Another of the popular bazaars or shopping markets of this distinguished city is in Russel Street. A long street lined with old shops, auction houses and iconic dhabas, Russel Street is also home to branded shops. In short, this is where the old and the new Kolkata co-exists perfectly well.
The street was named after Sir Henry Russel, the Chief Justice of the Supreme Court from 1806 to 1813. It has now been renamed as Anandi Lal Poddar Sarani. The famous Park Street is close by too.
The Good Companions, Ananda Sarees, Anokhi and India's Hobby Center are some of the popular shops in this street.
You can also spot State Bhavans (government guest houses) in this market. For instance, the Assam and Mizoram Bhavans are popular for traditional meals available at discounted rates. Likewise, Sikkim House's Blue Poppy restaurant has some of the best momos in the city.
The popular Bengal Club, one of the oldest social clubs in Kolkata, is adjacent to Russel Street as well.
Popular for: Home decor stores, sarees and iconic eating places
Location: Russel Street, Kolkata 700071
Score the best stuff in these shopping markets the next time you're out shopping in Kolkata! Happy Shopping…
---
View our videos
SIGN UP FOR NEWSLETTER
Be the First to Know. Sign up to newsletter today