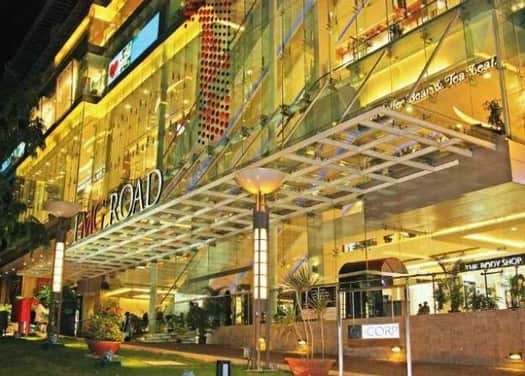 1 MG Road Shopping Mall in Bangalore
Jul 12, 2018
Kausy M
947 views
add comment
Firstly. with as distinct a name as 1 MG Road Mall, this Bangalore shopping mall is well positioned to attract the Bangalore shopping crowds.
In addition, the location of the mall is perfect. It is right at the beginning of MG Road and is opposite the The Oberoi, the Taj and the Park Hotels in Bangalore.
MG Road is a very well known and central road in the city. Further, it was a key area for Bangalore shopping until the shopping malls mushroomed in the city . It is a long stretch of road with several shops such as the Cauvery Handicrafts Emporium ,which is a Government handicrafts shop, the Kashmir carpets and handicrafts shops, Vijaylakshmi Silks, Deepam Silks and Soch, all of which are all well-known apparel shops.
 1 MG Road Mall
1 MG Road Mall is a small & compact mall. However, let the size not deceive you, you will find many interesting shops in this Bangalore mall.
We had accidentally discovered this mall while looking out from our hotel room at the Taj and walked across to explore some dining options . Yauatcha is a familiar name for Pan Asian cuisine and although we had no prior reservation, we did manage to find a table for ourselves. It is a large & spacious restaurant on the roof top. The food was excellent as was expected and we started to explore the mall soon thereafter.
Similarly, there were several other restaurants in the same floor. The 'Tao Terraces 'had some great views of the Ulsoor Lake in Bangalore. It is a bar cum restaurant with a lively atmosphere. It has Thai, Japanese, Korean, Chinese & Burmese dishes on offer . All the restaurants seemed to be very popular and the place was abuzz with people.
1 MG Road: Foodhall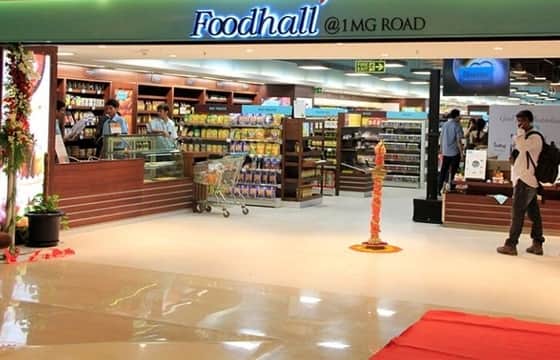 We took the escalator to the floor below and the divine smell of freshly baked breads and cakes came wafting through. We could see the FoodHall store right in front of us. This is a hugely popular store ,just by looking at the number of people at the billing counter. Above all. fresh food such as fruits& vegetables, meat & poultry, cakes & breads and all grocery is available in the store. In addition, some shoppers were enjoying freshly made sandwiches and pastries there.
1 MG Road: Kids Zone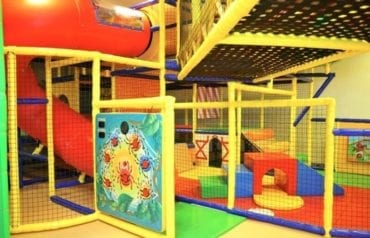 There is a bowling alley for the youngsters on one side and Monkey Kids ,a kids zone on the other side. A birthday party was going on in the kids zone and you could hear the squeals of laughter and see the happy faces of the children playing around.
Then there is Mother Care & Hamleys, the Toy store. 1 MG ROAD Mall seemed a great place for young children.
1 MG Road: Western Wear and Jewellery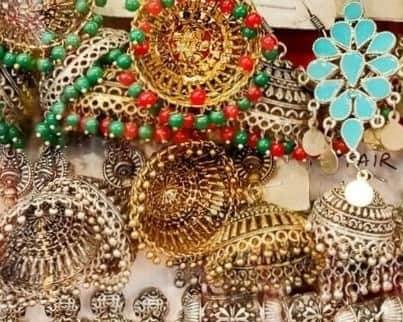 We went down to the 2nd floor. H&M , the apparel store had its doors wide open. Western wear dresses including tops and trousers, jeans and jackets were well displayed in this large store. There was imitation jewellery pieces such as chains, earrings & rings.
Anita Dongre's store AND, which is an Indian store for formal western wear, had a great selection. Anita Dongre also owns Global Desi. While Global Desi focuses on Indian wear dresses such as kurtis, gowns, long kaftans, long skirts, palazos, lehengas, and Indian fusion wear dresses, AND focuses on western wear for women. Both these stores have their showroom at the, MG Road Mall.
Home Decor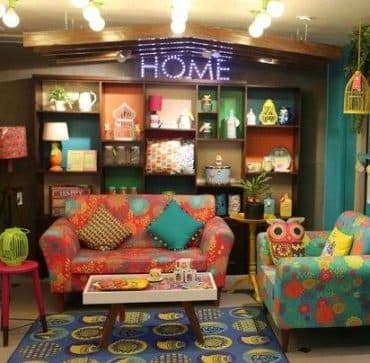 We then walked into 'Home Store' – The jazzy and glittering lights in the store created an attractive ambience for all the home accessories in the store. There are rows & rows of colorful flowers made from paper and fabric from China. They are very attractive to look at. Candle stands and cutlery in gleaming gold polish and silver polish are waiting to be picked up in this store. Cushions in bright gay colours are also on display. If you are doing up your home in Bangalore, it would be a good idea to visit this store.
On the ground floor, there is a large Fab India showroom. Fab India as is well known is a store for Indian ethnic wear dresses, home accessories & ready to eat food products. Dresses for men, women& children are stocked in this store. Colourful cushions, dining & home accessories & bed linen are some of the other products available here.
Shoes and Bags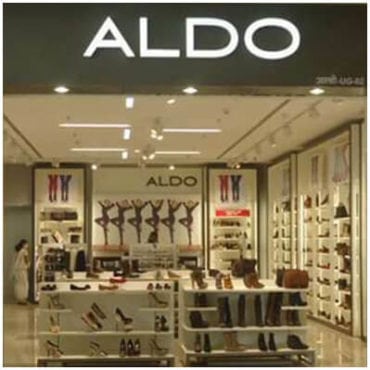 The footwear stores, Clarks and Aldo, have a stylish collection of evening wear sandals and shoes.
Hi Design is the Indian leather goods manufacturer for high end and trendy leather bags, briefcases and belts. They have bags in some offbeat colors and in varying sizes. Authentic leather is expensive.
However, one would not paying too high a price for style and utility. Da Milano is another store for leather bags in the mall.
Estee Lauder, Kama and a few other stores sell cosmetics.
The best things going for the 1 MG Road Shopping Mall are
a. the great location
b. the compactness
c. premium shops for both Indian & western wear apparel, accessories & bags
d. children can be easily entertained
e. Variety of options for lunch, dinner and coffee.
In conclusion, although it is a small & compact mall, it has great shopping & dining options.
Other Malls:-
---
View our videos
SIGN UP FOR NEWSLETTER
Be the First to Know. Sign up to newsletter today