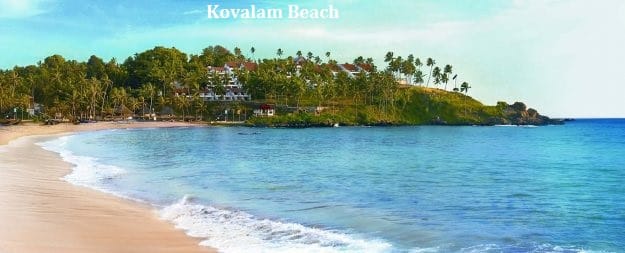 Kovalam Beach -What to do, Where to Go
Ratna Singh
239 views
add comment
Where is Kovalam Beach?
Kerala, also known as 'God's Own Country' is one of the top tourist destinations of India, and Kovalam undoubtedly its cleanest and most famous beach. It is  situated on the Malabar Coast with the backdrop of the Arabian Sea.  The picturesque beach and  it is calm & peaceful. It is a popular holiday getaway for city dwellers. The view of the lush greenery enveloped by coconut palm trees is just magical. An interesting Kovalam trip lies ahead.
About Kovalam Beach
Kovalam is a calm, peaceful and a clean town with friendly locals always keen to strike a conversation. The three crescent shaped  beaches are the heart and soul of the place.  However, the most popular  is the Lighthouse beach. It is named after the charming old lighthouse located close by. Further, next to this  beach is the `Hawa Beach' which is one of the cleanest. A rocky hill separates the Hawa beach from the third beautiful beach ,known as  the Ashoka beach.
 Kovalam Hotels 
The famous luxury hotel, Leela Kempinsiky is located on a hilly cliff of the Ashoka Beach.  You will be treated like royalty on reaching this resort on the sea. Above all , as soon as you  enter the magnificent lobby, smiling hostesses  will greet you  with exotic drinks and fragrant wet napkins. However, the first view of the sea from the lounge is simply awesome. The hotel stands on a high rocky cliff. In other words ,one can hear the mighty sea below as it splashes against the huge boulders. It was rightly so pristine with its bluish-green waters. Further, the Kovalam beach is supposed to be one of the cleanest beaches in India,. attracting a lot of foreign tourists.
What to do in Kovalam Beach?
There is a lot of activity on Kovalam's beaches for the  visitors .  Firstly, there are a host of shops selling traditional Kerala items and souvenirs. In addition, several  cafes and eateries line the road along the three beaches. Merely sitting on the beach with a view of the magnificent, silvery sea shimmering on the horizon is quite relaxing. Fishing boats appear like tiny dots hobbing up and down. In other words, fishermen with their nets is a common sight in Kovalam. Undoubtedly, this place is an ideal destination for a holiday.
Ayurvedic Centre in Kovalam
Kerala is famous for is `Ayurveda' and this attracts both Indian and international tourists. Ayurveda is one of the most ancient and traditional systems of healing using natural products with no side effects.  Further, they are effective in curing major or minor ailments and also for stress removal and relaxation. Natural growing herbs and oils, having medicinal properties . As a matter of fact , they are used for the treatment. A host of resorts, spas and centres offer therapy and massages. However,  visitors who are new need to be careful while choosing an Ayurveda centre as not all are genuine.  In other words ,there are a host of these  Ayurveda `vaidyashala's' which have mushroomed all over. However, one must opt for an authorised centre. Most luxury hotels in Kovalam have excellent spas. The other registered spa in Kovalam is the 'Ayushya Ayurvedic Centre'.
Temples Near Kovalam
To combine a pleasure trip with some spirituality, head to Thiruvananthapuram. The renowned Padmanabhaswamy temple is just 15 kms drive from Kovalam. Once you enter this city, you get a feel of the rich, cultural heritage of Kerala. There are  houses and buildings from a by-gone era with intricate Dravidian architecture. Local people  are dressed in traditional attire – men in white and gold half dhoti and women in white half saree.
Though exact dates for the construction of the Padmanabhaswamy temple is not known. However, it is believed to be more than 2000 years old. The beautiful `gopuram' with fine art work and carved stone figurines was constructed in C1565 approximately. To enter this holy place there is a dress code which is strictly followed. Men have to wear a white cotton `lungi' having red and green border and ladies any Indian attire. For instance, all of this is available in various shops around the temple complex. As you enter the main gates into the thousand pillared corridor, you feel an awesome grandeur surrounding you. This hallway will subsequently lead you to the main sanctum sanctorum.
Temple for Mahavishnu
There is always a teeming crowd eager to pay obeisance at the temple. You can join the  serpentine queue . You can reach  the inner, sanctum `sanctorum' just in time for the evening aarti. The aura is definitely uplifting &  `charged' with a spiritual fervour. The first impression  the reclining  Mahavishnu on the `Seshanaga'(snake) will be a sight to behold . It is absolutely  mesmerising and out of this world. In other words, amidst the tinkling bells, prayers & murmuring crowds, it is a unique experience to behold the lifelike idol of the lord.
As a matter of fact, there are 3 separate entrances or doors from which the deity can be seen and revered .– The face  can be viewed from the first door. The navel with a lotus emerging from it  can be seen from the second door. Further, the feet  of the Lord can be seen from the third. door. In addition, Lord Brahma is seen seated on the lotus flower that sprouts from the navel of lord Mahavishnu.
Krishna temple
Within this huge, temple complex, there is also a Krishna temple. Further, towards the south door is a shrine of  lord `Narasimha'(half man half lion).
Kerala Food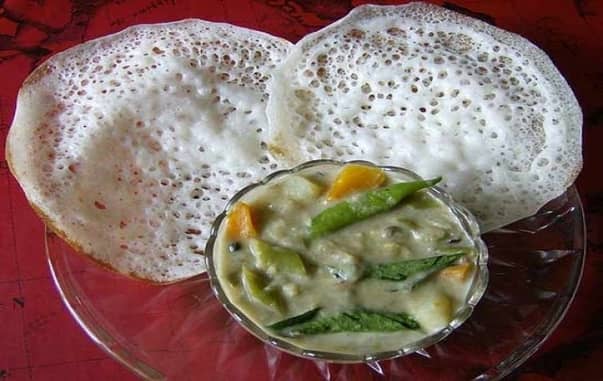 A trip to Kerala is incomplete without a taste of the local cuisine. The local community, the Malayalis are very fond of cooking. One of the favourite dishes is the `appam and stew'. For example, appams are a kind of plain dosa and stew is a delicious vegetable curry. Coconut is used in most of their dishes in various forms. Coconut  oil, milk or plain coconut is added to the food. Fish is also popular here as it is a coastal town.
Also banana chips are a speciality here. As a matter of fact, they are sun dried first and then fried. For instance, this makes it so crispy. You can  take some of them  home to share with friends and family. The 'Halwa' which is a local sweet dish is laden  with ghee and dry fruits . It is also a great buy to take home (if you aren't particular about counting calories).
Kovalam trip should be rejuvenating in more than one way.
Please read our other blogs:-
Top 7 Places to Visit Along the Marina Beach in Chennai
---
View our videos
SIGN UP FOR NEWSLETTER
Be the First to Know. Sign up to newsletter today