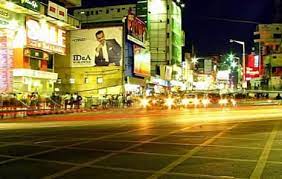 MG Road Bangalore
Mahatma Gandhi Road, also known as MG Road Bangalore, runs east from Trinity Circle at one end to Anil Kumble circle at the other. Known as South Parade in the pre-independence era, it was renamed as Mahatma Gandhi Road on...Read more
Mahatma Gandhi Road, also known as MG Road Bangalore, runs east from Trinity Circle at one end to Anil Kumble circle at the other. Known as South Parade in the pre-independence era, it was renamed as Mahatma Gandhi Road on 26th February 1948.
CBD in Bangalore
No trip to Bengaluru (Bangalore) is complete without visiting this popular   Bangalore market.This long stretch of road is usually busy throughout the day. Looking for a lunch spot at CBD, Bangalore? Well, the place offers you a plenty of options to choose from. You may head to Nagarjuna & Bhimas, Tao Terraces, KC Das, Ebony and Chutney Chang, among others.
It is known for its high-end Bangalore shopping, happening restaurants, malls and a charming crowd. There are shops selling beautiful Kanjivarams, Banarsis and Pochampalli saris.
Best Shops in mg road Bangalore
Some of the popular shops  are Vijaylakshmi Silk and Sarees, Priya Simran, and Prasiddhi Silks. Interested in handicrafts? Cauvery Handicrafts and Cottage Industries do a ton of sandalwood and rosewood handicrafts, brass and bronze figurines, carpets, jewellery and clothes as well. These are certainly among the best shops for handicrafts in Bangalore.
Kashmiri Carpet Shops
There are at least 3 to 4 shops here where one can buy Kashmiri Carpets. Kashmir Cottage Emporium is one of them .There are also many high-end restaurants as well. These include Vivanta by Taj, On the Edge, Canopy, and The Oberoi. Those looking for pubs can also find many clubs and discos closeby. Portland Stakehouse cafe, Ebony, Bilmey, Yautcha, Tandoor, Lakeview Milkbar Vasudev Adiga and 13th floor are some of the popular restaurants here.
Brigade Road nearby also has some good Bangalore shops including Vera Moda, Lee, Van Heussen and Louis Phillip. The street stalls are piled high with unbranded shoes, clothes and knick-knacks.
Experience another highly visible Bangalore street shopping scene here.
Read related blogs :
All lanes , Bylanes in Commercial Street are flooded with Everything from Jeans to Jewelry . Bargain and Enjoy the Fun
Days Closed :- All days open.
Timing :- 11 am -8 pm
Bus/Metro :- MG Road bus stop
---
114 views