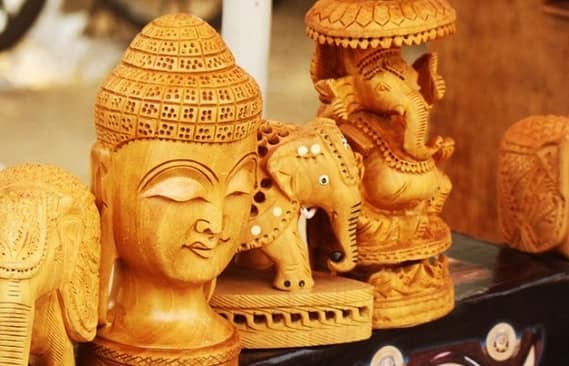 Bangalore Sightseeing & Shopping @ MG Road
Ratna Singh
453 views
add comment
Bangalore sightseeing : Bangalore  is also known as the 'garden city' because of its  exquisite parks, greenery and salubrious weather. In fact, it is a popular destination for tourists of all age groups. The capital of Karnataka State, Bangalore, is a vibrant metropolis today. As a matter of fact, it was founded by Kempe Gowda, a local chieftain in 1537.
The city has a distinctive hi-tech feel to it. The booming IT sector attracts global corporations from around the world. It is a hotspot for youngsters . Further, it is a much happening place with numerous pubs, restaurants and malls. The two huge and magnificent gardens, Lalbagh and Cubbon Park add to the charm of Bangalore.
Bangalore Sightseeing: Lalbagh Botanical Gardens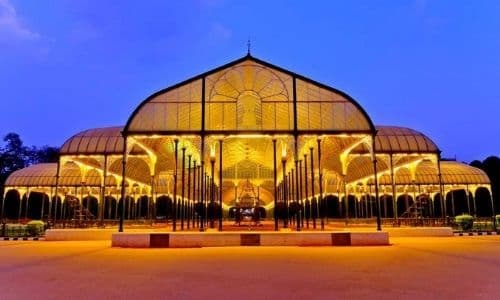 Begin your day  in the morning around 7.30 /8  am with a trip to the beautiful Lalbagh Botanical Gardens situated in South Bangalore. This sprawling park is of historical importance .In other words, it was laid out by Hyder Ali and his son Tipu Sultan in the 18th century. It contains  century old trees, rare tropical plants and a glasshouse modelled on London's Crystal Palace. In addition, there is also an exotic bonsai garden which is very well maintained. Further, every year, there is a flower show that is held in the week preceding the Republic Day and the  Independence Day. The gardens are open everyday from sunrise to sunset. It is a morning walker's paradise.
Recently a paid `buggy' ride has been started by the authorities for the convenience of visitors, as going around the huge park on foot becomes quite tedious. This tour is completed in 40 minutes and the charges are Rs 150 per head.
Breakfast @Bangalore
Close to Lalbagh, on Lalbagh Road itself is the famous South Indian restaurant Mavalli Tiffin Rooms or MTR as it is popularly known. Step into the spick and span restaurant, after your visit to the Lalbagh Gardens, to get a taste of typical South Indian cuisine. The interiors are modest, as there has been no attempt to redecorate or modernise the legendary place but the food is excellent. It is closed on Monday.
Bangalore is quite cosmopolitan nowadays with people from not only India but the world over visiting for work or leisure. The best thing about the place is that it is not necessary to know Kannada, the local language. Simply knowing these three easy words – `Kannada goth illa' (meaning I don't know Kannada) would be sufficient for an outsider to alternately interact with the local folks in either Hindi or English.
Bangalore Sightseeing: Mahatma Gandhi Road (M G Road)
Having finished your sumptuous breakfast at MTR, it is a good idea to proceed for shopping to the famous M.G. Road .  Further, the Brigade Road, which is another popular  road is adjacent to M.G. Road. These roads are located in the heart of Bangalore. This is one of the most popular shopping markets in Bangalore, apart from the numerous malls which have come up recently.
Further, you will find some classy shops here for bags, footwear, clothes and electronic items. Also, some well known sari shops, such as, Deepam, Vijayalakshmi and Prasiddhi have showrooms in this part of the city. Manyavar is a store for men's clothing.
Bangalore Sightseeing: Handicrafts Shops in Bangalore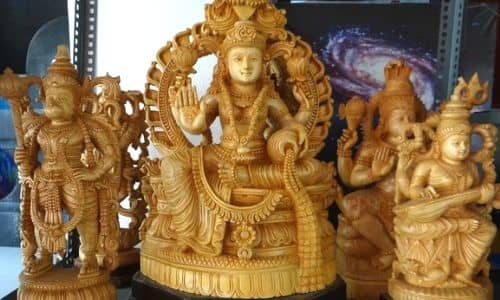 For those who wish to take back a souvenir from  Karnataka, step into Cauvery the Karnataka State Handicrafts Emporium. The State Government owned shop offers exquisite handicraft items . Check out for rosewood elephants, garlands, sandalwood statues, artefacts, incense sticks, perfumes and jewellery. They also have wooden toys, a speciality of Chennapatnam ( a place near Bangalore. As a matter of fact, they make wonderful gifts for children. Above all, the store has two floors and is open on all days from 10 a.m in the morning until 8 pm in the evening.
M.G Road  is  the nerve centre of activity in Bangalore. Further, a leisurely walk in the newly built M.G. Road Boulevard in the evening is a pleasant experience. In other words, the entire stretch is dotted with beautiful plants and gardens. In addition, there are benches  for people to sit down and enjoy. A restaurant run by Dasaprakash, an art gallery  named `Rangoli' an occasional street play and theatre will  keep visitors enthralled.
Bangalore Sightseeing: The State Legislature of Karnataka- Vidhan Soudha
Another place worth a visit  is the Vidhan Soudha. This huge, granite, building is an architectural marvel.  It was built in 1954 and is floodlit on weekend evenings and on public holidays. There is a beautiful garden around the structure but visitors are not allowed inside. They can only view it from the outside.
M.G. Road Mall
A trip to any city  is incomplete without a visit to a mall ! So, after spending an enchanted evening at M.G. Road, head to 1 M.G.Road Mall which is a small mall close by. It has some luxury shops for cosmetics like Clarins, MAC, YSL, Marks & Spencer, Fab India and the Bombay Store. Finally, to end the day on a high note, have dinner at Tao – a fine Japanese restaurant serving delicious food. The food hall servers a variety of cuisines.
---
View our videos
SIGN UP FOR NEWSLETTER
Be the First to Know. Sign up to newsletter today