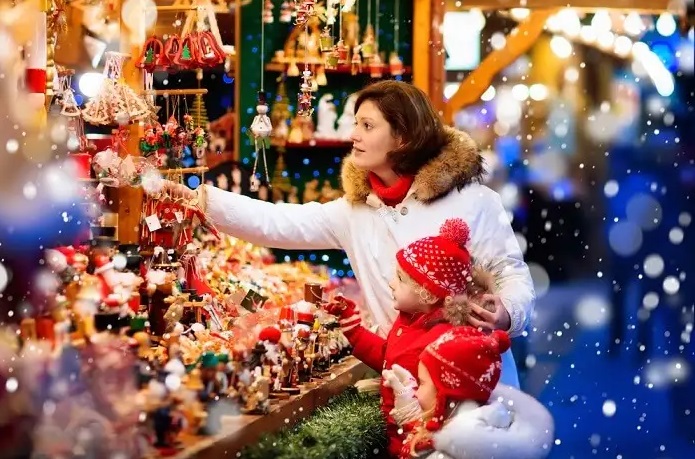 10 Best Markets For Christmas Shopping In India
May 03, 2019
Monika Chauhan
198 views
add comment
It's the season for exciting Christmas shopping. Whether you are intrigued by beautiful Christmas trees with classic ornaments, pretty lights, or cute Santa costumes, the Christmas markets in India have much to offer for everyone in your family. In the mood to shop for attractive decorative items and Xmas paraphernalia? Not to worry! Shopkhoj brings you best markets for Christmas shopping in India to make your life less complicated and more festive.
Christmas: A Festival Of Brotherhood and Love
For the uninitiated, Christmas finds its origins from the word 'Cristes maesse' (meaning Christ's Mass). Celebrated on December 25 every year commemorating the birth of Jesus Christ, the festival holds special significance for Christians all over the world. It finds its first mention in an early Roman calendar in 336 AD. Ever since then, the festival has been associated with spreading love and joy with family and friends.
In recent years, the non-Christian communities have started to celebrate the festival in a harmonious spirit too.
And since Christmas is followed by New Year celebrations, there is bound to be a festive spirit in the air. From homes to elite malls and stores, the sight of illuminated Churches and fancifully decorated Christmas trees is quite common everywhere.
The Christian community celebrates the festival across different countries by attending prayer mass at churches, exchanging gifts, singing carols and feasting with near and dear ones.
Christmas Celebration For Kids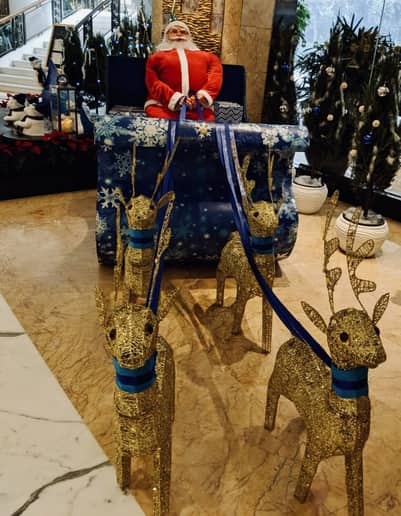 We know how parents find it tough to get their little ones to bed the night just before Christmas. But all kids certainly look forward to receiving gifts from the famous Santa Claus on the night of Christmas. So you can make them do anything but sleep on Christmas Eve.
And it's a memorable moment for parents too seeing the excitement on their kids' faces while they tear into gifts early on Christmas morning. By picking out lovely gifts for their little ones and placing them right below the Christmas tree, on the night of Christmas, they definitely create a magical time for their children.
Pick the best festive shenanigans, Christmas delicacies and other essentials from these Best Markets For Christmas Shopping In India…
German Christmas Market in Delhi-Best Markets For Christmas Shopping In India
The German Xmas market is being organised by the Indo-German Chamber of Commerce in Delhi every year. This popular Christmas market is where you can shop for tree decorations, miniature Santa Claus, fun goodies for children along with German food and bakery products.
Location: Sunder Nursery (Opposite Humayun's Tomb), Nizamuddin, Delhi
Sunday Soul Sante, Bangalore-Best Markets For Christmas Shopping In India
It's the season to be at SSS in Bangalore! Touted to be the city's most popular flea, Sunday Soul Sante attracts shoppers of all ages with the best food and interesting stalls (mostly themed on Christmas). It also organises events for visitors during its Christmas edition.
Go ahead and join the holiday cheer at SSS with your family, friends and even four legged companions.
Location: Jayamahal Palace, Bangalore
Arpora Midnight Market in Goa-Best Markets For Christmas Shopping In India
If we are talking about Christmas, how can markets in Goa be far behind? One of the most sought-after travel destinations in India, Goa dons a festive and colorful look especially in the month of December
The Arpora Midnight Market is one of the best Christmas markets in Goa. Held only on Saturdays, the all-inclusive market lets you feel the merriest of vibes with live music performances and the coolest Christmas flavours. Moreover, this Saturday Night Bazaar offers a worldwide collection of artistic products.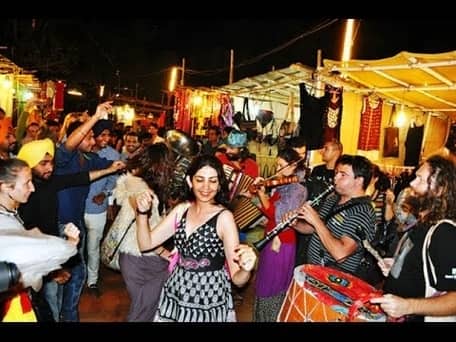 Location: Aguada Siolim Road, Arpora
Calangute Bazaar in Goa-Best Markets For Christmas Shopping In India
Discover another shade of Christmas at yet another popular market in Goa. To make your Christmas shopping all the brighter, the Calangute market square offers everything from trendy clothes, interesting decor to handicrafts and leather products and accessories too. For those willing to to take home a 'beachy' souvenir, the market has the fine range of shell craft products. These include sarongs as well as trinkets made with seashells
Location: Calangute, Goa
Cochin Carnival in Fort Kochi-Best Markets For Christmas Shopping In India
Be a part of one of India's oldest Christmas celebrations at Cochin Carnival in Kochi. The 10-day carnival is held every year in the last week of December at Fort Kochi in Kerala. It finally ends on 1 January.
First conceptualised in the year 1984, the carnival is a perfect blend of Christmas and New Year celebration. It begins with the hoisting of Carnival Flag on Vasco Da Gama Square. What attracts visitors to the carnival are numerous competitions like tug of war, beach volleyball, swimming, cycle race, wrestling, and also fancy costume parade.
It is popular for burning the giant Papanhi statute, hence symbolic of ushering into New Year with cheers. On January 1, a large procession takes place with traditional dance and music. You may as well shop here for garments, beautiful artifacts as well as trendy accessories.
Location: Fort Kochi, Kochi
Hill Road in Bandra, Mumbai-Best Markets For Christmas Shopping In India
Get your Christmas shopping fills at this famous Mumbai market. Come Christmas, Hill Road in Bandra turns into a visual fantasy with amazing light installations and Christmas décor. The market boasts of colorful roadside stalls where you can shop for Christmas paraphernalia as well as sweets.
Location: Hill Road, Bandra West, Mumbai
Crawford Market in Mumbai-Best Markets For Christmas Shopping In India
Soak in the Christmas cheer at this well-known market in the city of Mumbai. This market in South Mumbai certainly undergoes a magical transformation to cater to all your festive shopping needs.
Crawford Market's Abdul Rehman Street won't leave you disappointed for sure. From décor to cute Santa costumes to decked up trees, this is where you can find almost everything to complete your Christmas shopping.
Location: Dhobi Talao, Near Chhatrapati Shivaji Terminus Area, Fort, Mumbai
Mission Street in Pondicherry-Best Markets For Christmas Shopping In India
You are certainly in for a great deal of Christmas fun at Mission Street in Pondicherry. The market turns merrier with fairy lights, Christmas-themed decors as well as music streaming from different stores. Here, you would love to shop around for special Christmas ornaments, plenty of red and gold tinsel, stars and handmade figurines too.
Additionally, Pondicherry organizes the annual Christmas Market or the Marche de Noel with stalls from some of its best homegrown brands. The Christmas bells ring out loud here with an array of products from designers, bakers, boutique owners, NGOs and local businesses. This year, Christmas Market 2019 was held on December 7.
can be your one stop destination for Christmas shopping and more.
Location: Mission Street, Pondicherry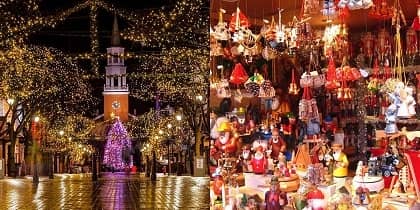 Phoenix Marketcity in Bangalore-Best Markets For Christmas Shopping In India
If you are looking forward to a soulful Christmas shopping experience in the city of Bangalore, Phoenix Marketcity certainly has a lot of interesting things in store for you! To start with, they have a colossal Christmas tree this festive season. It stands tall at a whopping 75 feet. Manolo Rubio, the well-known Spanish installation artist and sculptor, has done this Christmas tree along with the installation.
Additionally, you also get to shop here at an exclusive European-themed Christmas market. You would definitely find it difficult to resist shopping for an alluring range of Christmas decorations at Phoenix Marketcity.
Location: Phoenix Marketcity, Whitefield Main Road, Mahadevapura, Bengaluru
Park Street in Kolkata-Best Markets For Christmas Shopping In India
There can't be a better way to spend Christmas in Kolkata than hitting the streets at the iconic Park Street Festival. Also called the Kolkata Christmas Festival, the two-week long carnival is organized by the Tourism department in the city.
This year, the 9th edition of the festival is off to fabulous start at Allen Park. It's literally the most lit thing in Kolkata with stunning fairy lights and Christmas-themed lighting. The host of stalls here sell delicious cakes, goodies and chocolates to offer a flurry of festivities. Moreover, you can explore shopping at this festival for interesting Santa stuff and accessories.
Location: Park Street (main stretch), Kolkata
anta Claus is coming to town. Wish you all a holly, jolly Christmas shopping experience!!!
Also, read: 7 Gifting Ideas for this Christmas 
---
View our videos
SIGN UP FOR NEWSLETTER
Be the First to Know. Sign up to newsletter today