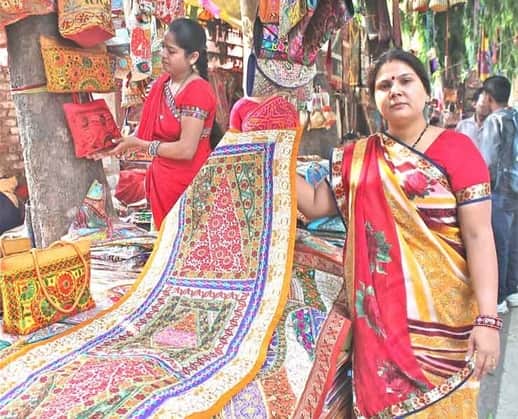 Tourist Places in Delhi
Apr 25, 2019
Monika Chauhan
8292 views
add comment
Delhi has been the chosen Capital of India for centuries.  Let us read about the Tourist Places in Delhi.Legend has it that the city of Indraprastha (the present day Delhi) was the grand capital of the kingdom led by the Pandavas (as mentioned in the Great Indian epic Mahabharata). It was the capital of Qutb ud-Din Aibak. Aibak ascended the throne of the Delhi Sultanate as its first ruler.
Delhi was the Capital city of the Mughal rulers and the British as well.
Consequently, the past dynasties largely influenced and shaped the architecture, history and culture of Delhi. No other Indian city can boast of such a magnificent past. The monuments of Delhi's historical past are unique to Delhi.
Delhi also has shopping markets in some of the historically important places. Chandni Chowk, for instance, leaves visitors awestruck with its numerous hidden gems.
Furthermore, Delhi is also  famous for its street shops and street food as well.
Let us first take you through some of the Tourist places in Delhi.
Tourist Places in Delhi
If you are visiting Delhi, exploring the beautiful monuments in the capital city should be on your itinerary too. Majestic forts, monuments and mosques have a very special place in the heart of the city.
You can start your day by exploring the astonishing architecture of the Akshardham temple. Built with pink stone and white marble, the temple complex comprises a sprawling garden, sculptures, water show as well as a boat ride.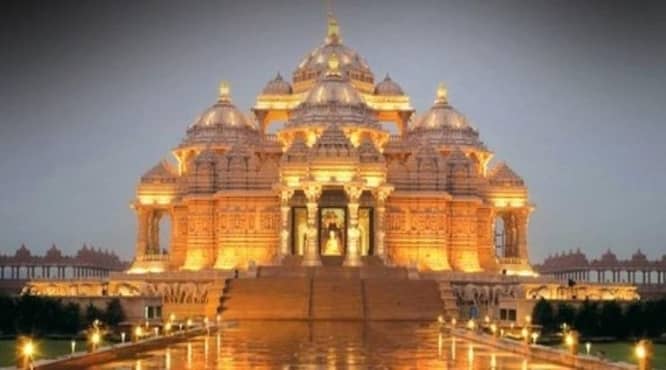 Mughal Monuments-Tourist Places in Delhi
Once at the centre of the Mughal Sultanate, the Red Fort or Lal Quila stands unique with its thick red sandstone walls. Emperor Shah Jahan is behind this grand historical monument of India.
Jama Masjid near Red Fort is one of the largest mosques in India. Popular as Shah Jahan's last architectural extravagance, the mosque took its final shape in the year 1656. Interestingly, its inner courtyard can hold an incredible 25,000 individuals at a time.
Moreover, the 73-metre high Qutub Minar attracts visitors as being the world's tallest brick minaret. Built in the year 1206, the magnificent red sandstone tower is an ancient architectural example of Irani-Afghani style.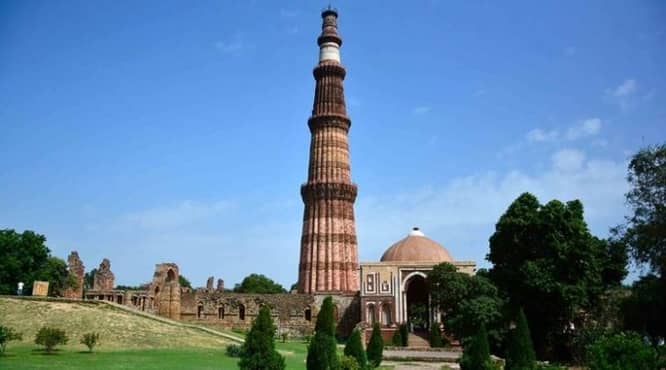 Other major tourist attractions include Humayun's Tomb, Safdarjung Tomb, Lodhi Gardens, Raj Ghat, Lotus Temple and India Gate.
Street Shopping
Some of you may find shopping more comfortable at a nearby swanky mall. But for those of you who simply can't resist street shopping, Delhi boasts of street markets like no other city.
Delhi's street markets thrive on the bustling crowd tempted to shop and bargain in the streets. The sheer variety of products available in street shops is astounding.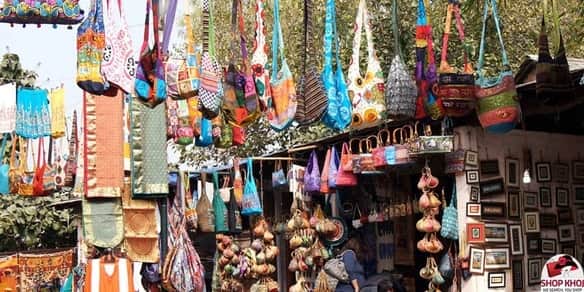 From fabrics to trendy clothes to fashion accessories to electronic goods to shoes to home furnishings to books, Delhi's famed street markets have got them all!
South Delhi Shopping Markets
For designer tops, trendy dresses, export surplus, printed tees, cool belts and funky accessories, you may head to the Sarojini Nagar market. It is always crowded though.
Khan Market, on the other hand, is known for a high-end shopping experience. This small U-shaped market takes pride in some of the best garment shops, cosmetics, handicraft as well as book shops.
There are street shops for beads and bracelets, imitation jewellery, sandals, skirts and stoles in Khan Market. In addition, branded outlets like Good Earth, Fabindia, Anokhi, Benetton, Levis, Adidas, Amrapali, and Silverline are huge crowd-pullers in Khan Market.
Lajpat Nagar is where you can get fabrics from plain cotton to silk brocades. Right from Indian ethnic wear to imitation jewellery to home decor to electronics, shoppers find anything and everything here at pocket-friendly prices.
Dilli Haat is a must-visit shopping market for all things ethnic. Moreover, what attracts people to this traditional village market is an exciting blend of handicraft and cultural performances from all over the country. Most noteworthy is the fact that they have a fantastic food court with cuisines from all over India.
Central Delhi & West Delhi
Janpath Market is popular for the decently priced Tibetan goods, cotton tops, Gujarati bed spreads, wall hangings, cushion covers and imitation jewellery.
Gaffar Market, Paalika Bazaar, Monastery Market and Kamla Nagar Market are some other popular hubs for street shopping in Delhi
      Read More: Best Places for Street Shopping in Delhi
Chandni Chowk Shopping: Tourist Places in Delhi  
Exploring Chandni Chowk, one of India's busiest markets, is no less than a voyage of adventure. The narrow alleyways of this bustling shopping hub are popular for bazaars with distinct realms of specialization. These include Dariba Kalan, Bhagirath Palace, Katra Neel, Ballimaran Market, Chawri Bazaar, Kinari Bazar, and Khari Baoli, among others.
A must on every wedding shopper's checklist, Chandni Chowk has certainly got a lot to offer. This is where you will find beautiful lehengas and sarees, an ancient silver market full of jewellery, fabrics, Parsi and Zari borders, home decor items, electronic products, books and stationery items, and even spices and dried fruits.
Wedding Essentials in Chandni Chowk
Chandni Chowk is the one-stop destination for all your bridal and non-bridal lehenga needs. Right from deep red lehengas with gorgeous gold work  to lighter lehengas  with trendy designs, you can probably source the most exquisite yet reasonably priced lehengas here.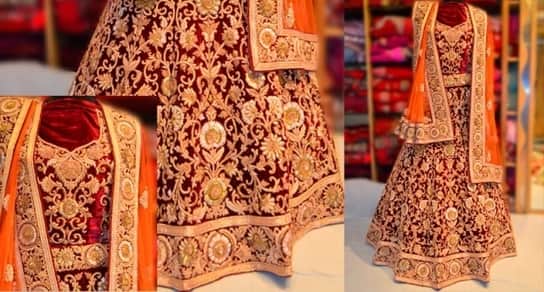 Asiana Couture, Sunehree, Om Prakash Jawahar Lal, Kamal Bhai Saree Sangam, Pakeeza Plaza, Kala Shree Regalia and Ram Kishan Sarees are among the popular bridal lehenga shops in Chandni Chowk (with prices starting from 30k). You can also get non-branded, good quality lehengas starting from as low as 5k.
Did we mention the market serves up a rich heritage of culinary traditions of the old city? (More coming up in the next section on Chandni Chowk's old love affair with delicious street food!)
Famous delicacies of Chandni Chowk
The narrow lanes of Chandni Chowk never fail to entice visitors with their shopping delights as well as the authentic mughlai cuisine. The area's romance with food started way back during India's glorious Mughal era. No wonder the place continues to charm foodies with its popular eateries.
While the famous Parathe Wali Gali is speckled with legacy paratha eateries, Natraj always boasts a buzzing crowd immersed in their plateful of peppery dahi bhallas and aloo tikkis.
Kake Di Hatti is loved by all for its king-sized naans. It serves vegetarian dishes made perfectly delicious with aromatic spices.
The famous Jalebi Wala's most relished jalebis and Kanwarji's plump imartis are a delight for those with a sweet tooth.

Mouth-watering Delhi Delights
As a matter of fact, the lip-smacking dishes in the national capital range from the scintillating hot paranthas to the much-loved seekh kebab at Karim's (Jama Masjid) to the finger-licking bedmi puri at Fatehpuri.
Thanks to a fascinating blend of different cultures, Delhi is indisputably a class apart for its delicious and diverse food. Needless to say, Delhiites  swear by the spicy chaat and crispy golgappas the city offers across its numerous street food joints.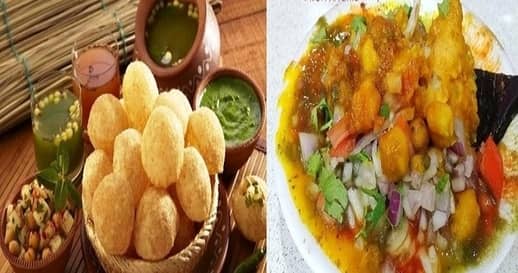 Further, Dal Makhani, with its origins in Punjab, is one of the favourite cuisines here. Butter Chicken is quite popular right from fine dining restaurants to the local dhabas. Besdies, Steamy momos make for the perfect evening snack especially during evenings.
What's more, Delhi takes pride in its incredibly satisfying Chole Bhature. Kake Di Hatti (Gali Batashan), Sitaram Diwan Chand (Paharganj) and Roshan's (Karol Bagh) are among the most visited restaurants for the ultimate taste.
Additionally, Aloo Tikkis, Rolls and Sabzi Kachori are other popular spicy street foods found in every corner of Delhi.
Delhi gives the ultimate experience of shopping and eating on its streets. So what's your next shopping destination?
                  Read More: Chandni Chowk Delhi Shopping and Food Tour
---
View our videos
SIGN UP FOR NEWSLETTER
Be the First to Know. Sign up to newsletter today