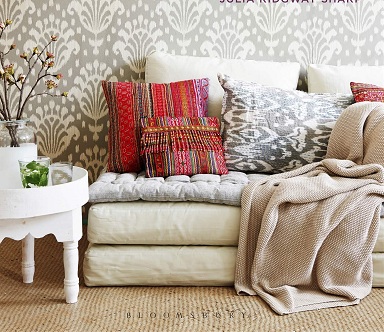 Best Shops for Furnishing
Best Furnishing Stores in Jaipur: If you are looking to enhance the look of your house with elegant furnishing accessories, Ratan Textiles at Civil Lines market offers an attractive range.
Run by the Jain family for 30+ years, they offer pleasing prints in bed linens, table linens, kitchen linens, cushions, gift packing as well as various other stationery items such as file holders, boxes and such similar stuff. Craftsmen use block printing and hand printing techniques in the making of these products.
Amber Palace Road in Jaipur is lined up with shops displaying home furnishing and decor products at the front. You will notice bed sheets, bed covers, pretty curtains, cushion covers, blue pottery items and sculptures, among other products on the road leading to Jaipur City from Amber Palace.
Riddhi Siddhi Textiles at Amer Road has all you need for home furnishing needs and more. They stock lovely patchwork quilts, dining table covers and mats, cushion covers, dhurries, soft quilts in malmal fabric with pastel prints, duvet covers, and dohar or soft blankets, to name a few. The products are reasonably priced too, ranging from Rs 1,000 to Rs 5,000 per piece.
The shop is visited by overseas customers too for quilted jackets, cushion covers and large wall hangings. These are primarily wholesale buyers from abroad, placing orders for products in large quantities.
Check out best furnishing stores in Jaipur only at Shopkhoj.com