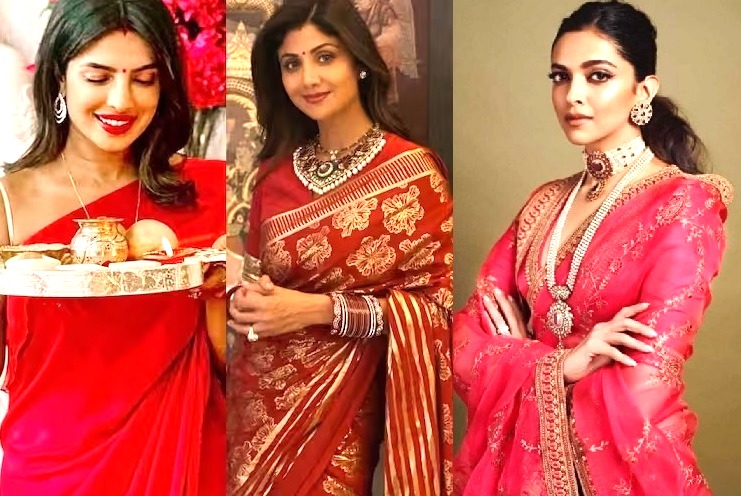 Karva Chauth Picture
Kausy M
1001 views
add comment
There are several Karva Chauth pictures of celebrities doing the puja. Bollywood stars  such as  Aishwarya Rai, Priety Zinta, Shilpa Shetty and many more .
Karva Chauth is a very important festival for women in North India. It is celebrated in the month of Kartik (October/November). It is celebrated after Dussehra & before Diwali. Chauth is the 4thday after a new moon and karva refers to a pot.  In fact , karva chauth kab hai (when is karva chauth)is frequent question. This year it falls on the 1st of November.
Why is Karva Chauth Celebrated?
It is an age old custom where married women fast and pray for the longevity of their husbands.  The fast is undertaken from sunrise to moonrise.It is traditionally observed by certain communities in North India. It is celebrated across  Rajasthan,Punjab ,UttarPradesh and Gujarat.
What happens in the celebrations
Activities before sunrise
Women wake up early in the morning and have fruits, sweets and milk prior to sunrise.During the day, many of them do not take any food or water. They essentially fast .
Karva Chauth Puja
Around evening time, women get dressed in their bridal finery. They wear bright coloured traditional clothes, such as  saris, salwar suits or lehengas.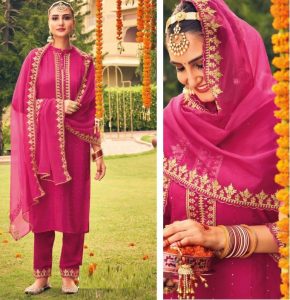 They get together with their relatives and friends & typically congregate together in a garden to do the puja.Sometimes, a priest is brought in for a story telling session. Mythological stories that talk about the virtues of women and their prayers for their husbands are often spoken about.Aarti  is performed and special songs are sung in celebration. There is a great sense of bonding & community participation.Sweets are passed between them.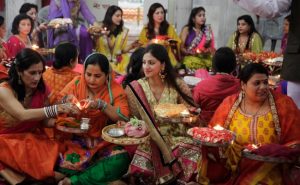 Moon Worship
After the puja in the evening ,women stand in gardens, terraces and any open space to sight the moon. They worship the moon when it rises. The moon is first seen through a sieve or a veil. The moon is worshiped and offerings are made.  Subsequently, they pray to their husbands and receive his blessings.The husband then offers the the first morsel of food to his wife who is fasting for his health, prosperity and happiness.
Karva Chauth Shopping
Many women are busy shopping for a week before the Karva Chauth Puja. Let us explore the Karva Chauth shopping .
 Preparation for Karva Chauth
Women prepare themselves by buying cosmetics, jewellery, new garments and puja thalis(plates).They get their henna/mehendi (hand paint) done in a local market. Shopping for bridal finery and festive clothes is an important part of the event.
In fact, when you visit the Lajpat Nagar shopping Market, the GK M Block Market shopping Market or the Karol Bagh shopping market you will find women thronging the market and shopping for lenehga (long traditional skirst)cholis,(blouses), salwar suits and sarees.
SHARARA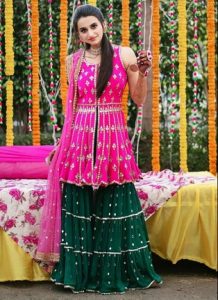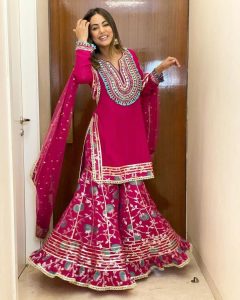 Shops such as Nargis in Lajpat Nagar, Frontier Raas in South Extension Market and RCKC in Karol Bagh are popular places to shop. The jewellery lane in Lajpat Nagar is crowded as women like to buy bangles and bindis before karva chauth.
Many women visit spas and beauty parlours before Karva Chauth.
 A. Karva Chauth Shopping: Puja Essentials
The thalli or the tray is an essential item for the puja. In addition, there is  karva, the pot, the lamps and the sieve. These make the essential Karva Chauth puja essentials.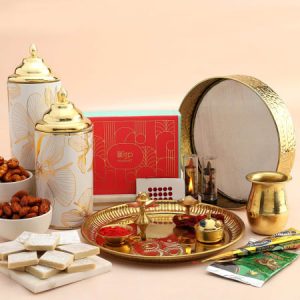 Best places to buy Karva Chauth Puja essentials are,
B. Karva Chauth Picture- Traditional Wear
LEHENGA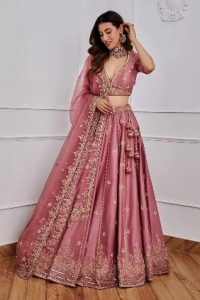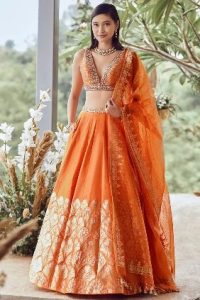 LONG DRESS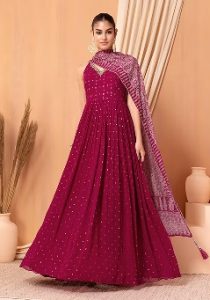 Firstly, women wear an ornate sari or a heavily worked salwar kameez on Karva Chauth.  In fact,some of them dress up in their bridal finery for the puja. Some women, buy new clothes for the  Karva Chauth picture.In addition, expensive saris that have a lot of embroidery and Zardozi work are purchased. Similarly, salwar kameez with heavy sequins work is purchasedTypically ,the mother in law gifts new dresses to her daughters in law.
DESIGNER SAREE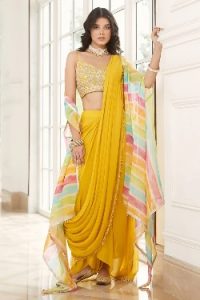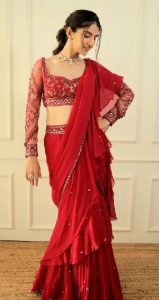 Best places to buy saris in Delhi are:
South Extension Market and Karol Bagh Market
 are  check the best shops for to buy salwar suit fabrics and salwar kameez fabrics. Another interesting market is
PLAZZO WITH TANK TOPS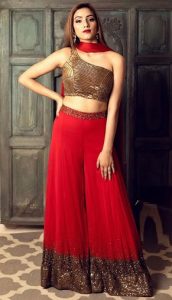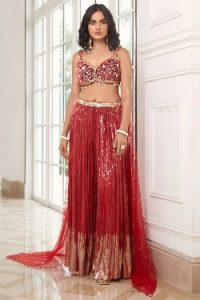 Salwar Kameez Lane in Lajpat Nagar Market-Raw Silk,  Monolisa
Ready to wear suits can be purchased in Nargis
SHORT KURTI SALWAR SUITS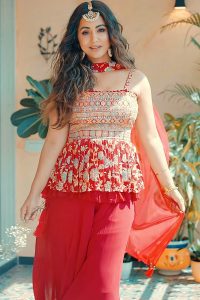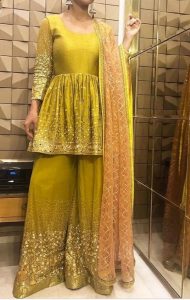 As a matter of fact, young women who prefer to move away from traditional salwar kameez and saris would be interested to buy modern stylish kurtis or salwar kameez sets.
FUSION WEAR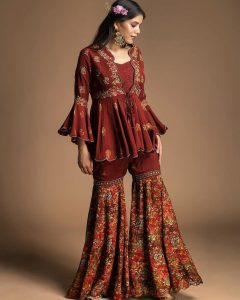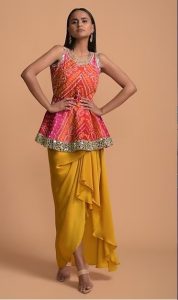 C. Karva Chauth Shopping: The Bangles
In addition, glass bangles or any other kind of bangle/bangles is an absolute must buy for Karva Chauth
Some of the best places to buy bangles in Delhi are:
Jewellery lane in Lajpat Nagar
D. Bindi
In addition to the bangles is the bindi. Bindi is the red mark that women apply of their forehead.
Jewellery lane in Lajpat Nagar is a good place to pick an assortment of bindis. In other words, one can opt for the bindi stickers or the real Kumkum that is applied on the forehead.
E. Mehendi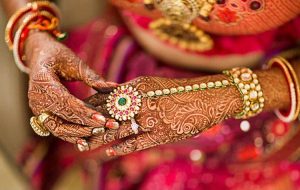 You can probably  visit any shopping Market in Delhi and you will find mehendi artists busy applying mehendi on the hands of women both young & old.Mehendi is henna powder that is made into a paste and applied on the hands in an intricate patterns.
Mehendi
Women apply mehendi /henna  in their hands. Henna is a powder made from the plant Lawsonia inermis.
The henna powder is typically mixed with water and made into a paste. Further, this is applied with the help of a plastic syringe or a piping nozzle on the hands.Intricate designs are created on the palms. It is washed away after a couple of hours. Although it appears orange in colour after washing off the hands, it slowly turns to a deep red colour to display the designs.Further, Mehendi artists can also be found near the jewellery lane in Lajpat Nagar and in the GK M Block Market.
F. Sweets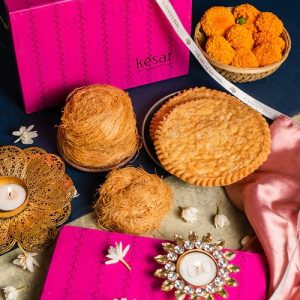 Food- And Finally, only vegetarian food is consumed in Karva Chauth. Malpua, Sweet Mathri, kheer, badam puri, phirni and atte ka halwa  are all consumed as a part of the celebrations.
 In other words ,like all other Indian festivals, Karva chauth has become a popular festival  and women are prepared to spend large sums of money on this day.Young women are busy posting their Karva Chauth picture with their beloved on Instagram.
 As a matter of fact, all the items for Karva Chauth shopping  are available online. Hence, check out Amazon and Flipkart.
Also Read:
KARWA CHAUTH -THE BEAUTIFUL FESTIVAL OF LOVE
---
View our videos
SIGN UP FOR NEWSLETTER
Be the First to Know. Sign up to newsletter today