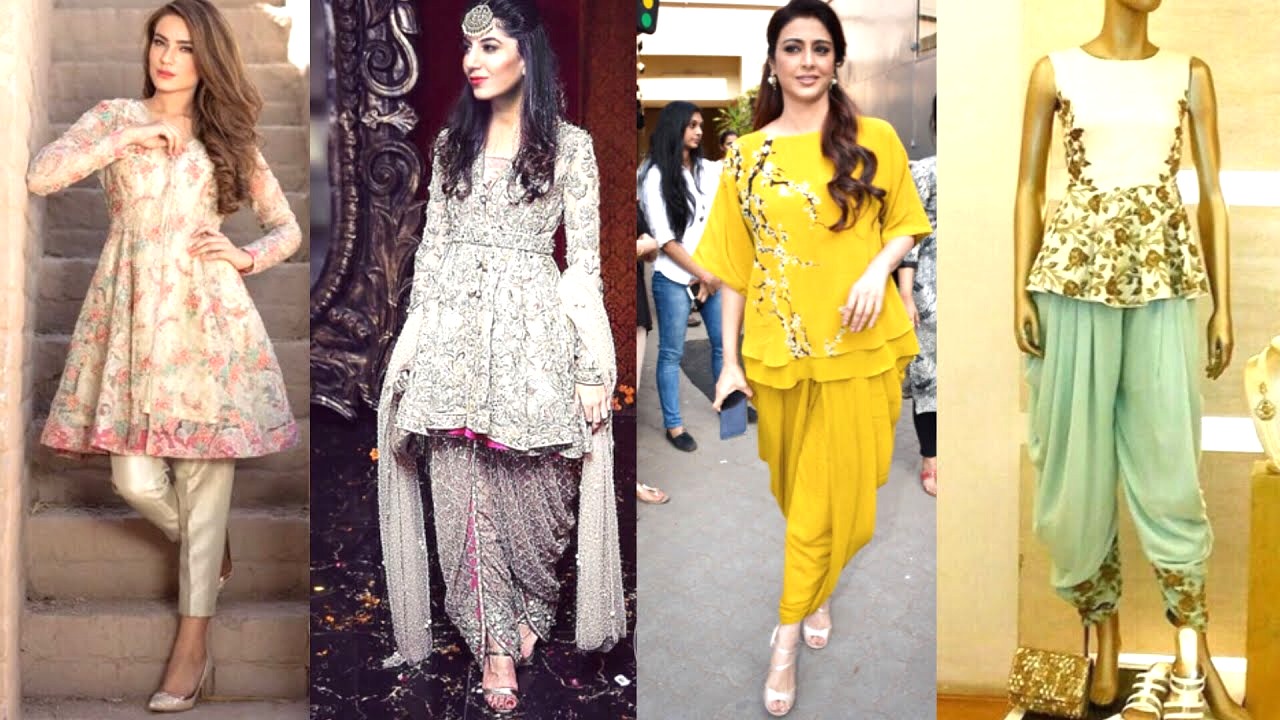 10 Top styles- Plazo Pant, Cigarette Pant, Sharara Suit & Dhoti Pant ,,,
Jun 24, 2023
Monika Chauhan
36313 views
add comment
The traditional  Indian salwar kameez has undergone a complete transformation in the last few years. It is not traditional anymore. The salwar suit or salwar kameez is a modern, practical & smart outfit today. As a matter of fact, the kurtis or the shirts are available  in a host of styles for both casual wear and work wear. Likewise, the journey from the modest salwars and churidars to the very elaborate dhoti pants and palazzos has been truly interesting and game changing . They no longer have just two or three options to choose from in this category. In other words, the fusion of the western and traditional Indian apparel has resulted in the creation of very interesting bottom wear  options for women. Plazo Pant, Cigarette Pant,Dhoti Pant & Sharara Suits
 Would you love to freely experiment with the bottom wear with panache? These Indo-Western options could be ideal for  the work place ,festivities and weddings as well.
Shopkhoj.com brings you top  bottom wear to look gorgeous and stylish for all occasions…
1. Bottom Wear for Women: Dhoti Pants
Dhoti Pants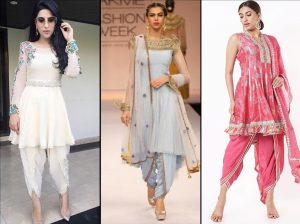 The Dhoti was once a part of traditional Indian men wear. Men in Indian villages still wear it today as well.The traditional wedding wear for a male in a Hindu wedding is the dhoti pants.However, it has been  transformed into women's wear in contemporary Indian fashion society.It  has emerged as a classic  bottom wear for women in the last few years. It is stylish & comfortable too. The beauty of dhoti pants is that they go well with every body type. 
Further,  you can match this supercool bottom wear with any top- Western or ethnic. Be it a short kurta, a plain tee, a mid-slit kurta, a crop-top or a heavily embellished jacket. In other words, you can create your own style  with dhoti pants. And the good news is the dhoti pants can be plain or printed.To create a majestic look, you may like to go for big statement earrings or jhumkas or neckpiece. 
Shop @ Lifestyle, FabIndia 
2. Bottom Wear for Women: Tulip Pants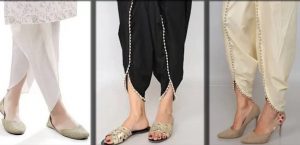 Tulip Pants
With the change in fashion sensibilities, tulip pants provides an interesting narrative. Offering billowing fabric on  the top  that are narrowed at the ankles, the  tulip pants come in a range of designs & fabrics including silk, cotton, or chiffon.
You can add a simple lace, colourful embroidery, applique work patters or a simple bow at the bottom to make it look more interesting.
Heavily embroidered tulip pants are also quite popular among women for special occasions like weddings.  A touch of exquisite lace at the bottom adds chic & panache. During the summer months , the tulip pants are much in vogue as they are typically in light cotton. It is an easy comfortable wear.
Tulip pants in velvet or silk are elegant in winter months.They are snug & do not flay around. Tulip pants in banarsi fabrics or heavily worked velvet look stunning and dressy. 
Shop @ Biba
3. Bottom Wear for Women: Cigarette Pants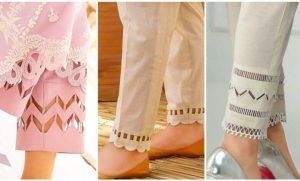 Cigarette Pants
If you wish to create a casual as well as classic style statement, cigarette pants are surely an instant charmer for every onlooker. Cigarette pants,as the name states taper at the bottom.The best part is they are versatile enough to work with both western wear and ethnic wear options. Brocade cigarette pants have made their way into the wedding scene as well. Colourful cigarette pants with embroidery or brocade prints can be matched with plain long kurtis and heavy jewellery. The normally  heavily brocaded kurtis or tops can be replaced with dazzling  brocaded bottom wear .
Offering comfort, style and coverage all at once, cigarette pants have become the new fashion essentials with women of each and every age group.
 Straight pants never went out of fashion. As a matter of fact, printed straight pants are currently trending . Batik designs and polka dot pants are versatile . They can be paired with plain tops or with matching shirts. The latest fashion trends are the coordinated pant shirts sets with a belt across. Although some of them appear like night suits,they are in vogue & they are trending.  The less festive ones are also ideal lounge wear.
Shop @VishnuStores,Shop @ Lifestyle
4. Bottom Wear for Women: Sharara Suit

This traditional ethnic wear comprises of pleated loose pants or  usually worn with a kurti or a top. They are cropped at the knee flare all the way below Sharara Suits are the talking point in modern weddings. Heavy zardosi(gold) worked shararas with an equally heavy worked short top are trending. Mostly in pastel shades of green,blue or pink.Talking about modern sharara  suit designs, women prefer to wear a crop top or a choli with a jacket.  Additionally, the jackets can be short or long. The shraras are designed to slay adding grace & elegance.
Juttis, chappals or kolapuris add a funky look to your overall ensemble when worn with sharara suits. Most women prefer to go with high heeled shoes as they beautifully compliment the grace of their outfit.
Frontier Raas,
Shop @ Frontier Raas
5. Bottom Wear for Women: Floral Plazo Pants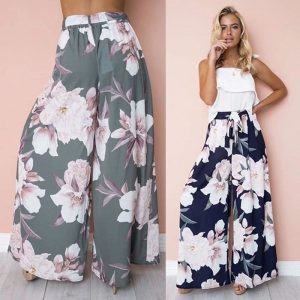 Palazzos
Palazzo pants  are similar to shararas .Yet they are flared all the way down,unlike the shararas that are cropped at the knee. 
Interestingly, they formed part of the uber-cool clothing worn by women in the 1960s. And when they made a comeback a few years back, palazzos instantly turned out to be a staple couture wear. No wonder they continue to be a hot favourite with many fashionistas. Plazzo pants are super comfortable .That is especially true in the hot Indian summer season.
 You may like to pair your palazzo with a simple tee, a tank top,or a kurta. Just make sure that the grace of the plazzo pants are visible.
Shop at Dilli Haat & Sabhyata
6. Bottom Wear for Women: Culottes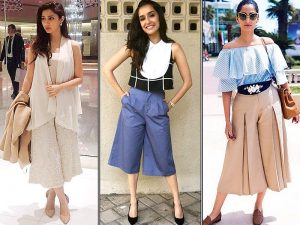 Culottes
Culottes have their origins in the 18th century France. Not trousers actually, culottes are longer than most shorts. Ending at the knee, they are cut at full leg width to impart the appearance of a skirt. Culottes look cool as a casual wear. They can look formal when they are made from firm fabrics such as crisp cotton or organza. However, you can also achieve a more formal look with a tucked in top. Also, pair your favourite set of culottes with a jacket to get a more structured look.
Though we usually see taller women carrying them well, it's a myth that culottes can't be worn by petite women. Choosing the right style is a key here. Make sure you pick up culottes that go below the knees.A fitted top not only helps you in accentuating your waist but also striking a balance. And if you reach out for heels, they will definitely help you elongate your legs.
Shop @ Shoppers Stop
So are you ready to sort out your summer wardrobe in style with these trendy Indo-western bottoms?
You can get it tailored at shalini kakkar designs
Also, check out the following Blogs:
PIC CREDIT: StyleWe,Marks&Spencer and Golcolors.
---
View our videos
SIGN UP FOR NEWSLETTER
Be the First to Know. Sign up to newsletter today