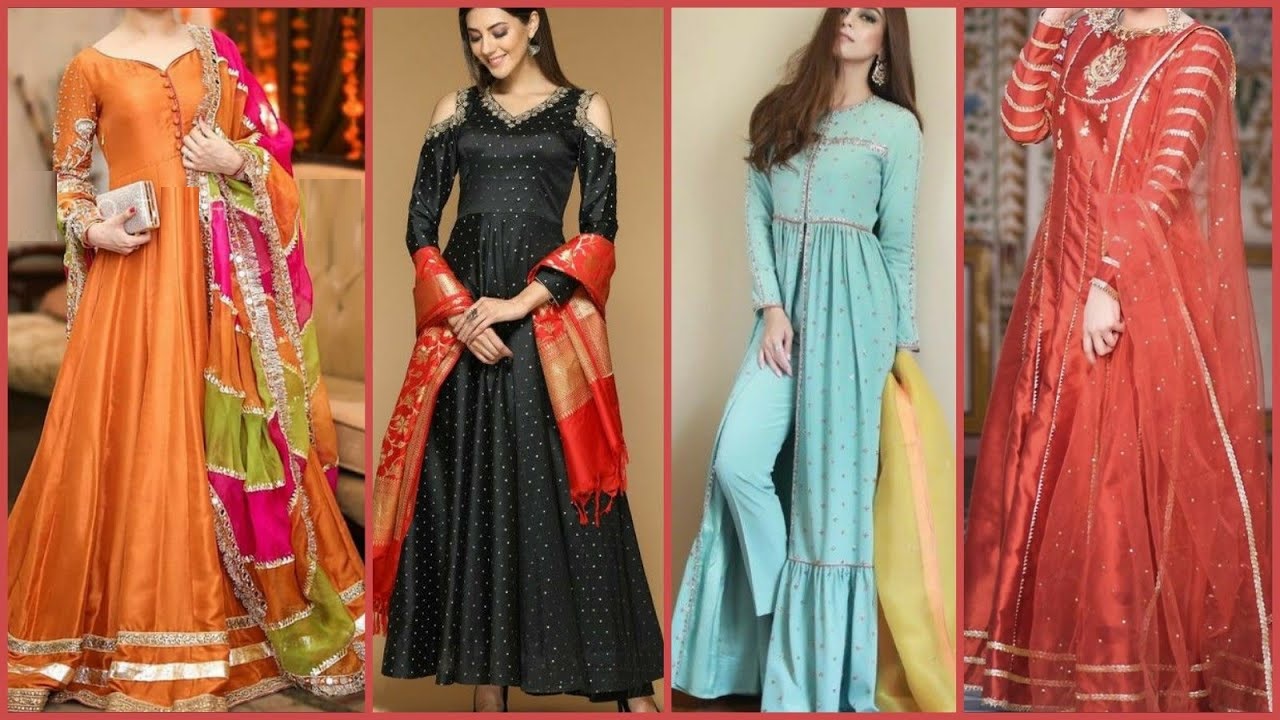 Top 10 Kurtis for girls
Aug 11, 2023
Monika Chauhan
34053 views
add comment
 Kurtis are Versatile, Adaptive, Comfortable.   Stylish Kurti for girls and kurti designs for girls are certainly in vogue. A kurti is  a short top in ethnic fabric. A kurta on the other hand is a long top. that comes below the knee.  A kurti or a kurta, paired with appropriate leggings or bottom wear  makes for a perfect wardrobe.  From regular to festive wear, kurtis fashionable clothing. Kurtis for girls are available in attractive colours, fabrics and designs. This ethnic wear scores high on comfort factor and versatility alike.  
Be it a short kurti or flared kurti or tiered one, they enhance your Indian wear collection .
Baffled by the myriad options available in the market? Let us browse through different types of Kurtis for girls to help you pick  the right one…
Printed Straight Kurti- Stylish Kurtis for girls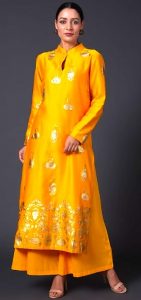 True to its name, it is Straight fit kurtis…It falls very straight with two slits on the waist. In other words , the slits on the side start at the very top just above the waist line.  It is the beautiful prints that make this piece outstanding.  Indian ethnic fabrics and prints are showcased  to the maximum in this style. From Batik to block print, Kalamkari to digital prints, Bandhani to Chikankari, and Gota Patti, there are so many. For instance, you can always find one that matches every occasion, body type, preference, and budget.
You may choose to pair these Kurtis with jeggings, jeans, loose pants or even skirts . It all depends on your style quotient.However, since they are very long & ankle length, you can choose to go without a bottom wear too.
These kurtis are quite popular among women of all age groups.
Anarkali Kurtis -Long Kurtis for Girls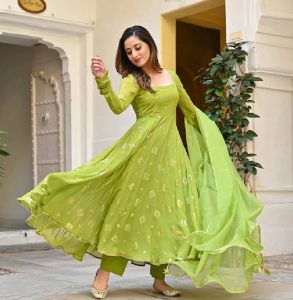 From Bollywood celebrities to the girl next door, the Anarkali Kurtis are definitely loved by one and all. Remember how Madhubala, the iconic Indian actress, made this ethnic wear popular while playing the character of Anarkali in Mughal-e-Azam?That is where the name comes from.
The Anarkali Kurtis with their graceful frock-like pattern and the flares have never been out of vogue since then.The beauty of Anarkali Kurtis is that they go well on any size or body type. They are more suited to festive occasions. Further, the more dressy the fabric, the better it will drape and show off the style.
Flared short Kurti Designs for girls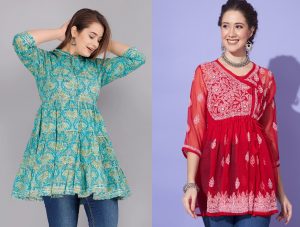 Flared up kurtis usually open near your breast line with a V-neck and billow down into a beautiful pirouette at the end of the hemline. They come in varied lengths and fabrics. A design that will help you camouflage your midriff region in a way that no one ever finds out that you have a paunch. It suits young to middle aged women. Good for daily use, college and for casual get-togethers. It goes with denims, chinos, half or ankle length leggings or jeggings . Give a try for new and happening looks.
Front Slit Kurti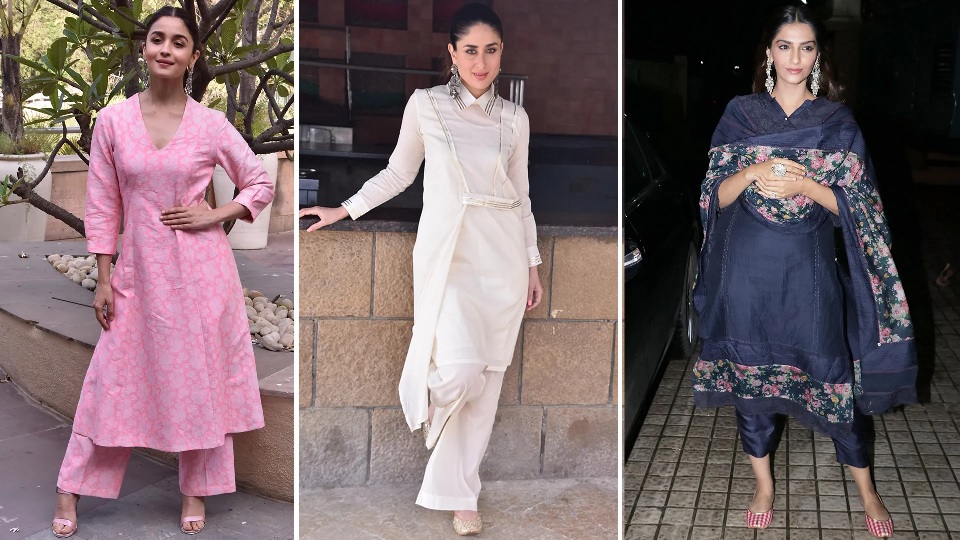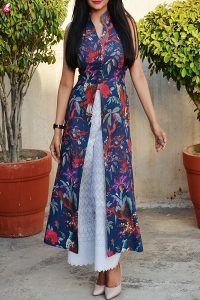 Your regular printed kurtis now come with a little twist, and that little twist makes a lot of difference to your outfit. There are front slits instead of the usual side slits. This can help to show off the waist, the waist line and so on. This  type of kurti when paired with straight pants or palazzos, will set you apart from the crowd.  It is very comfortable and  the best of party and casual wear dress.
Double Layered Kurti Designs for Girls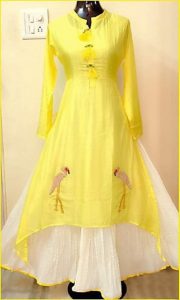 As the name suggests, the double layered kurtis have two layers of fabric. This helps in giving more volume to the outfit. However, these are different from overlay kurtis (two-piece kurtis). The double-layered kurtis come with an additional layer of fabric stitched on top of the regular kurti. They may or not feature a slit in the front. Moreover, the two layers can be different colours or in combination too.They can be of varying lengths to show off the 2 distinct  fabrics.In addition, the two layers can be of varying fabrics too.Classy bottoms like jeggings, churidars, palazzos, and tights look amazing when paired with these kurtis.
Dhoti Style Kurtis- Stylish Kurti for girls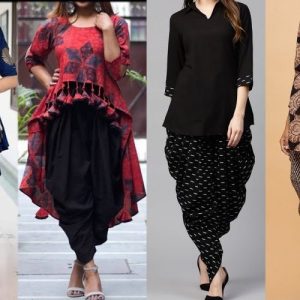 Another Kurti style that is very trendy these days is the dhoti kurti — the fusion of Indian and western wear. The contemporary touch surely adds the wow factor to the whole attire. The fabric is important in the dhoti style kurtis.The layers of the loose hanging Dhoti is important.
Featuring an unusual yet appealing drape style, these body-hugging kurtis are loose from the waist down. The lower part gives the appearance of Dhoti, the traditional costume for men in India.
Moreover, these kurtis are quite comfortable to wear. Pair them with leggings or tights with trendy prints and you are all set to make the next big fashion statement!
High-low Kurtis- Kurti Designs for Girls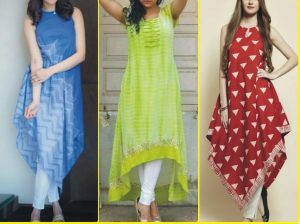 High-low Kurtis- Stylish Kurti for girls
As one can easily decipher by the name, a tail cut kurti is short in the front and longer from behind. In other words, the design gives a tail-like view from behind. For example, it is longer at the back . It is an asymmetric style kurti. It can be short on one side or on the front . There is no defined rule for this kurti style.
These trendy kurtis have been in vogue since long. Girls usually wear these kurtis with jeans to achieve a stylish look. Once can also wear them with churidars or leggings for a traditional look.
These kurtis are usually available in diverse fabrics such as cotton, georgette ,Chanderi & so on. 
High-low kurtis are another variant that falls under the asymmetric design.
Angrakha  Designer Kurti- Kurti Designs for Girls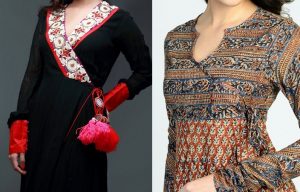 Here is another Kurti in traditional style that you would like to have in your closet. The Angrakha kurtis go back to the 90s era but are loved by the women shoppers for their versatility and comfort.
These trendy  kurtis have two comparative folds that lay on one another.  It is a kind of wrap around kurti style.These are tied with the help of thin doris (strings). Straight jeans and wedges are all that you need to add the perfect finishing touches to Angrakha kurtis.
The latest Angrakha kurtis come with the Anarkali style, creating the perfect ethnic option for you.
Floor Length/ Gown Style Kurtis- Long Kurtis for Girls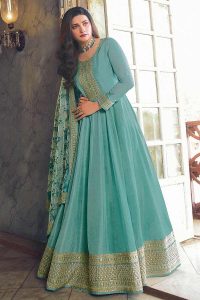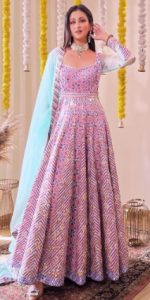 Featuring a normal flare towards the bottom, the gown style trendy  kurtis help add an indo-western look. You can see them as the Indian version of evening gowns.
These alluring kurtis can effortlessly lend you a royal look. In other words, they are perfect to be worn on special occasions like wedding or  an engagement party. The fabric is important as it has to convey a perfect drape like appearance.
The floor length kurti would look best when accessorized with jhumkas and even bangles. Don't forget to put your best foot forward in wedges or heels.
Kaftan Style Kurtis-Long Kurti for girls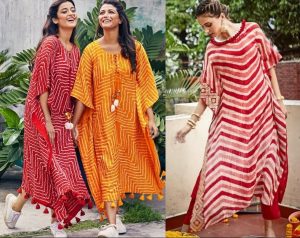 A perfect choice for occasions when you want to flaunt a relaxed style without compromising on your fashion quotient.
The recent phenomenon called Kaftan kurtis were originally worn as a loose-fitting garment. The best part of the kaftan style kurtis is their easy-breezy silhouette. With a cool and casual vibe, they make for a gorgeous summer wear for beaches and casual outings.
These trendy kurtis are both worn as a dress and also paired with jeans ,shorts or jeggings, depending on the occasion. Feel free to pair them with flats, sneakers, or heels for that chic look.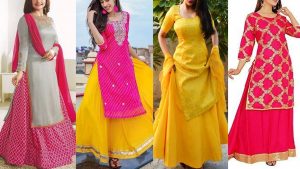 Shop @  Biba,Anokhi, FabIndia , Kilol , Suvasa, Soma Lifestyle,
Other Blogs 
Kurti lovers will love this market 

Pic credit: colorauction
designerkurtis.com
---
View our videos
SIGN UP FOR NEWSLETTER
Be the First to Know. Sign up to newsletter today