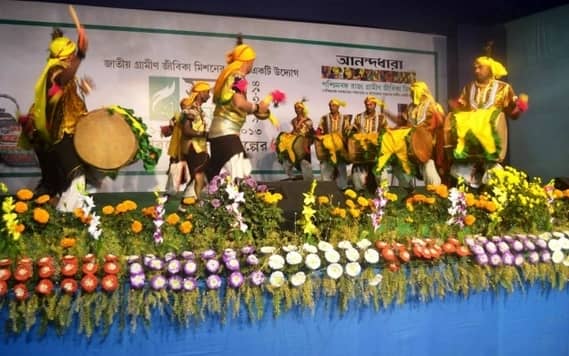 Kolkata Mela- Fairest of them all
Jul 12, 2018
Rakhi Acharyya
451 views
add comment
Kolkata Mela: We live in a country which epitomizes all that is colorful  to a festival dedicated to coloring everything and everybody. Every corner of India offers a richness and boldness in color, through its textiles, arts and handicrafts, that is distinct. Whether it is Kashmir's rich crewel embroideries & pashminas, or paithani brocades from Maharashtra, phulkari embroidery in Punjab, kotki in Orissa, the tribal Naga fabric from Nagaland there is variety. Also, Mysore silk and kasuti embroidery from Karnataka, Kanjivaram silk from Tamil Nadu, or bandhni or block prints from Rajasthan , there is an enormous breadth & depth of colour.
And if you are one of those few who are enamored by the combination of colors and the skilled craftsmanship  in handicrafts, then you are in for a promised treat . Check out our Accessory and Handicrafts section for the variety of handicrafts available from different parts of the country. So imagine if you will, of walking into a wonderland where all the beautiful things are within your reach, in one place. Now imagine that this one place happens to be a city where festivities happen to be a perpetual theme. The City of Joy, Kolkata, can completely satisfy one's need for the simple and elegant, as well as, for the ostentatious.
Kolkata Mela: Abundance of Fairs
Come winter, Kolkata witnesses an abundance of fairs, colloquially called Melas, every year. They certainly attempt to satisfy our ethnic palettes. Home to most of the massive Melas is the Bidhannagar Central Park Fair Ground, near Karunamoyee Bus Stand in Salt Lake City, Kolkata. The park belongs in the list of big parks of Kolkata, such as the Maidan, near Victoria Memorial and the Milan Mela ground, near Science City. The park transforms itself to a bustling rural bazaar, in the months of December and January.
Kolkata Mela: Saras Mela
The Saras Mela in December brings to us rural crafts and textiles indigenous to all the states in the country. There are usually more than 200 shops. Individual States display their fabric such as Mekhlas from Assam, printed sarees from Jharkhand and  phirans from Kashmir. In addition, there is  Bandhni, kutch prints, dhakai sarees, kantha stitch dupattas, bhagalpuri silk and more. Apart from textiles,you will find jute or leather shoes , madhubani paintings, bamboo mats or curtains,  dhokra style jewellery and terracotta figurines.
If you are looking for an earthy look for your home, you can even buy pocket-friendly cane furniture . In addition there is  the more extravagant and ornate sheesham wood furniture. The Mela is divided into various pavilions for a more focused shopping experience . Even if you are not there for shopping, you can treat yourself to some delectable snacks at the food pavilion.  Further, you can even witness an everyday performance of music or drama.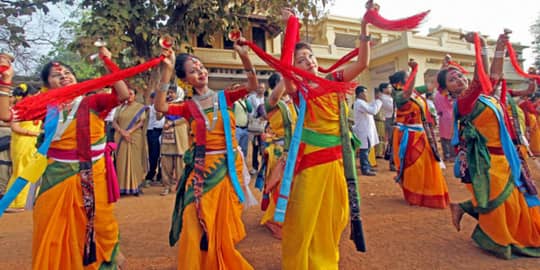 Kolkata Mela: International Handicrafts Mela
After a few weeks of the Saras Mela, just when you start feeling your Indian roots have been thoroughly pampered, the Bindhannagar Central Park is ready for round two. There is an  the International Handicrafts Mela. Spanning over 2-3 weeks in January every year, the Mela brings to you some of the charms brought to you by the Saras Mela.  They also have added products  from other countries, mostly Asian and Eastern European ones.
You can walk into an Afghani stall and have a taste of their rich spices and badaams (almonds, pistachios, etc).  In addition, you can come across vendors from Karachi selling elegant Onyx vases and utensils. Bangladesh brings its colors in cotton, dhakai jamdanis and melamine cookware.Istanbul exhibits stained-glass lamp-shades and wall hangings. You are guaranteed to walk out dazzled by the beauty of each shop.  Each stall displays  the distinct skills of countless unknown artists, transforming nature to works of art.
The list of Melas in Kolkata doesn't end here. There are the West Bengal handicrafts Melas, the Industrial Trade Fairs, the very famous and sought after Book Fair (Boi Mela), furniture fairs and many more. If you are planning to visit the city in winter, be sure to connect with your rural roots . You will  realize how the joyfulness of this city can leave you wanting more.
---
View our videos
SIGN UP FOR NEWSLETTER
Be the First to Know. Sign up to newsletter today