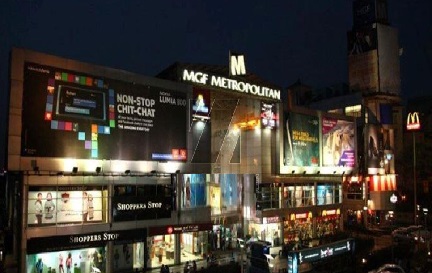 MGF Metropolitan Mall Jaipur Shopping
Firstly, the MGF Metropolitan Mall is popular because of its proximity to the Bapu Bazar and the arterial Raod,MI Road in Jaipur. For instance, Bapu Bazar is primarily a bazar for bangles, juttis,quilts and other casual wear dresses. Further,MI Road...Read more
Firstly, the MGF Metropolitan Mall is popular because of its proximity to the Bapu Bazar and the arterial Raod,MI Road in Jaipur. For instance, Bapu Bazar is primarily a bazar for bangles, juttis,quilts and other casual wear dresses. Further,MI Road is a popular for Government Emporium shops.It is a broad road with several restaurants as well.
MGF Metropolitan Mall, Jaipur near Crystal Palm has hypermarkets  such as MAX and Lifestyle.
Anchor Stores @MGF MALL Jaipur
MGF mall also commonly known as MGF Metropoliton mall is one of the best malls of Jaipur. This is  primarily due to the presence of a big Lifestyle store occupying three floors . The are divided into  distinct sections for men, women ,kids and home décor sections. They offer  a variety of apparel, cosmetics, home accessories and home furnishings. One can shop for jeans, salwar dresses, cosmetics, footwear, bags and sports attire as well. This is a multi brand store.
In addition, Max Fashion Store  is another store in this spacious mall. It is situated on the basement floor.  Max is a  budget friendly store . Both of these stores comes with huge range of offers and discounts mostly alluring the shopaholics.
Mgf Mall Jaipur shops
Further, other stores are  BIBA, Fab India ,United colours of Benneton Indian Terrain,Arrow,Van Heusen and Tanishq. Nike,Lee & Reebok also have a presence here.The Body Shop,Revlon & Kaya are the cosmetics brands. Hi Design is an internationally popular Indian brand for leather handbags and luggage. Pepe Jeans, Wrangler,Numero Uno, Color Plus,Allen Solly, Jockey, Levi and stores for men.  In addition there are Koutons, Denizen, Reebok, Arrow, Lee, Tantra and  Raymond.  Maahera Kids  is a kids shop.In addition, there are gift shops  such as  Archies Gallery and Apeksha.
It has a multi cuisine food court on the top floor with food stations such as Dakshin, Barbeque, Mamu's Café, Mummy's Kitchen, Vinegar, Saffron, Dominos, Flavours, Yang Se, and Nestle
The availability of national and international brand stores, Fortune Select Meropolitan Hotel and safe &paid parking with wheelchair accessibility ,make this a friendly Jaipur Mall.
There is an interesting gaming zone in the mall.
---
20 views