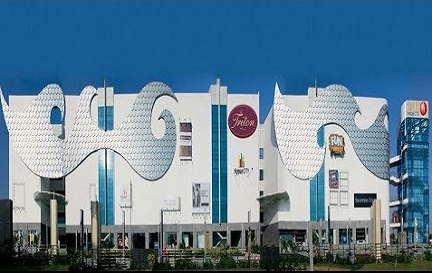 Triton Mall Jaipur Shopping
Triton mall also popularly known as Hypercity mall (Hypercity retail India Private Limited) is a grand spacious mall occupying a large area. It is situated within 5 Kms  from Jaipur's main Railway Station and Bus Stand on the Kalwar Road, Jhotwra near Chomu...Read more
Triton mall also popularly known as Hypercity mall (Hypercity retail India Private Limited) is a grand spacious mall occupying a large area. It is situated within 5 Kms  from Jaipur's main Railway Station and Bus Stand on the Kalwar Road, Jhotwra near Chomu Circle. Therefore,the area is generally crowded. For instance, the area is not so clean and neat. Above all, the  location of  the mall is easily accessible from any place of Jaipur.
In fact, it is a project by Suncity Builders.However, it is a Mega Mall with beautiful multi floor architecture. It has a  few luxury stores as well as several  kiosks for budget purchases.
Architecture Highlights of Triton Mall
The the key features of the mall are its impressive atrium and a high speed glass capsuled elevator.The basement of the atrium is reserved for various fun activities for kids. The parking area is not very satisfactory .
Triton Mall in Jaipur-Entertainment & Dining
It is a multifaceted mall with ample provisions for entertainment, shopping and restaurants .It has a multi cuisine food court. For example, one can enjoy international cuisine at Viking Bar, Vanakkam, Italian Delight, Yo! Dimsum,  or China Town.Similarly,there are fast food restaurants  such as  Burger King and Dominos .
Further, there are  four screen multiplex cinemas and one of the  large gaming
zone (Viking) for kids.
Shops in Jaipur-Trinton Mall
D-Mart, Pantaloons, FBB, etc are multi brand stores . In addition, there are other domestic and international brands . For instance, stores such as  Zara, Mango, Veromoda, Biba, Mothercare,Levis, Adidas, Pepe Jeans,Wrangler, Manyavar, Van Huesen are  major attractions. In other words,  it is a perfect shopping and hangout destination for a complete family .
The Trinton Mall is attractive due to it s budget friendly stores in the mall, the  food court, gaming zones and multiplex cinema.
---
191 views