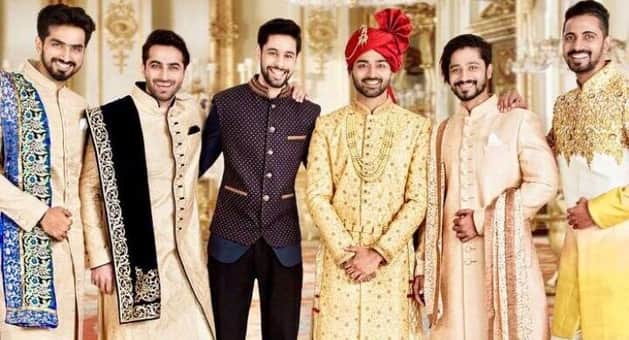 Check Out the Sherwani Shops in Kamla Nagar Market, Delhi
Sep 20, 2018
Kausy M
2501 views
add comment
Looking for the perfect Sherwani in Kamla Nagar? Well, the Kamla Nagar Market is the favorite place for students in the North Campus. It has broad leafy avenues that are ideal for walking around the market. When you visit this Delhi Market, you will surely experience the energy and enthusiasm of the students. They are either shopping, hanging out with friends or trying street foods. 
The Kamla Nagar Market has western wear shops that cater to young women. Typically, you will find shops that sell jeans, jackets, tees, pullovers, jumpsuits and tank tops. Then there are  shops that sell shoes, sandals, imitation jewellery bangles, hair clips, handbags and satchel bags, all geared up for the young crowd.
Sherwani in Kamla Nagar
The Spark Shopping Mall is popular in the Kamla Nagar Market. There are Indo ethnic wear shops such as AND and Madam on the ground floor and other cosmetics and shoe shops. There is a food court, a multi cuisine restaurant, Starbucks for coffee and a beer bar. Needless to say, it is the favourite place for youngsters to hang out.
You will typically not associate the Kamla Nagar Market with bridal wear garments. Well, we would like to disabuse you of that notion. For what we saw in Kamla Nagar were some modern shops for sherwani and bridal wear as well.
Indian designers have started to create wedding wear dresses for men. For example, men do not have to wear boring clothes for wedding anymore. The focus is now on embroidered Banarsi fabrics and silk. In addition, the simple cream coloured pyjama kurta essentials are not worn any more.
What is a Sherwani

?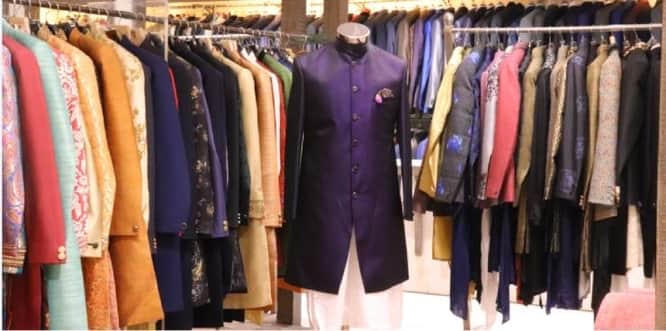 Firstly, the sherwani is a long frock coat kind of dress that is worn on top of  tight fitted jodhpurs (known as churidars). It is defintely influenced by the Mughals as sherwan was supposed to be a folk dress.
A cream coloured sherwani matched with a coloured jacket and turban is much in vogue these days. Above all, They are simple, stylish and present a timeless elegance.
What is a Churidar kurta?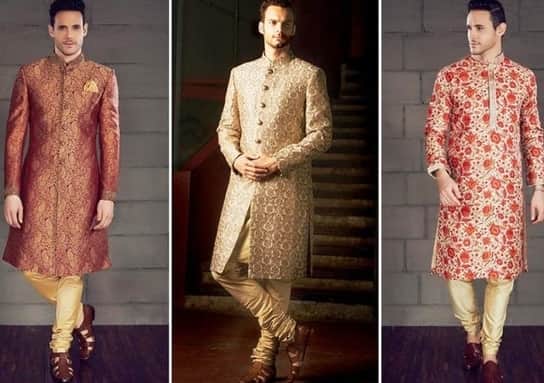 The Churidar kurta is another style for men. The kurta is short whereas the sherwani is long. This is typically paired with the bandgala or the close necked jacket. Pandit Nehru, who was the first prime minister of India made this dress popular.
 Further, Kamla Nagar has an entire lane with innumerable shops that stock sherwanis in the latest designs and styles. The prices are very affordable.
 Finally, we found shops that were selling brocade sherwanis, shops selling simple silk sherwanis, shops selling embroidered sherwanis, some were designer sherwanis in an offbeat green and blue colour. We found that some shops stocked a 3 piece sherwani with a jacket. The shop owners will go the extra mile to make any adjustments and customisation that you may need. 
If you are shopping for a sherwani, make sure you hop into the Kamla Nagar Market and check out these shops too.
Other Markets where one can shop for Sherwani are:
Other related blogs:
Students shop at Kamla Nagar Market in Delhi for handbags
---
View our videos
SIGN UP FOR NEWSLETTER
Be the First to Know. Sign up to newsletter today