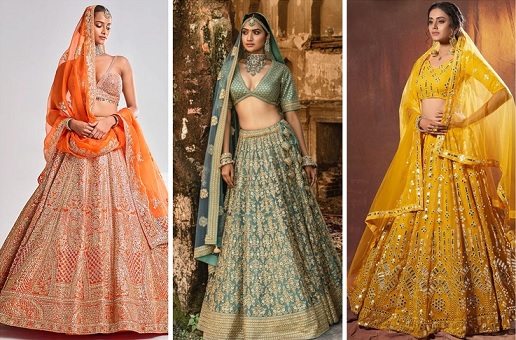 Bridal Wear Choices in Lajpat Nagar, Delhi
Kausy M
2819 views
add comment
Best Bridal Wear in Lajpat Nagar Market
It is open 6 days of the week and is usually closed on Mondays. Whenever you visit the Lajpat Nagar Market , you will find a tremendous rush of people. You are likely to think that this is the only shopping market in all Delhi.
First, the market is in a confined space. You can probably buy hundreds of wide-ranging products and services, all in this small space, which is say about one square kilometer. Imagine buying school books, school uniforms, dry fruits, utensils and bridal wear in the same shopping market! Imagine buying white goods and plastic flowers in the same shopping market.
This is the main reason that Lajpat Nagar shopping attracts people by the hordes. There is an incredibly infinite range of merchandise that is available at very budget friendly prices.
In this blog, we will explore why brides like to visit the Lajpat Nagar Market prior to their wedding.
1. Bridal Lehengas in Lajpat Nagar Market
If a designer bridal lehenga is not your cup of tea, then Lajpat Nagar has plenty of options for you. You can get to choose lehengas, gowns, shararas, anarkali salwars, saris and several other exciting and stylish dresses that are fit for a bride. From heavily sequined dresses, embroidered and zardozi worked dresses to very simple ones, you can find some of the best bridal wear available in the Central Market. They would be in the Rs. 10000 to Rs. 20000/piece price range.
The bridal styles keep changing often and the shops in the Lajpat Nagar Market keep up with the fashion demands. They do offer contemporary and fashionable bridal wear. Further,  crop blouses paired with lehengas, knee length kameez with lehengas, short blouses with lehengas and so on. There are more than 10 shops in the Lajpat Nagar Market for bridal wear dresses. You can shop till you drop.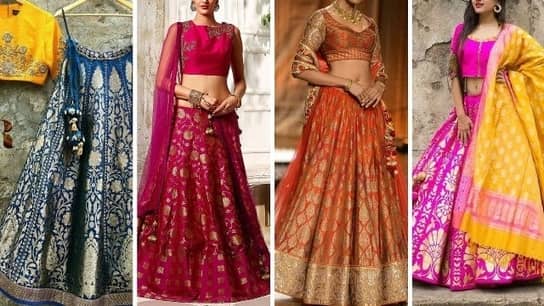 2. Fabrics in Lajpat Nagar Market
What if you wish to create your own lehengas? Lajpat Nagar is one of the best places in India to shop for fabrics. Banarasi silk , South silk , silk organza, Chanderi, embroidered Dupion fabrics, raw silk fabrics,,,, the list is endless. The range of fabrics in Lajpat Nagar is fascinating. If you like any particular Bollywood design and would like to make a copy of it, head straight to the Lajpat Nagar fabric shops.They will show you the exact fabric that you would need to create a similar dress.
Check out the following fabrics, as Bollywood heroines have recently donned lehengas made from these fabrics: Viscose georgette fabric with sequins, silk organza with embroidery work and silk chanderi with thread work.
Visit shops  such as Ramji Sons in Lajpat Nagar, which stock these fabrics and the Raw Silk Emporium that has  gorgeous plain tussar and raw silk fabrics.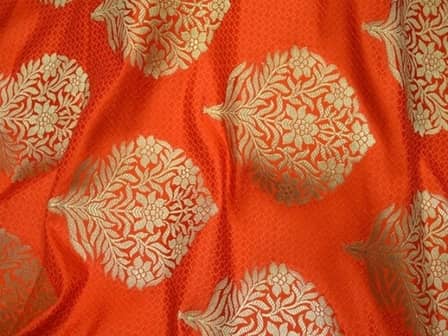 Thinking of wedding jewellery at very affordable prices? Hit the Jewellery Lane in Lajpat Nagar Market for a wide collection of imitation jewellery. You can buy choodas, kaleeras (bangles worn by the bride) and a host of wedding jewellery here. There are specialist bangle shops which sell lac bangles, glass bangles, metal bangles, silver bangles, bangles with stones, bracelets and so on. Check out the  stores that stock imitation kundan & polki jewellery. The variety is much more and the price is reasonable as compared to shops in other markets.  There are stores that stock a wide range of earrings, rings, nose rings, jhoomar, maang tikka and such other stuff. You will be amazed at all  the stuff that is  available here.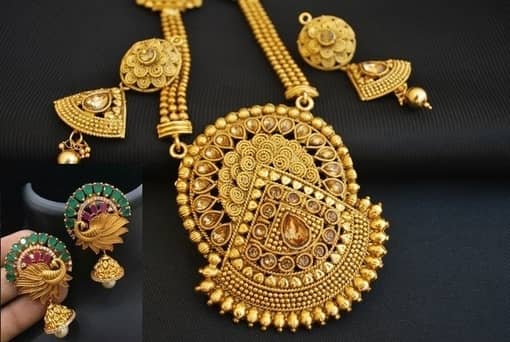 4. Gifting Options from Lajpat Nagar Market
When a wedding is round the corner, people generally look for trays, potlis, gift boxes and so on.
In the Lajpat Nagar Shopping Market, they stock a great variety of these products. You can customise everything from the invitation to the gift boxes and all the other trousseau packaging items. There are saree packing trays, mehndi packaging trays, custom themed trays, cardboard boxes for sweets, chocolates and dry fruits, gifting envelopes for the close relatives of the bride and the groom and a million other items that form part of the wedding.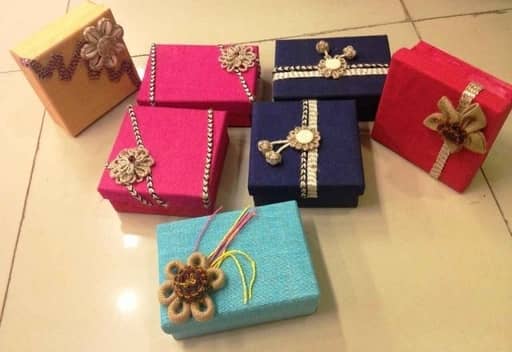 5. Bridal Wear on Rent in Lajpat Nagar Market
Finally, Lajpat Nagar is a one of kind shopping market where you have innumerable options to rent bridal wear. You can rent a look alike of  what Aushka Sharma wore for her wedding or what Sonam Kapoor wore for hers. There are many shops to check out for gowns, anarkali salwar suits and  heavy bridal lehengas in contemporary designs and some in the traditional designs as well. If you choose to wear a traditional saree at one of the functions and do not wish to cough up Rs. 20000/sari, step into one of these rental boutiques and you will have an unlimited choice. You can probably rent 3 to 4 dresses for the entire wedding than buy just one lehenga dress that you may not  have much use for later.
Renting Jewellery 
You can also rent some stunning  Kundan and Polki jewellery, long necklaces, short chokers or a complete set with necklace, earrings, rings, bangles and bracelets. What's more, you can rent the clutches that match your dresses too.
To conclude, we would like to invite you to the Lajpat Nagar Shopping Market to see for yourself the bridal shopping that you can get done here. The variety of shops is truly incredible. Why would you want to venture to other far off markets when you have the opportunity to shop in Lajpat Nagar Shopping Market? It is certainly worth a try.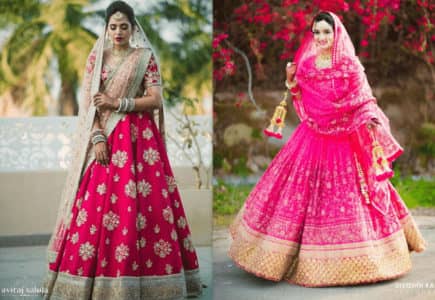 Our other related blogs are:-
 Sherwani Shops in Kamla Nagar Market 
Central Market, Lajpat Nagar is a Paradise for Fabric and Jewellery Shopping
---
View our videos
SIGN UP FOR NEWSLETTER
Be the First to Know. Sign up to newsletter today