Wedding Shopping: Delhi Shops for Bridal Lehengas
I was visiting Delhi for my wedding shopping. I had heard about the Chandni Chowk Shopping Market and was very keen to go there. As a matter of fact, I had heard that it was the perfect answer to my Bollywood inspired wedding lehenga dreams.
This was when my cousin butted in and asked 'why dont we go to the Shahpur Jat  Market? I responded by saying that I had never heard of that market. But she persisted. So, I started to read about Shahpur Jat in Delhi. It was the capital of Allaudin Khilji, who ruled from his capital Siri, in Shahpur Jat, during his time. Siri Fort was thus probably named after Khilji's capital .
So, off we went to Shahpur Jat. It was quaint and had an unhurried  with an  unmarket like atmosphere. There were cobbled streets with cattle leisurely crossing the roads, school kids walking past, vegetable vendors and general provision stores in every street corner and motorbikes and pedestrians going past us. The roads were not wide enough for cars.
 Is this where we were suppose to shop for bridal wear lehangas in Delhi, I was thinking to myself.

The Dada Jungi lane in Shahpur Jat Market 
Well, as it turned out, there are inner lanes and streets where the Shahpur Jat boutique shops are tucked away and there are shopping  markets. 
  As a matter of fact, Dada Jungi lane was one such lane.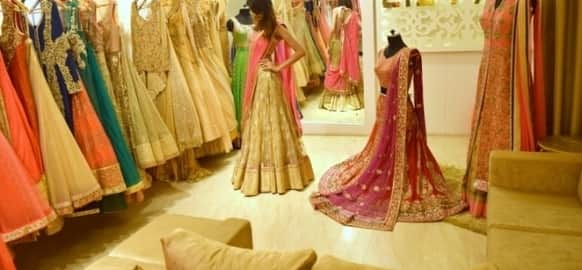 Wedding Shopping: Bridal Boutique Shops in Shahpur Jat 
It was lined with boutique shops, both big & small. Further, mannequins were dressed in the latest styles, some with sequined gowns in pastel shades and some with dark coloured shararas or zardozi worked Anarkali salwar kameez. As a matter of fact, the best were reserved for the exquisite lehenga pieces. The colours, the fabrics, the styles and the work on the lehengas were very distinct and varied. Of course, the prices were equally high. 
  In addition, I walked into each store in that lane as it presented something unique and different. Above all, the designs and the workmanship was as innovative as they were different.
There were simple lehengas in tussar silk with a heavily embroidered blouse and simple dupattas.  In addition, some shops had a display of very stylish anarkali salwar kameez. The long anarkali salwar kameez can be worn as a stand alone gown as well.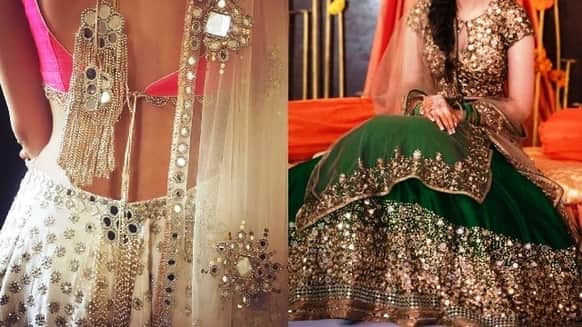 The bridal lehengas are the best buys in Shahpur Jat Market. The designers are, more often than not, present in the showroom & can easily explain and show you around. This interaction with the designer is what the Shahpur Jat Market is  all about. You can customise the colours, the styles, the fabrics and the embellishments to your personal liking.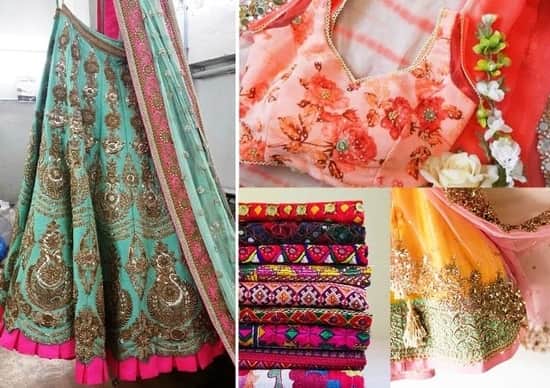 They can work out the lehenga to your specifications.
I finally agreed that my cousin's recommendation was right. I had a customised lehenga and anarkali salwar suit made to my specifications.
Our Other blogs :-
Top 3 reasons to visit the Designer boutiques in Shahpur Jat for best Lehenga shops in Delhi
Why does the Lajpat Nagar Shopping Market attract brides?