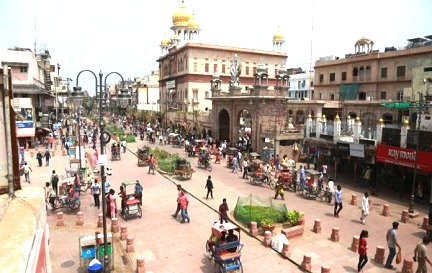 Chandni Chowk
Chandni Chowk is quite a lively market area buzzing with vibrant shoppers and enthusiastic shopkeepers. Some may also like to call this popular market a medley of vehicles, pull-carts, horses, street vendors and tourists. It is a potent mixture of...Read more
Chandni Chowk is quite a lively market area buzzing with vibrant shoppers and enthusiastic shopkeepers. Some may also like to call this popular market a medley of vehicles, pull-carts, horses, street vendors and tourists. It is a potent mixture of old havelis (private mansions) that are heritage buildings, new constructions which are concrete monstrosities and finally new extensions to centuries-old architectural marvels.  Further, there is an onslaught on your senses by a cocktail of automobile fumes, aromas of Indian spices and perfumes, cooking oils and masalas; a cacophony of car horns, cycle rickshaw bells, hawkers' vocal cords and blaring music and a mish-mash of electrical cables, sign boards and decorations.
Whatever it is, Chandni Chowk is a one-of-its-kind market. No other Delhi shopping Market compares to the Chandni Chowk Market.
Historical Delhi Market
Chandni Chowk means Moonlit Square. It is one of the oldest Delhi markets in the walled city of Old Delhi, which was called Shahjahanabad in the 17th century. The walled city including  the Lal Qila or  the Red Fort was established in 1650 AD by the Mughal Emperor Shah Jahan.The market itself was designed by his daughter Jahanara Begum Sahib.
Further, Chandni Chowk is the main street that runs from the Lahore Gate of Red Fort to the Fatehpuri Masjid. Earlier a canal ran through its length and served as a waterway. The moonlight reflected in the canal waters lent an ethereal feel to the place. The canal no longer exists. However, the historical significance of the place is certainly present.
What has survived though is the theme-wise character of the markets listed below. They are all mostly whole-sale markets, but do retail business as well.  Therefore, it is a very popular market even today.
Bazars in Chandni Chowk
Kinari Bazaar: Glitzy zardozi fabrics,  saree borders, latticed lacework, embellishments and an entire range of products for an Indian bridal trousseau catering to all religious traditions and beliefs. (Kinari means borders ). In addition, they stock gifting bags, potlis, paper garlands & trays.
Katra Neel: All kinds of fabric.
Nai Sarak: Books—fiction, academic, school, medical, stationary items and musical instruments.  Further,  several small bridal lehengas shops are in Nad Sarak.
Dariba Kalan: Silver jewellery & silver artefacts. The famous Jalebi wala of Chandni Chowk also inhabits this street.
Chhatta Chowk Bazaar: Also called Meena Bazaar, it is inside  the Red Fort. It is a covered bazaar for souvenirs, ranging from artificial jewellery, fake antiques, handicrafts and embroidered bags to hand-painted wall-hangings.
Paper products & Lights in Chandni Chowk Market
Begum Samru Palace: Also known as Bhagirath Palace, is full of shops for electrical goods, medical equipment and allopathic medicines.
Chawri Bazaar: It is linked to Chandni Chowk through Nai Sarak. It used to be a market for brass, bronze and copper products and there are some shops that still sell them. However paper products like greetings, wallpaper and wedding invitations dominate. I
Ballimaran Market: It is renowned for shoes of every kind, including Indian ethnic footwear. Shops selling glasses and shades can be found here. You can get fake Ray Ban, Fastrack, Adidas and Versace –they don't pass it off as originals. A Ray Ban will cost you just Rs. 150!
Khari Bhaoli: Adjacent to Fatehpuri Masjid, it has Gadodia Market on one end which is a wholesale market for Indian spices, nuts, dry fruits and herbs; Naya Bazaar is a wholesale market for food grains; and at the other end is Sadar Bazaar which sells non-branded consumer goods and toys. The Sadar Bazar Market is  probably  crowded always.
Flea Market near Jama Masjid and behind Red Fort is on Sundays. Likewise, it is always crowded.
Cycle Rickshaws in Chandni Chowk Market
If you are a tourist, the Delhi shopping experience is incomplete without visiting Chandni Chowk market. Hence, take a cycle rickshaw & go around the Chandni Chowk Shopping Market.
Chandni Chowk is a fairly cheap place to go shopping in Delhi. The experience will certainly be an amazing one.
Finally, stop to enjoy samosas, jalebi & kulfi in Chandni Chowk shopping market.
Related blogs:
Best Places For Diwali Shopping Market in Delhi
Top 8 reasons to visit Chandni Chowk Market, Delhi
Riding in a rickshaw in Chandni Chowk, Delhi
Days Closed :- Sunday
Timing :- 11.00 am to 7.00pm
Bus/Metro :- Chandni Chowk Bus Stop/Metro Station on the Yellow line
---