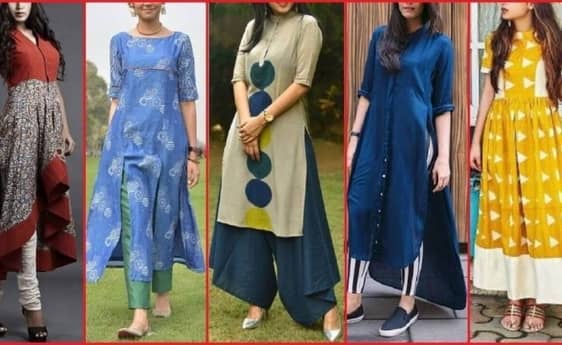 Kurti Lovers, This Delhi Market Is Your Mecca For That Desi Look
Kausy M
968 views
add comment
Best Places for Kurti Shops in Delhi
Kurti or salwar kameez  in cotton fabrics are the preferred saratorial choice for both young and old Delhites. This is especially true in the warm summer months as temperatures soar and the loose fitting style of these garments brings in the much needed comfort to the wearer. The kameez is the top shirt and the salwar is the bottom part of the dress. Kurtis are one piece loose fitting tops. The wide range of designs and prints that are available, make them a suitable & appropriate dress for diverse age groups. Hence the popularity for this garment. Our search for the best Kurti shops in Delhi  lead us to the GK N block market.
GK N Block Market
The Greater Kailash (GK)-N Block Market is like no other market in Delhi. It is not a historical market place like Chandni Chowk that was built during the reign of the Mughal ruler Shah Jahan nor is it as crowded and popular as the Lajpat Nagar Market or the Sarojini Nagar Market. It is not famous for bridal wear shops or high end jewellery shops either.
There is not much of a buzz in this market as is there in Khan Market. Instead, the GK N block Market is a quaint and quiet neighbourhood market with interesting restaurants, bookshops and elegant shops for cotton dresses & furnishings.
The market is in a rectangle shape with shops on 3 sides and a small garden in the center. It is easily walk able and there is space for parking as well.
Let us take you through some of the best shops in this market.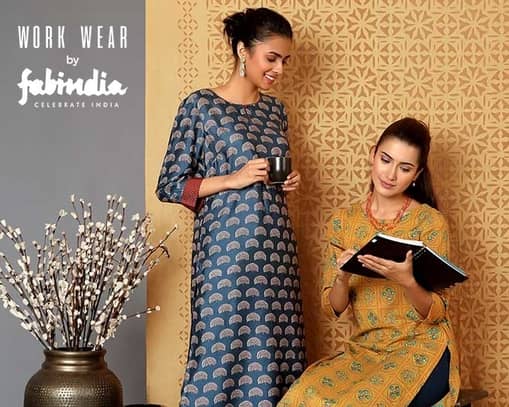 Kurti shops in Delhi: Fab India
Fab India is a popular and well-known brand for ethnic garments for men, women & children as well as for cotton furnishings and wooden furniture. In addition, they stock organic food and personal care products.
They have the biggest chain of shops in this market. In fact, there are 3 distinct Fab India stores here.
The largest of them has a collection of salwar kameez and kurtis that are beautifully color coded and stocked. Cotton, Chanderi or raw silk are the preferred fabrics for the garments. Light embroidery or minimalist golden thread work can be found on the kurtis. The new arrivals and styles in kurtis are displayed on hangers, making it easier for customers to pick & choose.
Dupattas and stoles in kota and chanderi fabrics as well as in silk and wool are a big favorite in this store. The sarees in cotton, Tussar, Chanderi , Gadwal and Banarsi fabrics are aesthetically exhibited to creatively present their designs. While the collection is limited, it is exquisite.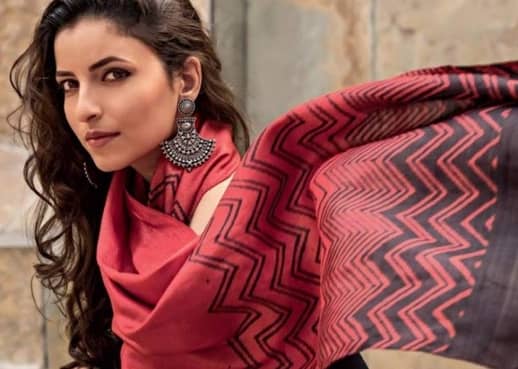 In addition to clothes for women, Fab India also stocks up ethnic wear dresses for children, such as salwar kameez and lehengas. In other words, simple styles and an elegant collection is how the FabIndia selection can be described.
Jewellery@FAB India
If you are interested in silver jewellery, then do not miss the collection of bracelets and chunky silver necklaces here. They bring in new designs and collections very often.
It is a multi-product store that appeals to a cross section of shoppers. They have furniture, furnishings and other products too.
Ready to eat products in Fab India
While the brand has established itself as one of the best retailers for ethnic wear in India, they have recently introduced organic food products after successfully launching personal care products for skin & hair care . They now stock sauces and preserves, pastas, and attas (flours), crackers, organic pulses and other interesting ready to eat food. They have recently opened a Fab Café with healthy snack and beverage options.
Furniture & Furnishings @Fab India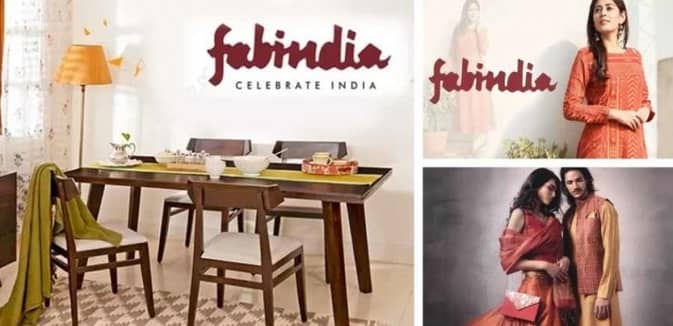 The Fab India store for furniture and furnishings is a 3 storied shop with a stock of sofa sets, chaise lounges, center tables and study tables. Check out the lamps and colourful lampshades that are simple and appealing. On the top floor are dhurries in an assortment of colors, sizes & shapes.
Further, there is yet another store that stocks readymade cushion covers, curtains, bed linen , bedcovers ,quilts, bath linen and dining sets. The cushions and bed covers are available in the best of Indian designs including patchwork and applique options.
Kurti shops in Delhi – Anokhi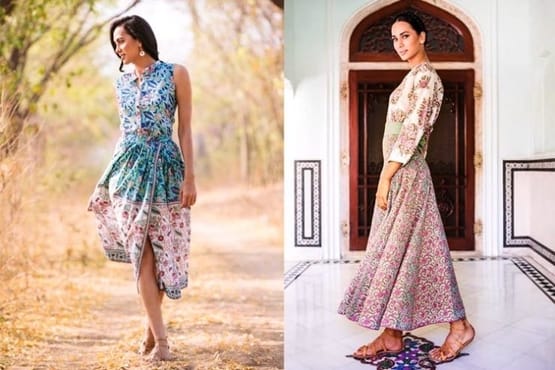 Anokhi is headquartered in Jaipur. They focus on Rajasthan cotton prints in creating Indo western outfits, beautiful ethnic wear kurtis and furnishings . Similar to the Fab India store, Anokhi stocks ready to wear dresses as well as home furnishings . This is a fairly large store where the ground floor has a display of furnishings – bedsheets with coordinated covers and duvets in pleasing light colours and soft fabrics.
The first floor has a stock of Indian ethnic wear such as salwar kameez, kurtis & dupattas as well as Indo Western dresses. Jackets and skirts in flowery motifs in light shades are much sought after here. The coordinated stoles and kurtis are definitely worth a buy in this store.
This is a store where you can be assured of the quality of the merchandise. They may be slightly expensive, but the designs and styles are very avant garde & unique. Once you are done with shopping, you can pop into Café Turtle on the 3rd floor for delicious sandwiches, coffee &cakes.
Kurti shops in Delhi – Kilol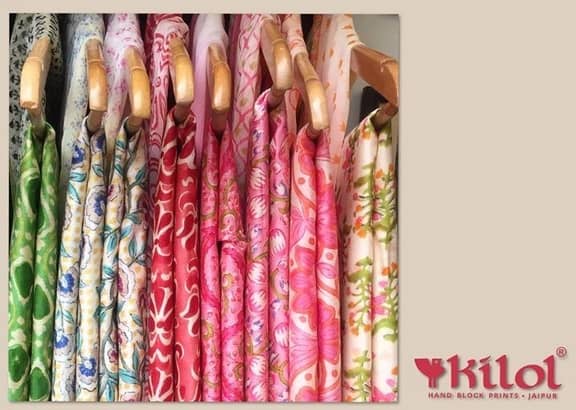 Kilol is another store that has its roots in Rajasthan. Simple long kurtas, salwar sets and kurtis in pastel colours are available in pure cotton and in kota fabrics. Also, colourful dupattas and stoles are separately stored. There is a section for short kurtis and coordinated stoles. They introduce new designs every season.
Kilol has two stores in this market. The second store, which is  a store on the opposite side of the first one, has a stock of furnishings where you can choose from a range of bedlinen, cushions and other furnishings. It is certainly worth visiting this store. Zuri-Kurti shops in Delhi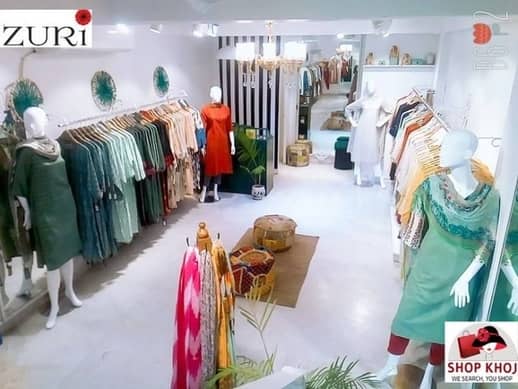 Zuri is a fairly new and small store in this market. Their selection of cotton salwar kameez, kurti and dupattas are in nontraditional designs. The  interesting fact is that they stock Pakistani salwar suits as well. They have stores in 3 locations three in Delhi.
Translate-IKAAT-Kurti shops in Delhi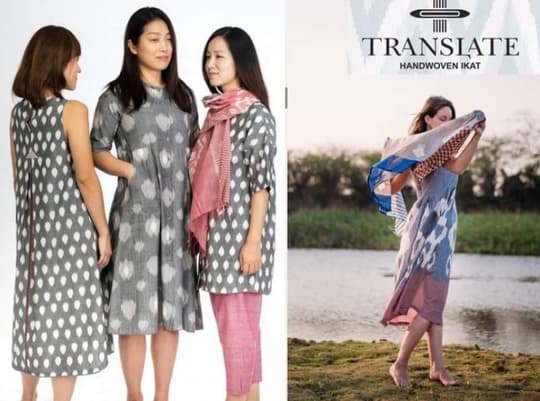 Ikaat is a recently opened shop with two distinct brands inside the store premises. Both the brands stock kurtas and  the kurti with ikaat fabrics. Ikaat is a kind of tie & dye fabric. In ikaat dyeing, the yarn is dyed into desired colours after covering sections of fabrics by tying them up in knots. The result is an uneven spread of colour on the yarn with defined spaces of white in between. Above all, it has a distinct pattern.
There is an interesting selection of soft cotton kurtis and long trendy kurtas in Ikaat prints in this store.
Others things to do in the GK N Block Market
Ramayana Retail is an interesting store where one can look to buy jootis in leather and beautiful colourful dupattas.
Jainsons is a store for woolen shawls and dressy ethnic wear dresses such as sherwanis and kurtas for boys and readymade salwars, kurtas and lehengas for girls. They have a limited stock of ethnic wear dresses for men & women too.
Kama & Forest Essentials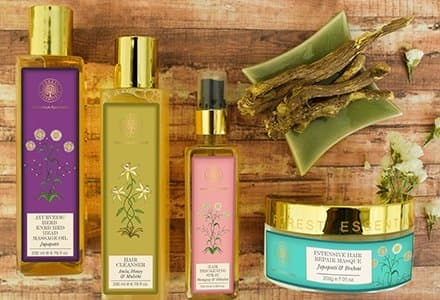 Ayurveda is an age old Indian method for beauty and wellness. Kama & Forest Essentials are two of the most popular and well-known brands for hair and body cleansers, moisturizers, face scrubs and face packs based on Ayurveda. The ingredients they use are aloe vera, carrot, sandalwood bio sea kelp, thyme, watercress and such similar items. In addition please check out the moisturisers ,shampoos and conditioners.
Home Décor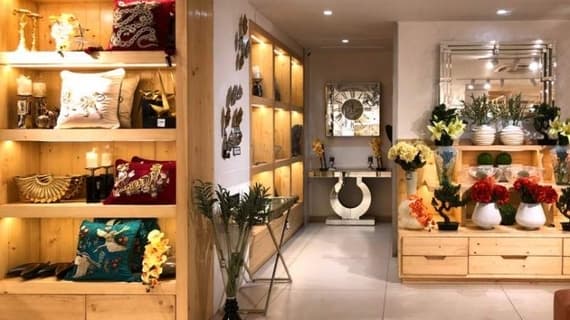 Address Home is a Home Décor store and so is  & OMA .They sell beautiful shiny vases, bowls, large candle stands, artificial flowers, candles and a host of aromatherapy products.
Dining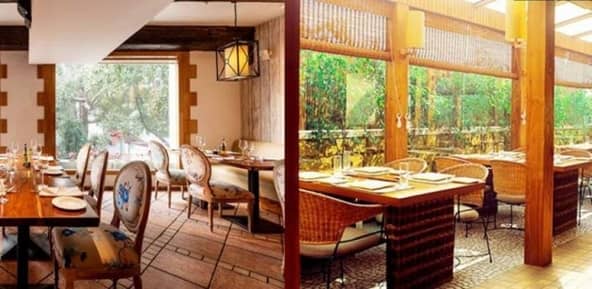 Kasbah Restaurant
There are a host of dining options in this market. For instance, Kasbah is a popular one for Indian food. Check out Dao for sushi and Asian & Thai food and Café Diva for salads, European & Italian food options. Shalom has a lounge bar with Mediterranean & Continental fare.
In conclusion, there are several interesting choices for  for Kurti shopping, home decor shopping, books and dining in the GK N Block Market in Delhi.
---
View our videos
SIGN UP FOR NEWSLETTER
Be the First to Know. Sign up to newsletter today