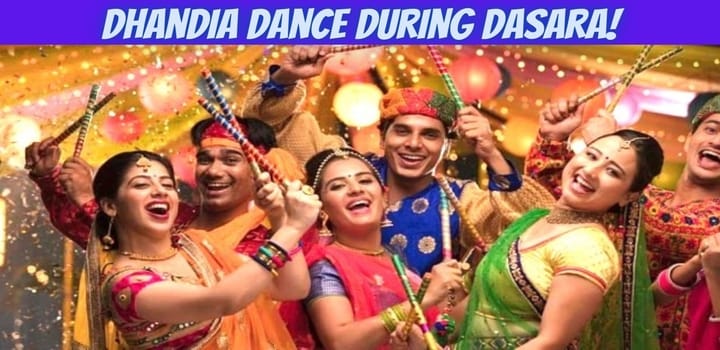 TOP 6 FESTIVALS OF INDIA
Aug 20, 2021
Jyoti
615 views
add comment
"Festivals promote diversity, they bring neighbours into dialogue, they increase creativity, they offer opportunities for civic pride, they improve our general psychological well-being. In short, they make cities better places to live." David Binder
We celebrate festivals  for a variety of reasons.  There are harvest festivals, festivals to celebrate the changing seasons as well as religious festivals. Festivals help keep traditions alive and communities together. The celebrations usher in a sense of positivity & joy all around. Further, festivals are closely associated with traditional & customary  events, costumes and meals or specially prepared food.  Here is a list of India festivals .Raksha Bandhan, Janmashtami, Dussehra & Diwali are popular Indian festivals .
Popular International Festivals
 Thanksgiving Festival in the US
It is said that the Pilgrims who initially reached America from England celebrated  a successful  corn harvest after they first landed in the American continent. The first Thanksgiving festival was a thanksgiving for the harvest which was cultivated with help from the indigenous population. The year was 1621.President Franklin D. Roosevelt declared the 4th Thursday in the month of November to be celebrated as Thanksgiving Day in the whole of the United States. That
tradition continues till today.
Paris-L'ete Festival
Paris L' ete is a summer festival where they have dance, music, theatre & circus shows to celebrate the summer months. Gion masturi festival is held in July in Kyoto Japan every year as a prayer to the Gods to protect the common people from natural elements such as earthquakes, fire & floods.
Chinese New Year
The Chinese New Year, is celebrated in the month of January to honour the changing seasons and to mark the beginning of spring.
Religious Festivals
Further, there are festivals to celebrate religious occasions such as the birth of the divine Gods or saints. St.Patrick's Day is celebrated in Ireland in honour of St .Patrick, who brought Christianity to Ireland. Mardi Gras is another festival celebrated worldwide leading up to the Easter festivities.
Let us read about some interesting festivals of India in the latter half of 2021.In India, the Hindu religion revers multiple gods. Hence there are multiple Indian festivals in honour of the gods.While some are celebrated through out India, others are celebrated in distinct States or communities. They may be celebrated in a different manner in each State or community.
Onam  Festival  21st  August, Saturday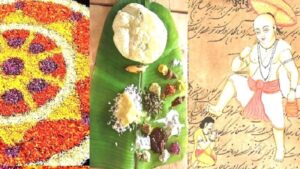 Onam is a festival celebrated  predominantly in the State of Kerala. There are a couple of reasons why it is celebrated . Firstly, it is a harvest festival of India. Secondly, many believe that King Mahabali, one time ruler of Kerala, returns to Earth on this day to be with his subjects.
 He was a very popular ruler and Kerala became a prosperous country under his rule. The gods (devas)in heaven became jealous of this Asura (demon) king. They begged the supreme Lord Vishnu to come down to earth to teach the king a lesson.It is said that the Lord took the form of a dwarf and came down to earth to meet the king.The dwarf asked the king for just 3 steps of land as a gift to which the king readily agreed. The Lord  grew in size such that he measured the whole world in 2 steps and the 3 rd step he placed on the king's head and thus demolished him.
 Due to his benevolence, Lord Vishnu granted a boon that king Mahabali  could visit his land during the harvest festival and see his people rejoicing. Onam is hence a harvest festival also related to the return of king Mahabali to earth.
During Onam, Kerala homes are decorated with flowers. Onam Sadya is a special meal that is prepared on this day with rice and several curries and served on a banana leaf.
2.Raksha Bandhan 22nd  August, Sunday
 This is a unique festival celebrated in India. Raksha Bandhan means the bond of protection.
 Raksha Bandhan or Rakhi is celebrated to strengthen the bond between brother & sister. Mythology has it that Draupadi, the wife of the Pandavas, tied a piece of her own garment on Lord  Krishna's finger when he was bleeding and he promised to protect her at all times.This is the genesis of this festival. This festival is celebrated on the full moon day in the month of Shravan.(July -August)
  A Rakhi is a colourful thread tied around the brother's wrists.The sister typically takes sweets and Rakhi to her brother's house. She puts a vermillon (tikka) mark  on his head and ties the Rakhi on his right hand. The brother in return gives her gifts and assures her of his protection.
Raksha Bandan  is a simple ceremony. It is symbolic and helps to build & maintain relationships within families.
3. Janmashtami- 30th August,Monday
The birth of Lord Krishna is celebrated as Janmashtami or Gokulashtami. It is on the 8th day (Ashtami means 8th day)after  the dark moon in the month of Shravan. Lord Krishna was born to parents Devaki & Vasudeva. He is considered an avatar of Lord Vishnu. He was born to annihilate Kansa, his maternal uncle who was the demon king of Mathura.
 Krishna was born in a jail as his parents were imprisoned by Kansa.
There are several prayers, hymns , songs  & dances that have been written about the life of Lord Krishna. Krishna is depicted as a playful child stealing butter & milk and endearing himself to the women folk. He killed the poisonous snake Kalinga and lifted the Govardhan mountain to protect the residents from  continuous rain in the region. As a young man, he was  seen playing with gopis/young maidens and teasing them continuously. In the Mahabarata,  he comes to the aid of Draupadi to protect her in the court of Dhrithrastra as she was being disrobed. He also  plays the charioteer to Arjuna in the Mahabarata war and advises him to fight his cousins.The Bhagavadgita in the Mahabarata is a philosophical  discourse between Lord Krishna & Arjuna and discusses the role of duty, selfless action and ethical questions about war & existence.( Bhagavad Gita)
Janmashtami celebrations in Maharashtra, especially in Pune, include a human pyramid to break a pot of butter  that is tied about 20 ft from the ground. This is a depiction from Krishna's life.The whole community is involved in these celebrations. In individual  homes, a colourful flowers are decorated and  a midnight puja is done as Krishna was supposed to have been born at midnight. Delicious snacks and sweets are prepared on this day.
 4.Ganesh Chathurthi-10th September- Friday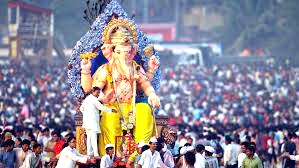 Similar to Janmashtami, Ganesh Chathurthi is celebrated to honour Lord Ganesha who was the first born son of Lord Shiva  and is one of the most worshipped deities in the Hindu religion. Not a single Hindu festival or function or auspicious occasion can begin without paying obeisance to Lord Ganesha, as he is considered as the remover of all obstacles. He is identified by his elephant head. It is believed that Shiva chopped his head off in anger and then appeased him by placing an elephant head on his body.
 During Ganesh Chathurthi, a small new Ganesha made of mud is brought home from the market. On this auspicious day,  people worship Lord Ganesha by performing pujas. Modhak, a special rice sweet is prepared. Ganesh Chathurthi is celebrated in every part of India. However, it is celebrated in a big way in the State of Maharashtra. There are popular pandals/marques which were established more than 75 years  ago to worship Lord Ganesha  and the idol of the Lord is taken out in a huge procession. That tradition continues till today.
 Dance,music and  other festivities  take place here.It is an occasion for communities to mingle and pray together.
5.Navratri/Dussehra – Festival of India 7th -15th October
 The Navratri,(meaning 9 nights )festival is celebrated to honour the 9 forms of the goddess Durga. This Indian festival is celebrated with great gusto & spirit through out India. Young girls are considered an incarnation of the Goddess. Kanya Puja ( worshipping the girls) is actively practised everywhere . Girls from poor families are given clothes and food during this auspicious period. They are considered  an avatar of the Goddess. The  myriad ways  in which the various  Indian States  celebrate this beautiful and colourful festival is absolutely enchanting.
West 
Gujarat in the western coast bursts with dandiya, garba and other colourful dances during this festival of India. Both men & women with colourful costumes hold sticks and dance to special folk music with drums.
East India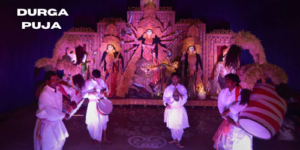 In West Bengal however, there are pandals,/marques that are erected where huge idols of the goddess Durga are installed. She is worshipped in the form of Mahishasura Mardinini, the goddess on a lion who fought the asura(demon) for 10 days & finally slayed  him. There is singing & dancing  and festivities including Bhog, the special food distributed to the visitors.Durga Ashtami(8th day of puja) is a very special day for Bengalis. The idol of Durga is then immersed in the waters in the sea.
North India 
In North India,Dussehra is considered as victory of good over evil in honour of Lord Ram killing the evil Ravana. The effigy of Ravana, the devil, is burnt in pandals. The Ramayan story is play acted too in several local communities.Children  are introduced to mythology this way.It is an effortless story telling method.
South India
However in South India,  Navratri Puja is held in honour of the  goddesses Lakshmi, Saraswati & Durga. A special puja for Saraswati is done on the 9th day. Vijayadashami (Victory day )is celebrated on the 10th and final day to honour goddess Durga's victory over the demon. People fast on some days. There is a display of mud dolls depicting mythological stories in homes.For instance, mythological tales ,such as Ramayan & Mahabarat, are depicted with dolls. In Mysore in the State of Karnataka, Dassara celebrations include a spectacular procession of elephants in the Maharajah's Palace.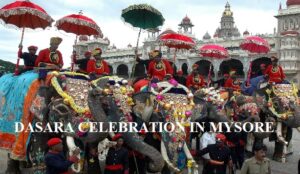 All in all, it is a very colourful and joyous  national festival of India. Navaratri  starts on the 7th of October and Dussehra is on the 15th of October. During Navratri typically only vegetarian food is cooked in homes.
6.Diwali Festival  2nd – 6th November 
The last major festival in the Hindu calendar is Diwali, which is again a national festival of India. This is the biggest festival and is celebrated all over India. It is celebrated on the 15th day of the month of Kartikeya in October /November. Similar to the Dussehra festival, Diwali is celebrated in a variety of ways in different regions of the country. It is 3 to 5 day festival.
The day before Diwali is Dhanteras and is the first day of the 5 day long Diwali celebrations. Goddess Laxmi was said to have come out of the ocean on this day. It is considered auspicious to purchase gold or silver jewelry or some sort of metal on this day.
For instance, South India celebrates Diwali to celebrate the killing of the demon Narakasura by Lord Krishna. However, In North India, it is celebrated to mark the return of Lord Ram to Ayodhya. It is also considered as the beginning of the new year. Laxmi Puja is done as an auspicious beginning for the new year. Lord Ganesha & Laxmi are worshipped for prosperity.  Homes are cleaned and  decorated with diyas & candles. It was customary to enjoy fire crackers during Diwali. Families celebrate Diwali together.
Diwali Gifts
Giving gifts is a great tradition during Diwali .Neighbours, friends, employees are all given gifts.Idols of deities, special hampers with  sweets, fruits, dry fruits and chocolates are prepared for Diwali to be distributed as gifts. Corporate gifting includes silver gift articles as well. There are ready made hampers prepared by retailers all over the country.
Diwali melas or exhibitions in vast open spaces are very popular in Delhi and Mumbai. As a matter of fact, stalls are set up by various individuals who have crafts and products to showcase such as garments, bed clothes, candles, pottery & so on. Food stalls also do brisk business in the melas.
To conclude, festivals of India showcase the rich culture and unique traditions of India. Social gatherings and festive food play a very important part in these celebrations. Typically, new clothes are purchased during these festivals. Retailers announce special discounts on a variety of products. The whole country is engaged in celebratory zeal.
Other Festivals Blog:-
Check Out These 11 Trendy Rakhis To Celebrate Raksha Bandhan 2020
Ganesh Chaturthi 2020 Celebrations Amid Covid-19 Pandemic
Krishna Janmashtami 2020: Here's All You Need To Know
Navaratri 2020: India Celebrates the 9-Day Festival


---
View our videos
SIGN UP FOR NEWSLETTER
Be the First to Know. Sign up to newsletter today