TOP 10 TRENDS IN FASHION
Sep 21, 2021
Guest Blogger
596 views
add comment
Here we present the latest trends in fashion in garments, jewellery & accessories.
Garments
Loose & baggy clothing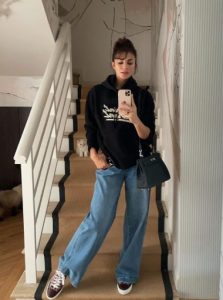 The pandemic & work from home (WFH) fashion has brought comfort to the forefront. People have been working at home in easy wear. Loose & baggy jeans are in vogue right now. Women are more comfortable wearing wide legged jeans & baggy pants for that easy & relaxed look.
Long & flowy maxi dresses with loose billowy puff sleeves are also trending. They are basically comfort wear in cotton or some light breathable fabric. Stylish, colourful & comfortable is the mantra for dressing. They are both work wear & evening wear and you can pair them with leggings or skinny jeans.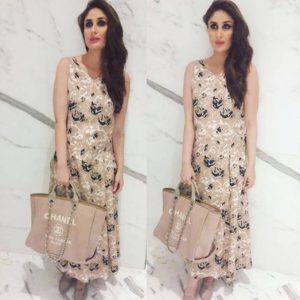 Next on our list are coordinated pantsuits in floral prints. They are single piece dresses and are also comfort wear. However, if you are looking for more formal wear, add high waist pants with a matching coloured shirt or jacket to your wardrobe.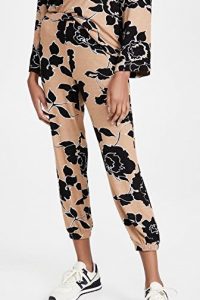 Next come trackpants. Trackpants are again loose and comfortable clothing. They can be termed as gym wear, lounge wear ,or comfort wear, all rolled into one.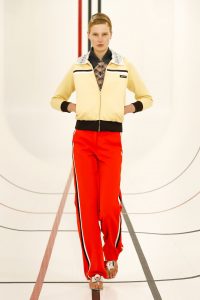 And if you want a variation of the track pants try silky trackpants instead. They are indeed a new variation and there is a glamour element attached to them.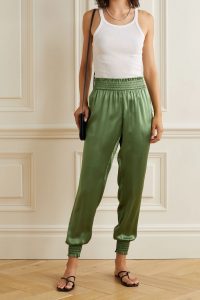 The bralette pant set is a top choice for many young women today. They could be considered risqué in some parts of the world. If you wish to be modest & cover yourself, throw a scarf, a shrug or a jacket on top. While these dresses will not be appropriate in the work place, you can carry them off at luncheon parties and coffee get togethers.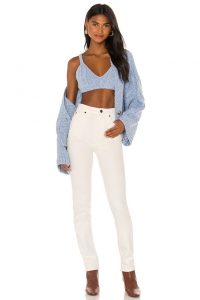 Finally, if we are to move away from casual dressing and talk about more formal evening wear silver metallics are in. Silver pants and /or silver jackets is sure to make heads turn. Go for it.

What about shoes & fashion?
Do you need an ideal outfit to match your shoes or is it the other way around? Is it casual or business or is it an evening out? Whatever the occasion, pick out the most comfortable shoes.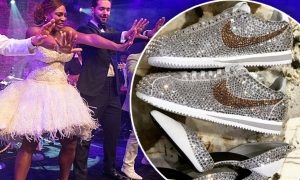 It is common knowledge that if you are going to be outdoors in the garden, you should avoid wearing pointed heels as they sink into the ground. In the last one year, everyone has avoided in door parties & get togethers in general. You tend to meet people outdoors as it is safer. Wedges, sandals & pumps work well in such cases. Mules are also versatile. They are stylish & colorful and can be paired with both ethnic & western outfits. But let us not forget the trainers. Serena Williams set the trend when she wore a dazzling pair of Nike sneakers at her wedding to. Sneakers and trainers have been acceptable footwear at wedding parties ever since.
What about hand bag trends ?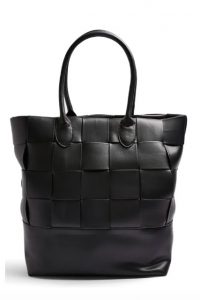 The tote bag never went out of fashion. So, it is the tote bag that wins hands down for carrying things around all day. Leather totes are expensive bags but they are with you forever. Further, the tote bag can hold ever so many things including your cosmetics, laptop, books & maybe a pair of shoes too. One can throw as many things as you want into it. It can even hold your night suit for a sleepover. They are commodious.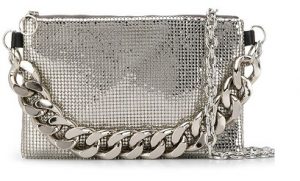 The cloth bags, jute bags and netted bags are also in fashion these days. They are lightweight & non-conformist.
The formal sleek leather bags which are like duffel bags are quite easy to carry & look chic. The only problem with these bags was that these bags were not in vogue last year since people did not go out during the pandemeic. Anyway, it is now time to reuse & repurpose these bags if you have them . Are you actually wondering where & when to use them? Well, an evening out with a friend or a visit to a posh restaurant works .We have an even better idea. The small delicate clutch bags in a variety of colors are the most attractive thing to be carrying around. Clutches have convertible straps as well. They could be a chain strap or an acrylic strap which are all the more exciting. And don't forget the cute metallic clutches. hey never went out of fashion.
Jewellery Trends for 2021
Once again, the chunky gold and diamond jewellery has taken a back seat. Jewellery was particularly reserved for weddings and such grand occasions. Not anymore. As people are not travelling and not attending big fat Indian weddings, the trend has now shifted to casual jewellery. You can see plenty of casual jewellery being offered online in Amazon, Myntra, Carat lane, Jaypore, Fab India, Amrapali stores and so on. As a matter of fact, brides and bridesmaids would prefer to wear imitation and costume jewellery instead of real gold & diamond jewellery. They are safe, not expensive and the designs are amazing.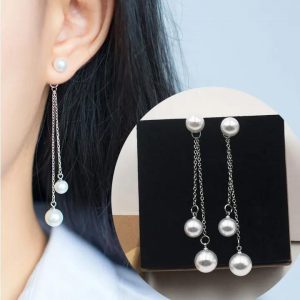 And for that single piece of jewellery that everyone wants to lay their hands on- It is definitely got to be the long earrings. They could be bulky or delicate, gold or silver – it does not matter. They go down to the shoulders and that's what matters. Surely, when you are wearing statement earrings, you could give the necklace & bracelet a miss.
It is almost time to dress up again
In conclusion, we hope you know what to pick up from online fashion stores such as Myntra, Zara, Marks & Spencer's, H& M , Amazon, Carat Lane, Amrapali and the rest. Cool comfortable casual wear dresses, one-piece dresses and the unfussy, clean & relaxed look is what you should be looking for. Alternately, you can have an attention grabbing colorful yet unfussy outfit.
 Climate change & Sustainability trends
Sustainability is the number one priority in the world today.
Garments & accessories manufactured with the sustainability tag are at a premium. Climate change is no longer a conversation piece. We are seeing the serious effects of climate change every day. Every industry is working towards reducing carbon footprint. The impact our purchases make on the environment could be miniscule. However, there is a growing awareness about it. As a consequence, there is a conscious slow down of consumption. Further, plastics are definitely a" no no." Hence, reuse and repurposing clothes & other accessories with a conscious effort towards reducing consumption is gaining momentum. Also, natural fabrics such as bamboo, hemp & jute are definitely setting the trend in global fashion trends in garments & accessories.
Fashion giant Saint Laurent to ban use of fur in 2022-
The fashion house's parent company, Kering, says all its brands will be fur-free by autumn 2022.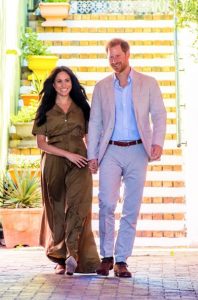 It is time to enjoy the small pleasures in life. The center of fashion is your comfort. Stand tall & erect & enjoy your own style. And before we sign off, let us also tell you that black masks are in.
Picture Credits :-

Cosmopolitan

Vogue

Switlster.ndtv
---
View our videos
SIGN UP FOR NEWSLETTER
Be the First to Know. Sign up to newsletter today