TOP 6 FASHION & GOLD JEWELLERY ONLINE STORES
Ananya Madhavan
4844 views
add comment
Jewellery & other accessories add a sense of colour, positivity & joy to one's life. They look attractive & enhance your personality. Grooming is all  about accessorising  with well chosen (not necessarily expensive) accessories. Of course, accessories are not restricted to jewellery alone. For instance, accessories such as bags, shoes, watches, sunglasses and scarves are all functional and beautiful as well. However, we will focus on online jewellery  and gold jewellery online in India in this blog. We have tried to include a range of  India specific online jewellery shops from affordable fashion  jewellery to high end expensive jewellery. The range of  Indian jewellery available online is simply amazing. The fusion of ethnic & contemporary styles is also extraordinary. We have included Amazon, Myntra, Kushals Jewellery, CaratLane, Jaypore & Amrapali. Take a look and you will be delighted to discover these beautiful jewellery sites.
The  globally popular  e commerce store Amazon, has clearly revolutionised the way we Indians shop for everything, from household stuff to apparel & jewellery. They have set high standards in e shopping  & the ease of buying and returns makes Amazon a preferred choice for millions of consumers. Firstly, not many are aware that jewellery is available online in Amazon.
 Amazon Jewellery
 Amazon jewellery section has a great variety of chains & necklaces, bracelets & earrings. Firstly, there are fashionable bracelets for less than Rs 300/piece in crystal, rose gold & silver plated metals. Ethnic jumkas, modern earrings with tassels, crystals and plated silver are also available at Rs300/pair. In addition, there are strings of  coloured semi precious beads such as jade and corals.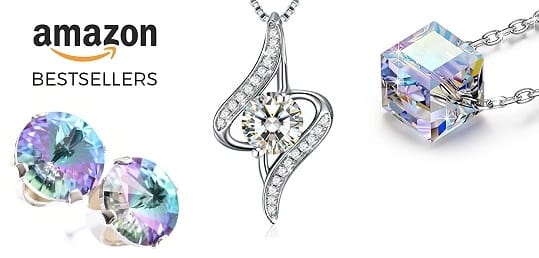 Delicate ruby sets, kundan choker sets and  gold plated wedding jewellery sets for as little as Rs 500/set are very affordable and definitely worth a look.
Bridal Wear Shopping
Rani Haar, which is a long necklace in brass and  plated with gold, is available  from Rs500/set. As a matter of fact , brides covet this necklace set. There  are multi coloured chains with kundan pendants for Rs 500/piece, gold plated bridal long necklace sets  and one gram gold jewellery sets. All the pieces are very affordable and many of them are available at less than Rs 1000/piece.
Further, Amazon also stocks jewellery in real silver that is sold at a higher rate. The choice is wide. You can choose by brand, price range, stone type, colour, number of stones, jewellery material and so on.
This is an Indian e commerce Company for fashion & lifestyle purchases.
Jewellery @Myntra
Multi brand ethnic jewellery in several categories is available in Myntra. For instance, dome shaped jumkas from Voylaa @Rs600/pair, kundan studded maang tikka@Rs500, German silver anklets @Rs 600/pair, stone studded hair pins @Rs 800/piece, silver plated bracelets @Rs 400/piece  and kundan studded bracelets,@rs800/pair are a few of the wonderful jewellery pieces that you can choose from. Bangles are gold  or silver plated with enamel & stones. The prices vary depending on the design & the material.
One has to check the collection thoroughly . You can choose by category such as earrings, bracelets, nose pin, anklets , bracelets, mangalsutra  and so on or by price range, brand or colour. They stock ethnic & contemporary jewellery as well.
This is another home grown ethnic brand for jewellery shopping. They are one of the best for Temple Jewellery designs. Temple jewellery, as the name suggests, has designs copied from temple architecture , particularly from  South Indian temples.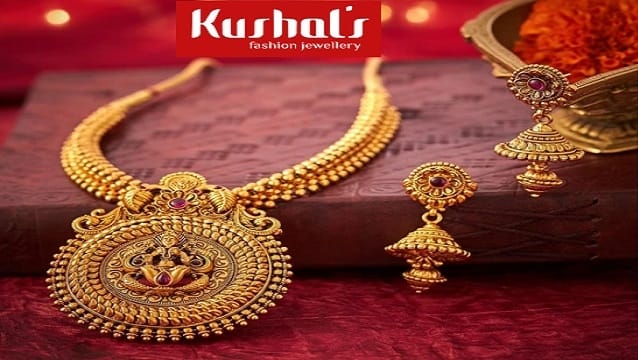 Gold Jewellery online @Kushals Fashion
Bangles, pendants & earrings in the Temple jewellery collection are  all beautifully crafted.  In addition, There are gold plated silver jewellery . There are necklaces in the range of Rs 20000 – Rs 28800 /piece
Swarnika is a  pure gold plated collection  from Kushals Jewellery online  collection. On display are  necklace sets, earrings & Kadas. The designs are common jewellery designs though not Temple jewellery designs.
 Collection – Antique Jewellery 
Antique kada bangles cost Rs 1500/piece.  The pendants with semi precious stones are available at less than Rs10000/piece. Beautiful antique earrings are available for less than Rs1000 /piece. They are a steal.
In addition to the gold plated jewellery mentioned above, Kushals also stock  beautiful silver earrings from Rs 1200 to Rs 3000 a pair. Jhumkas, studs and drops are all available.
Zircon  is another coveted metal for jewellery which is also available in Kushals. Zircon necklaces cost around Rs 6000/ Rs7000/piece and zircon bangles cost Rs 580/pair &  can go up to @ Rs 1800/pair.
Further, there is also the kundan, which is cut glass made to appear like diamonds Kundan necklace sets cost Rs 7000- Rs8000/piece.  There are earrings  that cost Rs 2500-Rs3000/piece.
You can shop by category, price & colour.Kushals.com is an online initiative of Kushal's Fashion Jewellery. It is a Bangalore based chain store. They have branches in several Indian cities.
Jaypore
They  started as an online platform in the US and subsequently moved to India. Jaypore is  a subsidiary of the Aditya Birla Fashion & Retail group. They sell a curated collection of apparel, jewellery, textiles & crafts sourced from different States in India. Their collection is truly admirable.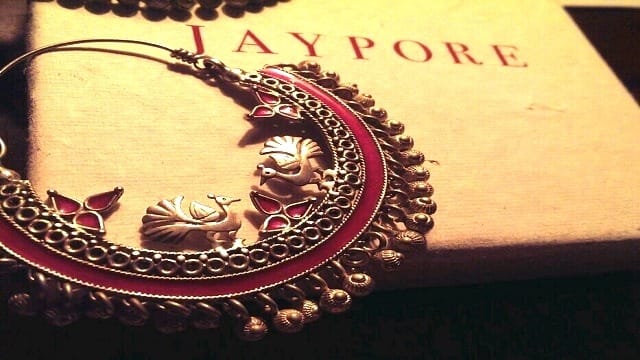 Jewellery online@Jaypore
On display in this  jewellery online fashion store are silver jewellery, fashion jewellery & precious jewellery. Onyx, pearls, rose quartz, jade and kundan stones are all used in mix & match patterns to create stunning & unique fashion  jewellery pieces. In addition labradoriet &  dholki beaded jewellery and jewellery with chalcedony, topaz, rhodolite & garnet are all available in captivating  ethnic designs.
The craftsmanship is beautiful.
Jumka, traditional earrings, bracelets, necklaces, toe rings & hair clips are all presented in trendy & modern styles.  Haathphool, (jewellery covering the back of the hand ) brooches and saree pins are interesting additions to the traditional jewellery catalogue. Each piece is unique. They also stock silver coins.
  A smoky quartz  toned silver pendant costs Rs 9500/piece and a tribal silver necklace costs Rs 22000/piece. Tourmaline & multi coloured gold plated silver necklace@Rs30000 & green amethyst & ruby gold plated silver necklace @ Rs53500 are available to be purchased.
Some of the pieces are quite expensive but then you pay for the unique designs that is on display. They also stock jewellery from Birdichand Gaanshaymdas, who are leading jewellers in Jaipur.
Jaypore also stocks ready to wear clothes, home & art, menswear & gifts too.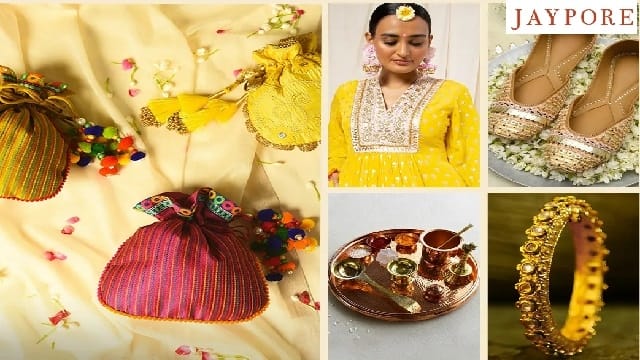 This store  has some beautiful jewellery in gold & diamond such as rings, earrings, bracelets and necklaces. This is an Indian physical & online store headquartered in Chennai.
They have a partnership with Tanishq, owned by Tatas, the most recognised and trustworthy jewellery shop in India. They have 100 + physical stores across India.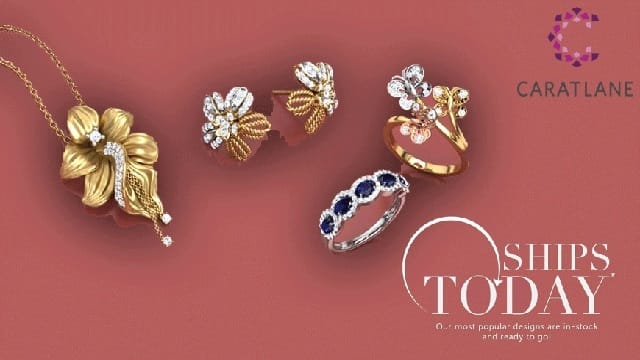 Gold Jewellery online @CaratLane
Diamond & gold jewellery @CaratLane is amazing. Beautiful, sophisticated & stylish is how one would describe the jewellery in Carat Lane. The price range is anywhere  from Rs10000 to Rs 75000/piece  and the minimum price is Rs 10000/piece for simple neck chains. They have Solitaire rings at Rs1,00,000/piece. In addition, they  stock modern mangal sutras too.
Online  jewellery shopping has become so secure that you would not mind buying a diamond bracelet or neck chain from CaratLane. They have a complete write up of the gemstone, the count, the price breakup, gold rate and weight, the diamond Ct, gem stone value, & making charges.
You can book an appointment to try their  jewellery at  home.
 As a matter of fact, you can also exchange old gold purchased anywhere at Carat Lane. They have a certificate  of authentication with the jewellery and there is a two week period to return the jewellery or get it fixed. We do not think jewellery buying can get any better than this.
Folksy ,classy & ethnic is how you will describe Jewellery from  Amrapali . If you like colours & Indian designs, Amrapali should be your first choice. There are two distinct product categories known as  Legend Amrapali & Tribe Amrapali. Legend has fine jewellery and Tribe has silver & fashion jewellery. You should check out both the sites.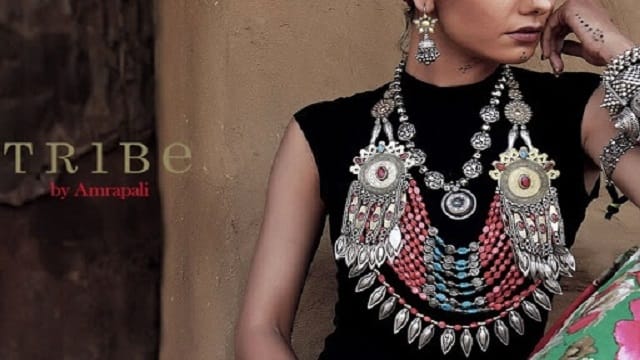 Further, there is an enamel collection, a polki collection & jaddau collection. They use glasswork & dolki beads on their designs extensively. In addition, there  is a Tarakini collection with navratan ( 9 coloured ) stones. All beautifully & artistically crafted.
Enamel Jewellery online
A white enamel & diamond pendent  chain  is for Rs 46000/piece. You can also find jewellery with black, blue & green enamel.The colours are vibrant & attractive.
 Gold & Diamond  Jewellery online @Amrapali
Their diamond & turquoise necklace set in 18k gold is an absolute stunner. White topaz, tanzanite, lapis & diamonds  are  extensively used. A bracelet will cost approximately Rs 2,00,000/piece.
Amrapali is a Jaipur based designer jewellery store. They traditionally employ domestic & international  in house designers to craft their striking jewellery pieces. They do not restrict themselves to simple jewellery. Bold, big & colourful jewellery are all  available in Amrapali.
Conclusion
These are interesting times when we can actually shop for fashion & precious jewellery online. In the current pandemic scenario  this is a boon. We can sit in the comfort our homes & purchase jewellery. Fashion jewellery is very affordable and the  physical shops are always crowded. Therefore, buying affordable jewellery online is really a fantastic idea. What is more,  you can buy not only fashion jewellery but  also  precious jewellery  online. Gold & precious jewellery is an investment, no doubt and yet, they can be bought without trouble or hassle online. Online jewellery shopping is a breeze.
Our Other Blogs On Jewellery:-
10 Must have Jewellery Pieces for an Indian Bride
The Enduring Magic Of Gold and Precious  Jewellery
Glossary on Artificial/ Fashion Jewellery
---
View our videos
SIGN UP FOR NEWSLETTER
Be the First to Know. Sign up to newsletter today