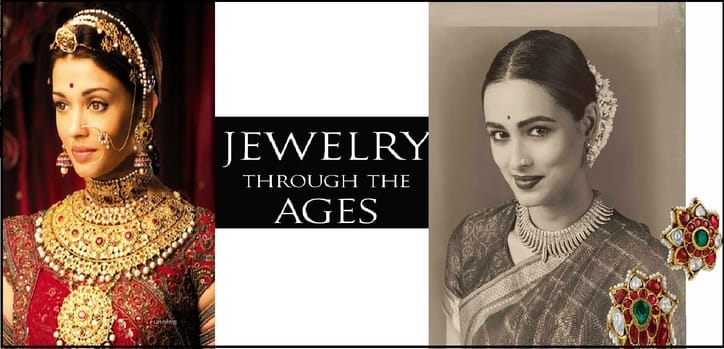 THE ENDURING MAGIC OF GOLD & PRECIOUS JEWELLERY
Kausy M
1353 views
add comment
Greek mythology mentions Midas as the king who turned everything he touched into gold.
Civilisations have coveted gold jewellery & precious jewellery through centuries.
Consider the following :
Tutankhamun's Coffin 
The legendary Pharaoh Tutankhamun's coffin was covered with gold and the mummy  adorned with gold jewellery of very high quality. The tomb was also filled with jewellery in boxes & cases. The funerary mask of Tutankhamun  was made of  gold which was 1.8 ft in height and weighed over 10 kgs and was  decorated with semi precious stones.
Tutankhamun: gold funerary mask
Tutankhamun, gold funerary mask found in the king's tomb, 14th century BCE; in the Egyptian Museum, Cairo.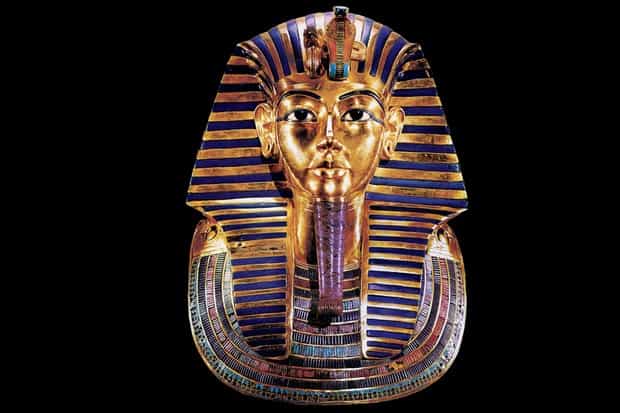 2. Padmanabhaswamy Temple
Closer home, there was  a recent  discovery of a most  magnificent treasure  in the secret vaults in the  Padmanabhaswamy Temple in Thivananthapuram, Kerala. The treasure is estimated to be worth  approximately $22 billion. It includes golden idols, golden elephants, 18 foot diamond necklaces and  66 pounds of solid gold coconut shells studded with rubies and emeralds. In addition, countless bags of gold coins from around the world and ceremonial costumes were  found here. The valuables are believed to have been accumulated in the temple over several thousands of years, having been donated to the deity by successive kings & dynasties.
Source
https://www.forbes.com › sites › jimdobson › 2015/11/13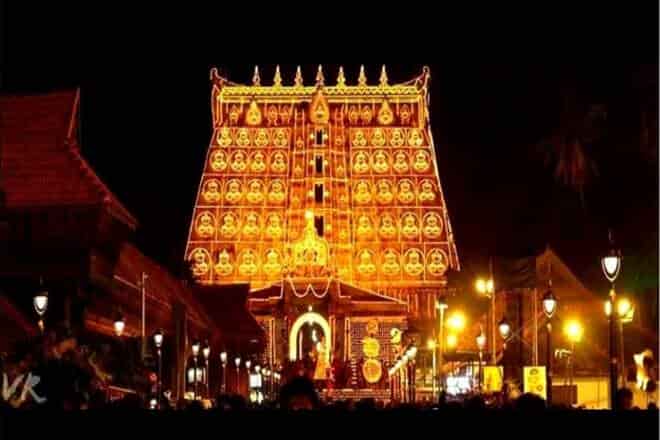 3.California Gold Rush
The California Gold Rush in 1848-1855 is another interesting  historical fact which made people rush to find gold. It brought lakhs of people to California from other parts of the US and  the world in search of gold and those who found it became rich beyond the dreams of avarice.
The fascination with gold & precious jewellery has been an enduring one . If one were to visit the gold souk in Dubai, one would understand the obsession with gold jewellery. All that glitters is  gold there.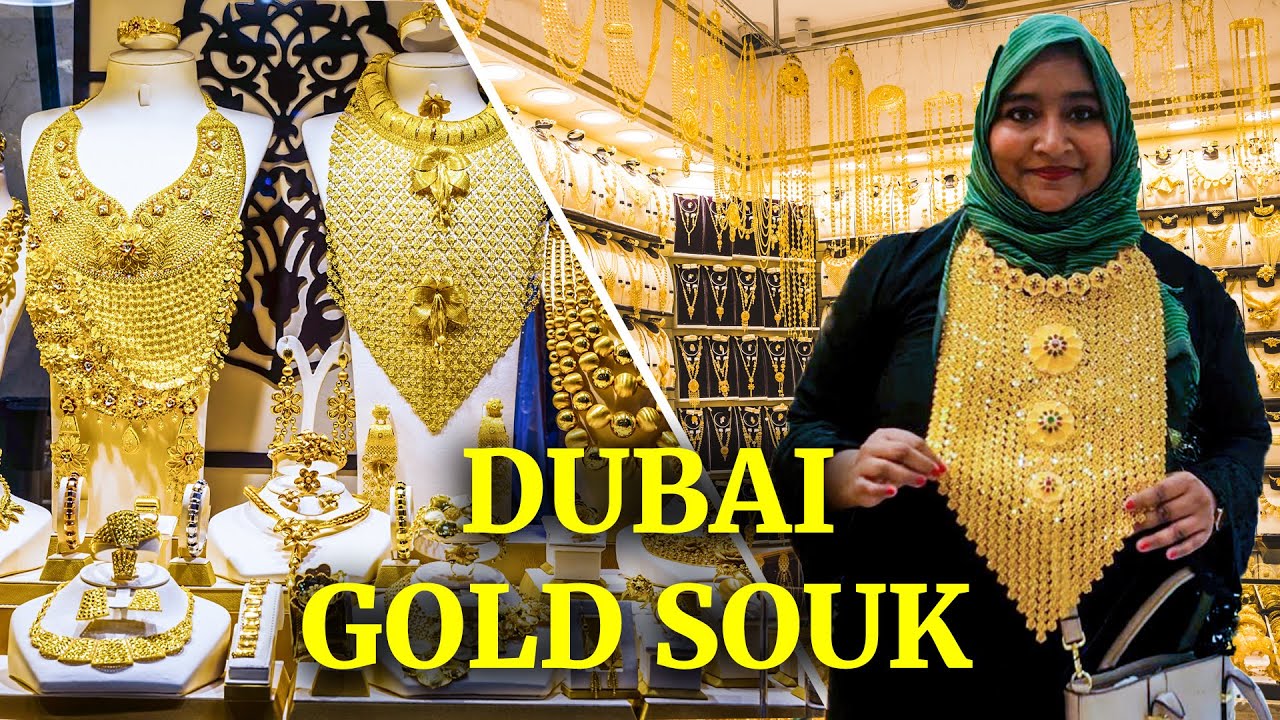 Early Men & Women
Early men & women wore  jewellery made of bones, claws & teeth. In addition, jewellery was worn for different purposes  It signified status or an allegiance to a tribe or a clan. For example, slaves wore bracelets to identify their lineage. Some communities wore bracelets & gem stones to ward off evil spirits or bring good luck. It is interesting to note that  pins and brooches were functional pieces of jewellery which were designed  as clasps for the clothing. Further, rings  in the fingers and pendants were used as seals. And so, jewellery proved it utility & value in several ways.

Gold & Silver Coins
Kings and rulers have used gold & silver coins from time immemorial to reward artists and to promote literature & arts. In biblical times, gold & silver was used as currency. Gold coins were used as barter trade & in commerce as well. Silver was probably the oldest mass produced coin for trade.
 Gold Jewellery in Ancient Civilizations
Egyptians coveted jewellery & precious stones. In Egyptian jewellery the use of gold is predominant. Gem stones such as  carnelian, turquoise, and lapis lazuli are also used generously.
Indians, of course, have from time immemorial invested in gold & jewellery, regardless of their economic circumstances. Thus, from the very rich to the very poor ownership of gold in all its manifestations is a common thread. Gold & silver has always  been considered precious. Traditionally, gold is purchased on auspicious days, such as  Akshaya Trithiya & Dhanteras. People believe that buying precious metals such as gold & silver on these days will bring in good luck.
Religion &  Jewellery in India
Religious texts have played a significant role in highlighting the importance of gold, silver & precious jewellery.They often describe the gods and goddesses as one  adorned with abhushan (jewellery) or jewellery sets. That is how gods were visualised  and that is how you will see them depicted in paintings & sculptures. For instance, the sculptures in Hindu Temples & Jain Temples always depict gods adorned with  amazingly detailed jewellery.
Ajanta & Ellora (2nd century AD)are rock cut Buddhist caves and are UNESCO protected sites. There is a lot of emphasis on jewellery  in the paintings  therein. Kings and queens can be seen bedecked in crowns and  other elaborate head adornments, necklaces and bracelets .. Ajanta Caves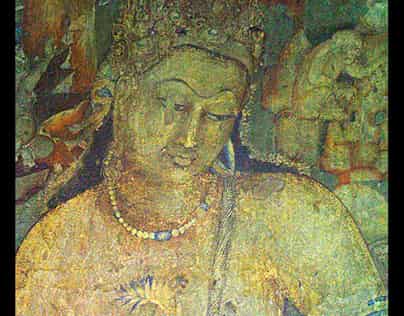 Temple Gold Jewellery
As mentioned earlier, in Hindu Temples, the gods &goddesses are sculpted with beautiful jewellery. In addition, real gold & diamond jewellery is bestowed on the goddesses by the devotees. This practice is prevalent even today. The reference to the Padmanabhaswamy Temple above illustrates this point.  The idols in the temples are adorned with exquisite jewellery from head to toe.  The rich and shimmering look of the goddesses is a visual treat for the devotees.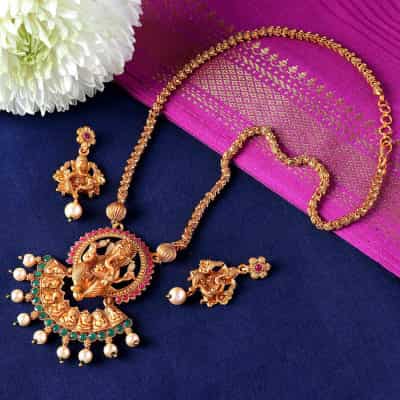 Indian Classical Dance Jewellery Designs
Indian classical dancers have modelled their attire /apparel on the image of these idols. Bharatanatyam, Kuchipudi & Kathak dancers all follow a traditional pattern of dressing that copies the attire of the goddesses in temples. Bridal jewellery set is a  jewellery set copied from the Temples. The jewellery is hence known as Temple Jewellery. It is made of 5 metals & red rubies. The designs are typical of temple architecture & other items found in the temple.
As a matter of fact, there is an identified set of jewellery that is included in the classical dancers costume. This gives the dancers a  sense of grandeur & unmatched feminine grace .
It starts with a hair adornment,( Rakodi) which is placed at the back of the head, the maang tikka, which covers the front portion of the head, the huge earrings or jumkis, nose rings, broad necklaces, bracelets & bangles, the kamar bandh or udyanam( girdle) & finally the anklets and the toe rings. Above all, adorning oneself with jewellery is a ritual that was practised by several courtesans and devadasis .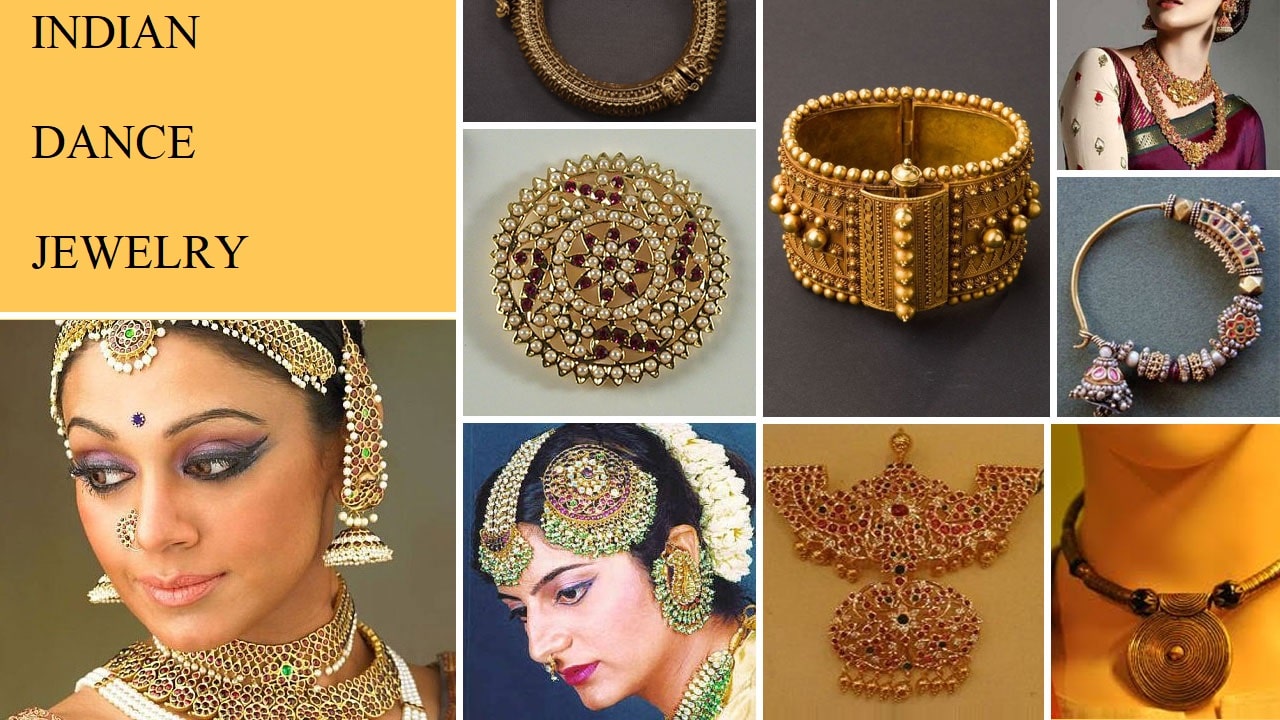 Gold Jewellery in Literature
Dominigo Paes , a Portugese writer, who visited the Vijayanagar Kingdom in 1520, mentions about the dazzling jewellery worn by women and the thriving market for jewellery in the southern kingdom.
Travel writers have written about the magnificent Peacock throne and crown jewels of the Mughal emperor Shah Jahan & Aurangazeb in early 17th century. These was however looted by Nadir Shah of Persia and with him went the Kohinoor diamond which was mined at the Golconda mines near Hyderabad.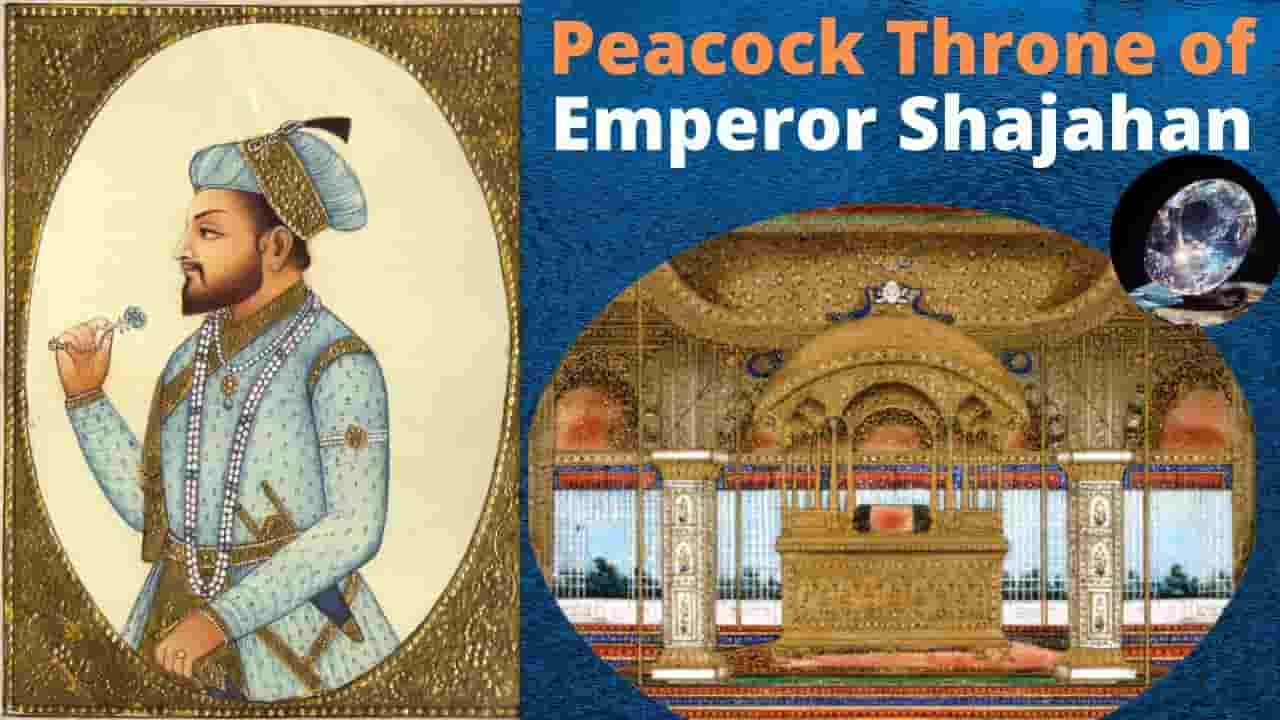 Silapadikaram is a Sangam era literature piece , set in the Southern state of  Tamilnadu  and is an epic love story  of a devoted couple. Kovalan, the husband, is wrongfully accused of stealing the queen's anklets which had pearls & rubies and was hence beheaded. On hearing about her husband's death, Kannagi, his wife, confronts the Pandya King in Madurai and throws her other anklet in front of a stunned court, with the  splattered rubies & pearls for all to see.
One can understand & appreciate the importance of jewellery across several kingdoms & dynasties. From North to South ,the royalty laid emphasis on jewellery.
Royalty & Gold Jewellery
Indian Kings, Maharajahs  & Queens can seldom be found without jewellery in photographs, portraits & in literature. For the ruling class, jewellery signified class, power& prestige. Both Hindu & Mughal rulers are always portrayed with jewellery sets ,such as necklaces made of rubies, emeralds, pearls and gold. Jewellery signified the status & superiority of  the kings, queens & their courtiers .
STHREE DHAN  (Bridal Jewellery )
The concept of gifting gold & silver to a woman at the time of her marriage is widely prevalent & practised till today in India . In addition to ornamentation & adornment, bridal jewellery was always gifted for the financial security of the woman as she begins her new life. Bridal jewellery sets involved heavy necklaces & a distinct set of bangles, kaleeras (bunch of hanging  beads) and maang tikka ( head adornment )& more. Necklaces and bangles in emeralds, rubies diamonds & gold  were a part of the dowry. Further, articles made in silver such as the silver lamp, incense stands, trays and flower baskets were considered auspicious to be gifted as dowry. Heirloom jewellery was never sold. It was passed down generations .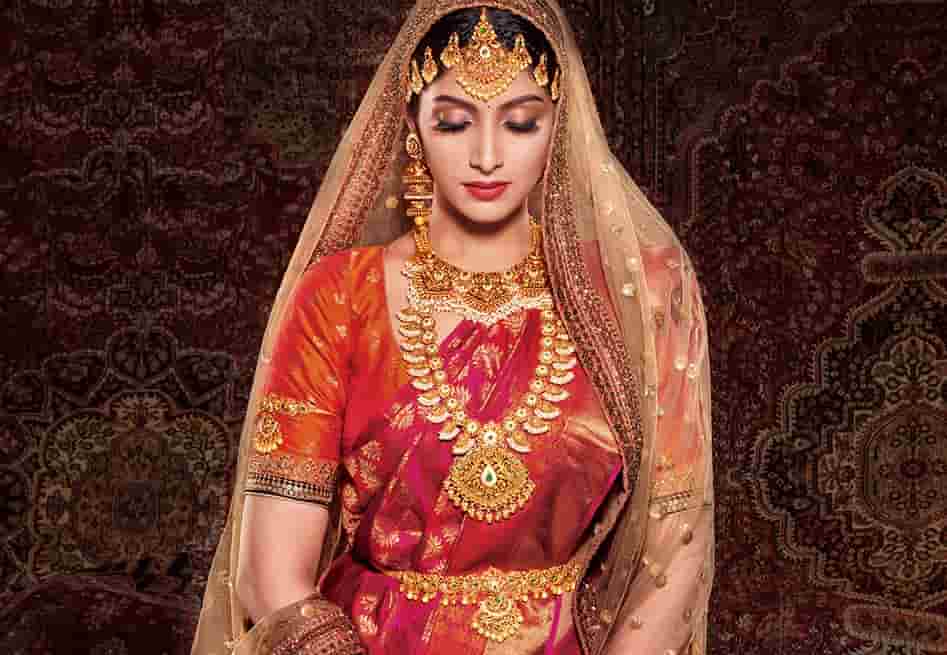 Are times changing now ?  Do we still covet gold  jewellery & precious  jewellery ?
Gold & precious jewellery has always cast a spell on women and brings about a range of emotions such as wonder, curiosity,  inquisitiveness, pleasure or despair. However, the question is, do we women still covet them?  Our grandmothers & mothers took  great  pains to  collect some stunning pieces of jewellery over the years -only to be locked up in bank lockers now. Not many women have used any authentic jewellery in the last one year. The pandemic and the lockdowns have ensured that no big fat Indian weddings took place. All the gold and  precious jewellery is locked up in the lockers for which people pay good rent .
Some may be tarnished or  may have lost their  lustre and we are really not sure where we have stored a particular piece of  jewellery. So, has gold & precious jewellery lost its enduring magic?
As a matter of fact, young girls are highly educated and in any case, are not very keen about owning expensive jewellery any longer. They would  rather own stylish and light weight jewellery that is easily wearable & easy to handle & care for. Most of them are indifferent to expensive heirloom jewellery.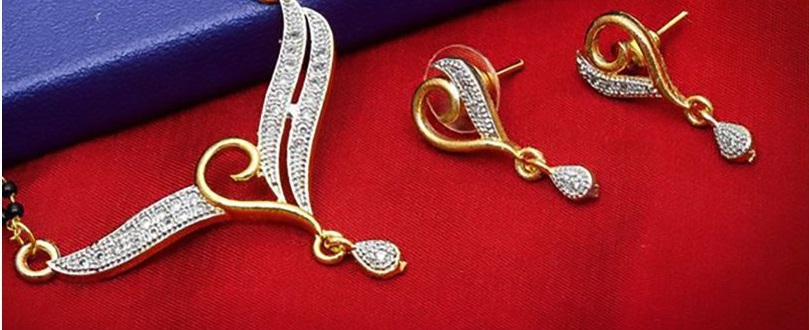 The Mystique Of Gold Jewellery
Notwithstanding the above pandemic related present day realities, we believe that the magic of gold & precious jewellery will endure. The charm & prestige of owning something so grand & gorgeous has no parallel and has a timeless appeal. It is impossible to match the beauty of authentic & beautifully crafted jewellery. Further, there is no escaping the history & culture  of ownership of gold & precious jewellery in India. Historical films such as Jodha Akbar, Padmavati & Baji Rao Mastani reiterate the magic, grace & grandeur of  such jewellery.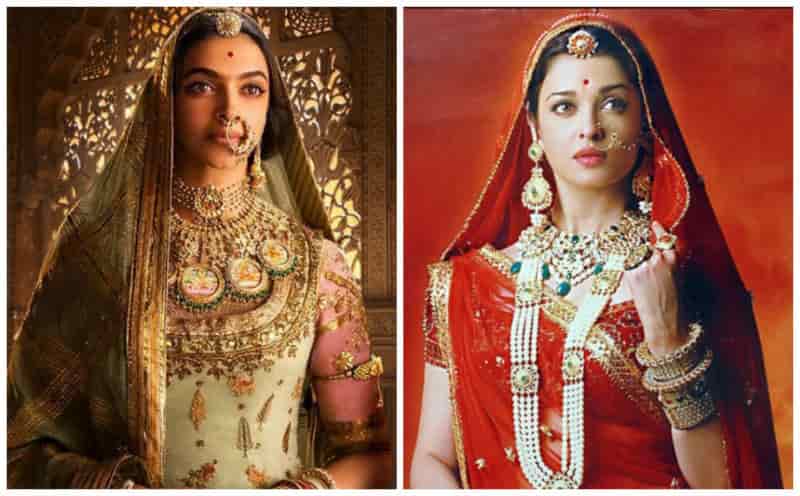 Therefore the mystique of gold & precious jewellery is unlikely to vanish. The pandemic is a temporary phenomenon relatively speaking and it too shall pass in time and once normalcy is restored, women will once again experience wearing gold & precious jewellery to their taste & liking.
Finally, here is the list of Top Shops for gold & precious Jewellery in India
Best Shops in Bangalore :-                                              
Best Shops in Delhi :-                                               
Best Shops in Kolkata :-                                         
Rajlakshmi Gold 
 Best Shops in Chennai:-    
Best Shops in Jaipur:-
 Best Shops in Mumbai:- 
---
View our videos
SIGN UP FOR NEWSLETTER
Be the First to Know. Sign up to newsletter today