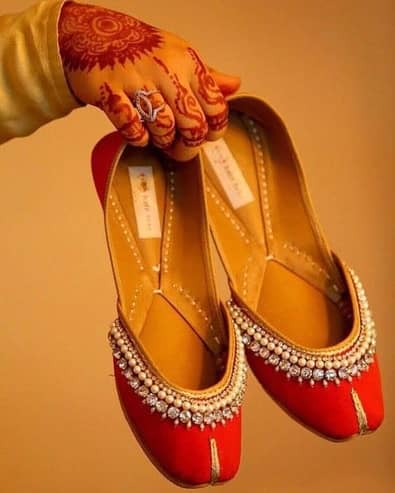 Juttis And Mojaris
 Ethnic Indian Footwear
Firstly, Juttis and  Mojaris  are closed footwear with a pointed toe. They have no right or left distinction. They are made with buffalo, camel or cow leather soles and with leather or textile uppers. It is handcrafted traditional footwear with a closed upper attached to a flat sole and is worn mostly in the Northern part of India. Jutti is made of fine leather in the first place, with extensive embroidery and beautiful embellishments to give it a distinctive appeal. Further, the decoration varies according to the region and includes wool, silk and silver embroidery. For instance, the word 'Jutti' has its roots in Urdu, the language of poets. For example, it is commonly spelled as Jhutti, Juti, and Juthi as well. Further, Jutti is also known by other popular names such as 'mojari' in Rajasthan and 'khussa' in Pakistan. Hence they are distinct and unique.
Above all, both men & women wear juttis. Juttis can be worn with ethnic dresses and jeans as well.
Available at Delhi:-Fabindia(Delhi), Dilli haat, Ramyana Retail
Available at Jaipur:-Tourist Shoes(Jaipur)
In Chennai @ FabIndia
Bangalore – Commercial Street, Fab India
Mumbai : Linking Road , Colaba Causeway, Elco Arcade 
 Origins of Juttis & Mojaris
Juttis were quite popular among the kings and queens in the Mughal period (1526–1761 AD). In fact, Rajasthan turned out to be a major hub for the making this type of footwear. Further, it is rich in both design and texture. Similarly, precious stones and pearls along with fine gems were incorporated in it to be appropriate for royalty. Gradually, they became popular in Punjab as well.
Jutti Designs
Juttis come with an M-shaped front or 'Panna', as it is known. In addition, there is delicate embroidery work on it. Those with a rounded front are known as 'nagras'. They bear a resemblance to the modern day ballerina footwear. Further, Motifs of flora & fauna are done on the Nagras. Embroidered, sequined and hand-painted designs are popular.
While male members generally look after works like cutting, stitching and pasting, women largely participate in embroidery work or 'tilabharai'. For instance, the hides, skins and bark of 'kikkar' or babool or Acacia arabica trees are used as primary raw materials for Juttis.
Juttis And Mojaris: An Ethnic Footwear with Global Appeal
Finally, this Indian footwear also has an immense global appeal. It is not an uncommon sight to find replicas of Juttis in countries like Canada, the US and the UK with a touch of western craftsmanship.
Read a blog on Juttis :-
Melania Trump Stylishly Flaunted Her Indian Juttis. You Can Flaunt Them Too!
Check our videos
SIGN UP FOR NEWSLETTER
Be the First to Know. Sign up to newsletter today