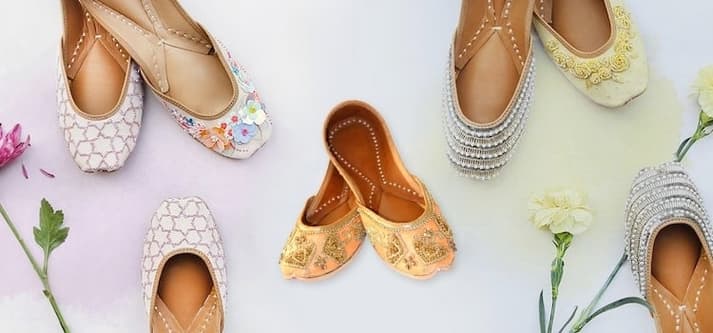 Put Your Best Foot Forward With These State of the Art Punjabi Juttis
Feb 18, 2021
Kausy M
13031 views
add comment
Have you been  to a party in Delhi lately? You will notice that all the women have ditched the high heels for the  Punjabi Jutti. Juttis  are trending. Firstly, they are flat soled closed footwear with pointed toe. They have long moved on from being a villager's common place footwear into the fashionista's cupboard. Finally, thanks to Bollywood movies & heroines for making it a chic item.
Top reasons to go in for a pair of Juttis are as follows:
Extremely comfortable.
Juttis pair up well with ethnic Indian wear & jeans too.
They are flat & hence there is no strain on the feet.
The range of colours & designs are fantastic.
They are relatively inexpensive.
You can wear them at casual parties and at weddings too.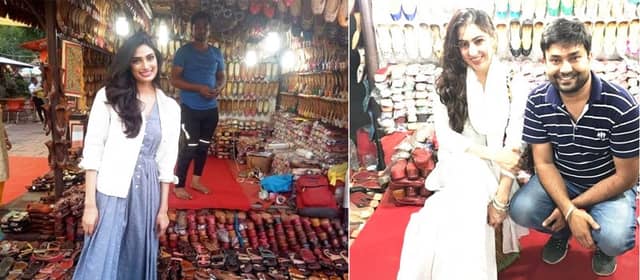 Journey of the  Punjabi Jutti
If you ever visit villages in Rajasthan & Punjab, you will notice that both men & women wear juttis. In addition, they are sturdy everyday footwear that is worn when working in the fields. Juttis are made of camel leather in Rajasthan.
Men, women and children use them for walking long stretches. It certainly helps when walking in the desert sands. Further, they are worn both in the summer & winter months.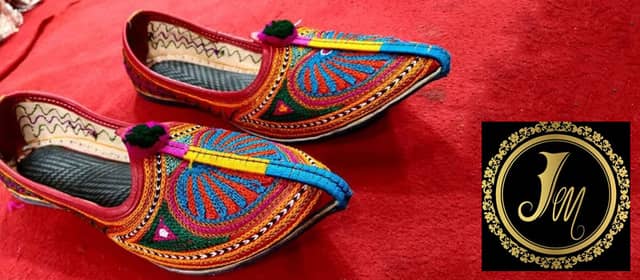 Juttis in Towns & Cities
Firstly, Juttis were introduced to towns and cities about a decade ago. The novelty of cheap footwear was attractive. Soon came the cheaper versions at around Rs. 300/pair. They were made with rexin & some kind of plastic material and they looked tacky. Hence they were very uncomfortable on the feet. Slowly but surely, the jutti manufacturers understood the market and started to work on it.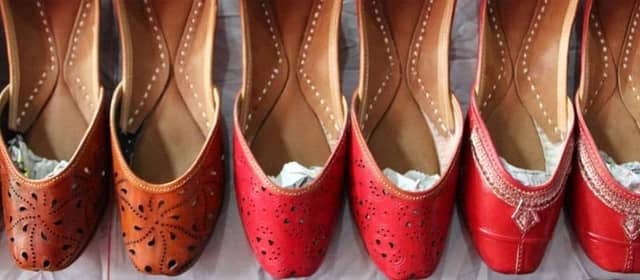 Consequently, today's juttis are very comfortable. They are made of leather and hence they are soft on the inside. Further, they have become durable.
Juttis are Mainstream
If you are bored of wearing the same black & brown footwear in colourful winter months, bring in the juttis. If you are bored of wearing simple sandals in summer, bring in the juttis.
They are ethnic, colourful and comfortable. Nobody ever dreamt that juttis would become mainstream. They are now.
Celebrities Wear Juttis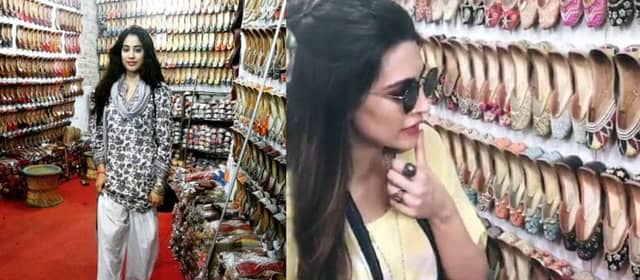 "Juttis Makers"– Manufacturers of Juttis @ Dilli Haat
 It is a fascinating story of 50 to 60 rural families coming together and crafting stunning juttis.
Firstly, the leather is imported from Agra & Chennai. Manufacturing is done in Patiala & Ludhiana. Further, semi silk fabric or dupion fabric is then stitched on to the footwear. It is easier to do work on these fabrics as compared to silk or cotton fabrics. Finally, patterns and designs are then created on the juttis.
Above all, many of the family members  have started to study designing formally, so as to design interesting patterns on the juttis.
Designs on the  Punjabi Jutti
Cross stitch, leather embossing, mirror work, gold & silver embroidery work are done on the footwear.  In other words ,they are colourful distinct & varied. Indigo fabrics, are used to create indigo blue juttis are made to be paired with jeans.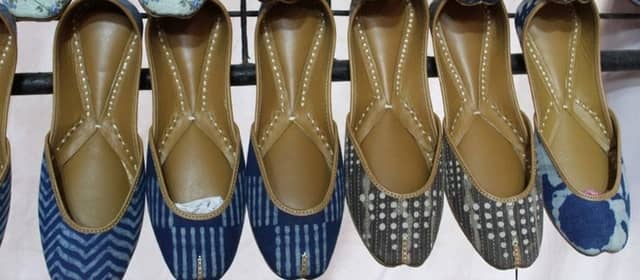 Customised Juttis
If you want to match the juttis to your bridal lehenga or if you want to match them with the theme for all the bride & groom's families, Jutti Makers will do it for you. Juttis can be done in the lehenga designs.
A pair of juttis cost around Rs 1500 to Rs 2000/pair. They are versatile and can be worn in both the summer & winter months.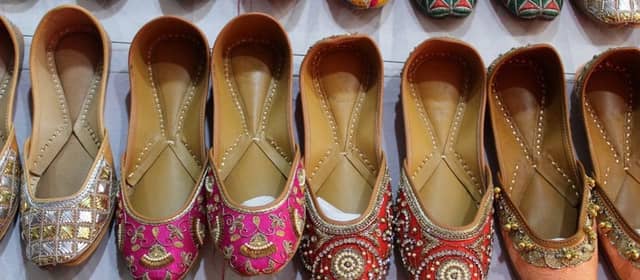 In Delhi Juttis are avaialble in Venus Steps, Fab India, Dilli Haat, Ramayana Retail Footwear in Delhi &
In Jaipur –Tourist Shoes in Bapu Bazar & in Johari Bazar.
Chappals
In addition, Jutti Makers also make chappals with rubber soles  for Rs 300/pair.
The leather and bead worked chappals are for Rs. 750/pair.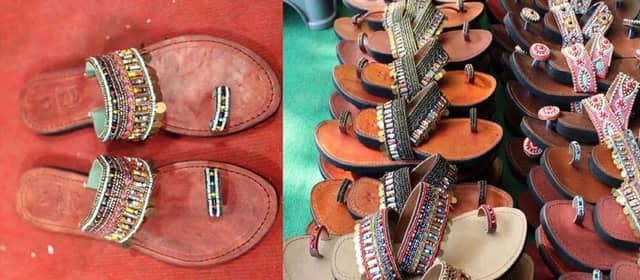 Make Heads Turn with Masai Beaded Chappals
However, The Government of India has conducted exchange programs with African countries and Jutti Makers have taken this opportunity to learn the art of beading chappals from Africans. Jutti Makers have learnt the art of beading chappals the Masai way. The authentic way in which this is done certainly reflects on the products.
In addition, Jutti Makers participate in Government organized exchange programs, programs in Bhutan Nepal, and other Saarc countries.
Jutti Makers have made a name for themselves. Visit the stall in Dilli Haat.
Other blogs
---
View our videos
SIGN UP FOR NEWSLETTER
Be the First to Know. Sign up to newsletter today