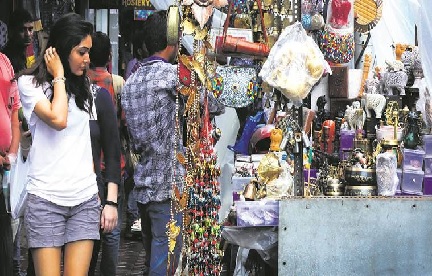 Colaba Causeway
Visiting the area around Colaba Causeway requires that you take the day off to do it. Right from morning until late evening, you will find a bunch of activities around the area. Colaba Causeway is close to the Gateway of...Read more
Visiting the area around Colaba Causeway requires that you take the day off to do it. Right from morning until late evening, you will find a bunch of activities around the area. Colaba Causeway is close to the Gateway of India, a popular tourist spot in Mumbai where you can just hang around. You will never know how minutes become hours here as you watch the crowds swell during vacations and weekends.
Come rain or shine, you will always find people here coming to catch a glimpse of the sea. Besides, there are also ferry rides available if the sea isn't too choppy and the weather is calm.
Know More About Colaba Causeway
Colaba was a Portuguese-occupied island in the 17th Century. The Portuguese had acquired these lands from the Sultanate of Cambay. The group of islands was given by Portuguese to Charles II of England as a dowry when he married Catherine of Braganza.
The Taj Mahal Hotel and the Gateway of India are some of the iconic buildings that would remind you of the British era in India. The Southern tip of Colaba is a military cantonment with a large presence of Navy personnel in Navy Nagar. Colaba is a popular Mumbai shopping market. It has high end luxury boutiques in the Taj Hotel.
Dior & Channel are international brands in the Taj Hotel. Tarun Tahiliani, Good Earth are some of the Indian luxury boutiques in Colaba.
Street Shopping in Mumbai
After  a bout of sightseeing comes the first round of eating. For a quick snack, you can head out to McDees, Kamaths or Cafe Coffee Day. After this replenishment, you are ready to shop at Colaba Causeway. A street lined up with the eclectic side of India, the market has both road-side shops and proper stores.
Since the road is flooded with foreign tourists, the rates are generally kept higher than normal. Take someone local around who can bargain shop for you here if you want to buy from the streets. The road-side vendors have the latest in clothing and accessories and give  stiff competition to branded stores.
You will  find, bags, accessories, jutis, belts, scarfs, stoles and more here. Among the stores, a few like Curio Cottage and Aquamarine have become very popular among locals and tourists.
After a round of shopping, you can stop to catch a movie at either Eros or Regal. You can visit the museum or walk around the area to check out the majestic buildings from the British era. You can end your day at Cafe Leopold or Cafe Mondegar for dinner. Don't forget to stop by at Theobroma for cakes and dessert.
Shopping at Colaba Causeway is truly a day well spent.
Read our blogs:
Short Getaways from Mumbai that You Should Try
New to Mumbai? Here's the insider's guide to travelling in Mumbai
Days Closed :- Open all days
Timing :- 10 am -8 pm
---